October 12, 2010
Every year for the last few years, my wife and I have been lucky enough to spend a month in Manhattan, soaking up culture before returning to our condo in south Florida. True, we crowd probably too many events into our hectic schedule. And truer, that with the exception of Broadway shows, art museums, or the opera, most of what we do and see involves either Jews or blacks. On the one hand, I have brunch with Jewish-American writers such as Melvin Bukiet, Thane Rosenbaum, or Dara Horn; listen to Jewish speakers at the 92nd Street Y; and attend programs sponsored by various Yiddish groups around the city. On the other hand, I make sure to catch some jazz at clubs such as Birdland or the Blue Note; renew my long friendship with jazz critic and cultural columnist Stanley Crouch; and keep an interested eye on emerging black writers when they give readings at Manhattan bookstores.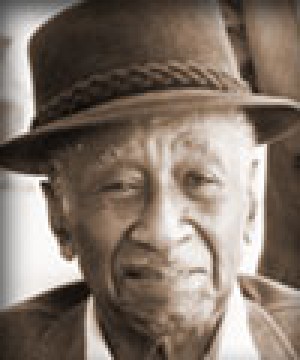 Albert Murray
Enter Albert Murray, a 94-year-old black novelist and social critic who has been bedridden for the past several years. Because our month in Manhattan is either a September or an October (depending on the sublet we can find – and afford – on Craig's List), we often share our time in the city with the Jewish High Holidays, its accompanying moral bookkeeping, and fervent prayers with aim to be inscribed in the Book of Life. Somehow Albert Murray got into the mix in my head and I found myself whispering a mishabeyrach, the Hebrew prayer for the unwell ("May the God of our forefathers, Abraham, Isaac, and Jacob, bless Albert Murray… "), as I rode the M-7 bus to Harlem and his book-crowded apartment. Alfred Kazin once attended a party in this apartment and was struck by the fact that he had owned, read, and loved many of the same books. The walls of Murray's apartment also displayed a number of striking paintings by his friend, Romare Bearden, widely regarded as the preeminent modern African-American painter. If Albert's apartment was not quite the equal of Gertrude Stein's Paris salon in the l920s, in which Hemingway received instruction from Ms. Stein under the stern gaze of Picasso paintings, it came close.
When Albert was still mobile enough to get around the city, I would meet him at the prestigious Century Club for lunch (I was doing a long interview with him at the time), or listen as he gave a gallery talk about Bearden at the Whitney Museum. When even a wheelchair couldn't be of use, though, Albert was confined to a hospital bed and cared for by a series of round-the-clock nurses. Each autumn I would make a short home visit, assuring his wife, Mozelle, that I wouldn't stay too long or tire Albert out. After a couple of these meetings, she told me that Albert looked forward to them and that it was good to hear him laugh.
And that's when I almost began to believe that my annual mishebeyrach was helping to keep Albert alive. To be sure, a part of me knew better – knew that his bodily systems were breaking down and that the inevitable would happen. Still, I came, and, yes, still I continued to pray for him. Surprisingly, no matter how difficult our conversations became, there were always moments when bits and pieces of Albert's brilliance would shine through.
Thus far, it's clear that I had formed a kinship with Albert in the same way that I had with the late Irving Howe and Alfred Kazin. All of them were New York intellectuals of the first rank, people who could rally me around the old modernist flag when waves of postmodernist theory were breaking over the academe. Howe and Kazin are familiar names but Murray may not be. So, let me provide a bit of background and a slice of context. In the no-nonsense "Introduction" to his first book, The Omni-Americans: New Perspectives on Black Experience and American Culture (Outerbridge & Dienstfrey, 1970), Murray makes the thrust of his counter-arguments clear: "The bias of The Omni-Americans," he insists," is distinctly proliterary," representing as it does "the dramatic sense of life as against the technological abstractions and categories derived from laboratory procedures.." His "new perspectives" flew in the face of those who dominated the discussion of race during the turbulent nineteen sixties: social scientists who were dry as dust, well-meaning politicians, and fiery Black Power ideologues. Lost in the layers of competing rhetoric was nearly everything that made American culture both grand and unique – its mythic underpinnings, its riffs and rhythms, and most of all, its nearly seamless blending of African American, Indian, and European components. Each was ineluctably a part of the other.
Fashioned from the fiction of Thomas Mann and the poetry of W.H. Auden, the blues of Bessie Smith and Billie Holiday, and scholarly studies such as Constance Rourke's American Humor: A Study of the National Character and Lord Ragan's The Hero, Murray's vision of the "omni-American" bears some relationship to what we now call multiculturalism – with this important difference: Murray's vision was far more radical than anything those enthralled by separatist politics could imagine. Rather than angry shouts of black separation, Murray insisted on a national history that put the frontiersman, the African American, and the Yankee on an equal footing.
The sheer range of Murray's work, which displays an impressive knowledge of folklore and fashion, ritual and religion, stompin' blues and trading twelves, makes him seem more a citizen of the world than a boy who was born on May 12, 1916, in Nokomis, a small hamlet in Alabama. For others, growing up in the deep South of Jim Crow restrictions and modest expectations might have been enough to seal one's fate, but not Murray's. To escape a diminished and predictable fate was Murray's goal, and literature provided the wings he would use to fly above everything that delimits and dehumanizes. Like the hero of a fairy tale, Murray followed a path that he both made and for which he felt destined. An influential grade school teacher early identified him as a possible member of the "talented tenth," W.E.B. Du Bois's label for those African Americans who had the wherewithal to raise up the entire race, and Murray took his teacher's words to heart. The fictionalized Miss Lexine Metcalf appears in each installment of Murray's tetraology of novels about a boy ("Scooter") who grows up to be a jazz musician, and she is always bathed in well-deserved warmth. Murray was a precocious child who paid equal measures of attention to the gritty world around him and also to what those lives, seen through a spyglass lens, might reveal. His fiction is heavily laced with the rhythms of Faulkner's stream-of-consciousness as well as with the sounds of wailing train whistles, blues guitar, and jazz bands. The result is a lyricism that takes one back to a world shaped, indeed, created, by a sensibility honest enough to avoid sentimentality, yet wise enough to let genuine glimmers of humanity shine through.
One need not stretch the truth to claim that Murray "read his way" into Tuskegee Institute, then "read his way" through it, and finally "read his way" into the larger world of letters. It was his mixed blessing to have known an older schoolmate at Tuskegee named Ralph Ellison, the man who later became his close friend, an abiding mentor, and the man whose 1952 novel, Invisible Man, made him famous. No doubt their conversations about artistic discipline and aesthetic craft might have occurred on the Tuskegee campus but all indications are that they did not: Ellison was interested in becoming a professional musician (his career as a writer would come later) and what Murray most remembers about Ellison's college days is that he was a sharp dresser, as was Murray himself.
The mixed blessing that came with the Murray-Ellison friendship is that it was often hard to know where Ellison's ideas left off and Murray's began; they were working out what would be required of a black artist who could stand on equal footing with literary giants such as James Joyce, Thomas Mann, Ernest Hemingway, and William Faulkner. Murray had first met these High Modernists in the section of the Tuskegee library devoted to recently published books and intellectual periodicals.
When he and Ellison began corresponding in the early l950s, Murray was fully committed to becoming a literary intellectual. The letters they exchanged, each of which responded to a theme and was followed by another "twelve bars" of response, provide a lively history of two black intellectuals coming to grips with ideas and each other (Trading Twelves: The Selected Letters of Ralph Ellison and Albert Murray, Vintage, 2001).
Education was the "magic key," as the final Scooter novel puts it. Murray received his B.S. degree from Tuskegee Institute in l939. A year later he returned to teach composition and to direct the college theater from l940 until 1943. In l948, Murray received his M.A. from New York University and again returned to Tuskegee, directing its college theater from l946 until l951. He then joined the U.S. Air Force, retired as a major in l962 and began writing in earnest.
In the years following his exposure to graduate education, Murray studied at a wide variety of schools, including the University of Michigan, the University of Chicago, Northwestern University, Ohio State University, the University of Paris, and the Air Force Academy. Murray is what scholars of the nineteenth century may have meant when they talked of a "man of letters, " a person equally at home writing essays, reviews, novels, and poetry. Charles Monaghan, in a review for The New York Times, calls him "one of the best kept secrets in contemporary American literature." My hope is that Murray's legacy does not remain a "secret," best kept or otherwise.
I began writing about Albert's work in the early 1980s and enjoyed meeting with him whenever I visited New York City from Lancaster, Pennsylvania, where I was an English professor at Franklin and Marshall College. And so I became one of Murray's listeners. Friends told me that he loved the chance to "show off" to college professors, especially when he figured that he knew as much – or more – than they did about modern literature, modern art, or jazz. Scholars of Auden, Hemingway, and Faulkner might disagree but even they would admit that Murray conveys a passion often missing in academic discourse. What I learned at Murray's apartment was how to relax and let the conversation flow through what he calls the "also and also and also" of his extraordinary life.
It has been my blessing – as well as my curse – to have known important writers and cultural thinkers in their advancing age, e.g. I. B. Singer, Irving Howe, Alfred Kazin, Irving Kristol. One day (I pray it not be too soon), Albert Murray will join their ranks. Until then, I look forward to as many autumns in New York as possible, when I can board the M-7 bus and make my way to Murray's Harlem apartment – even as I know that Murray's legacy will always be found in the books he wrote and in the deepest recesses of my memory.