February 18, 2012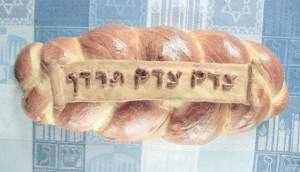 As Americans, we see a lot of political theater in the Beltway. Yet we rarely see a moment of political theater as melodramatic as the recent congressional show(down) starring the House of Representatives, the debt ceiling, and potentially devastating budget cuts.
It was fortuitous, then, that just as the momentous events were unfolding in Washington, 170 Jewish community leaders arrived at the White House to spend the day immersed in conversations with administration officials about domestic policies and priorities. The 21 organizations that make up the Jewish Social Justice Roundtable, sent these rabbis, lay leaders, community organizers, staff, old and young, women and men, gay and straight to the day long White House briefing. The focus? Housing and foreclosure, food justice, healthcare, and education – at just the time many federal programs designed to help those in need were under threat. As Valerie Jarrett, Senior Advisor to President Barack Obama and the Chair of the White House Council on Women and Girls, told the Roundtable, "I don't have to tell you what's at stake."
Part of the point of the JSJR is to expand what is meant by "Jewish issues" beyond Israel and antisemitism. As Rabbi Rachael Bregman of Atlanta put it, the goal is to "help us forward this agenda by talking with us about more than just these two topics." Here are what some of the Jewish leaders in attendance said about what that broader agenda should be.
The Social Safety Net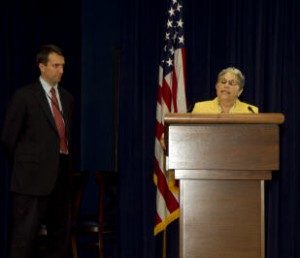 Carole Levine
Carole Levine (representing the National Council of Jewish Women):
My name is Carole Levine. My work of the last 30 years has been in the nonprofit sector, most recently as Deputy Director of the National PTA. I have also been out of work for over two years, part of the first in a series of staff layoffs at that well-known nonprofit. I have managed to find part-time work, and benefited from having a working spouse with health insurance and a good salary. I have spent much of the last two years helping colleagues and friends who are not fortunate enough to have the "safety net" that I do.
Many are my age (60's) and need to work to survive. And many find themselves – for the first time– in increasingly desperate situations. One friend – I'll call her "Andrea" – was working on her PhD when I hired her for a full-time management position. She was (and still is) the main source of support for her aging parents, a sister with a life-threatening pulmonary disease waiting for a transplant, and a number of other family members who relied on Andrea's leadership. Andrea opted to relocate to Washington, D.C., with the PTA, only to be laid off six months later. When we spoke last week, Andrea shared that, despite her education and experience, she still hasn't been able to secure a full-time job, and that the moves from Chicago to D.C. and back, and obligations to family ,have left her on the brink of bankruptcy…
Jewish values dictate that those who have are obligated to help those who have not. I am lucky; I am and will be fine. But I've witnessed firsthand the changing face of the "needy" in America. They are my neighbors, my colleagues, my friends. Had my circumstances been different, they would be me.
Eve Copeland (representing Jews United for Justice):
This year Washington, D.C., faced a several-hundred-million-dollar budget shortfall. As it has in the past, D.C. proposed closing the budget gap though drastic cuts to social safety-net services like homeless shelters and affordable housing. Along with others from Jews United for Justice, I was very concerned, so together we embarked on a campaign we called "Invest in D.C." We advocated for a minimal half-of-one-percent tax increase on the highest income earners in our city — many of whom were Jewish — to prevent these drastic cuts. We saw it as part of our Jewish obligation to invest in the city where we live.
The Invest in DC campaign organized house meetings across the city…. One of our most significant efforts was a meeting we organized with a D.C. councilwoman from one of the city's wealthiest wards. She had made it clear that she would vote against increased taxes, though even the Mayor initially supported an increase. In response, we brought the Councilwoman to a meeting at a JUFJ member's home. There, more than 60 of the Councilwoman's Jewish constituents stood up and told her that they were not only willing to pay higher taxes to protect the social safety net, but that they wanted to pay more.
Although we did not change the Councilwoman's views, we were able to win back $25 million in social services through our advocacy. We didn't do this because we needed the social services, but because our Jewish texts and tradition teach us that our well-being is inextricably linked to the well-being of everyone else in our city.
Equal Opportunity
Aaron Weininger (representing Keshet):
I want to tell you two brief stories today about what LGBT people are facing every day. The first is Alex's story. Alex is a rabbinical student with years of experience in Jewish, youth, nonprofit, and educational worlds who spent months searching for a job in his local community. Each application would warrant an interview, then time and again he was turned down. His classmates and colleagues – some with less experience – all found jobs locally. Ultimately, he found a job - in another state. What set Alex apart from his classmates is that Alex is transgender. As he applied for jobs he was told that parents might feel uncomfortable with him teaching their children, that the kids would be confused, or simply that it might be inappropriate. None of this was a commentary on his skills or experience; rather it was all to do with his gender.
Then there is Brian, a gay man who grew up, came out, and worked for years at a progressive Jewish summer camp. Yet when he wanted to be a bunk counselor, he was told by the director he's known since he was 10 that he couldn't be placed in a bunk "for fear of the appearance of impropriety." When pressed if what he meant by "impropriety" was actually pedophilia, the director said yes. His staffing decision was based entirely on the deeply homophobic stereotype that gay men are pedophiles.
What Alex and Brian's supervisors and interviewers did was completely legal, because both of their states lacked comprehensive employment discrimination protections for LGBT people.
Nobody wins when highly qualified, passionate, talented people are denied opportunities because of who they are. The cost to LGBT people is incredibly high in terms of financial stability, health, and emotional well-being. But the costs are also high to the rest of our communities, who lose valuable colleagues, mentors, and collaborators, and to LGBT youth especially, who are denied visible role models, and the ability to imagine a future as full of possibility as their peers.
Honey Heller (representing the Union of Reform Judaism/Religious Action Center):
Like so many immigrants before her who have sought a better life for their families, Rose left Jamaica with her infant son, Michael, and arrived in New York City. She worked for us as a nanny for our sons, and we have maintained our relationship with Rose for many years. We sponsored Rose for U.S. citizenship, and she now owns a house in the Bronx and continues to work extremely hard to fulfill her American dream. Rose is most surely a success story.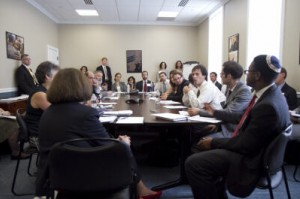 Participants in the Jewish Social Justice Roundtable
Her son, Michael, is a real American kid in every way. He was an excellent student all through school. In his senior year of high school when he was applying to colleges, he found out that he was not an American citizen. Michael had been accepted to the State University of New York at Binghamton, but his lack of citizenship meant he was not eligible for student loans, and so he had to turn down his acceptance. He has not given up completely but is attending a community college that Rose can afford.
Michael is also one of the young people who have worked tirelessly for the passage of the Dream Act. This bipartisan bill will provide Michael and others who have grown up here and want to contribute to our country a path to permanent residency. Young people in similar circumstances experience Michael's story in every state. Our inability to enact this sensible law that has strong support among members of both parties means we are forfeiting many brilliant minds that want to strengthen our country through military service or a college education. As a nation founded by immigrants, we can and must do better by them and by us.
Affordable Housing
Rabbi Bruce Elder (representing Jewish Council on Urban Affairs):
More than halfway into Chicago's "Plan for Transformation," multiple public housing facilities have been demolished but only 1,200 mixed-income homes have been built — a net loss of nearly 14,000 units for people who are poor. There are no firm plans for how to address the resulting shortage, and data show that a tiny percentage of the people formerly living in public housing have been able to move into new, subsidized units.
In stark contrast, the redevelopment of Grove Parc on Chicago's Southside proves that it is possible to successfully address housing needs in our communities – through firm public commitment, non-profit development expertise, and community involvement. In 2008, HUD granted ownership of Grove Parc Plaza to an organization known as the Preservation of Affordable Housing (POAH). The building had been previously uninhabitable, plagued by years of mismanagement and disrepair. This development represented over 500 units of affordable rental housing, most of them Section 8. The Grove Parc Tenants Association, POAH, and community partners joined forces to launch an enormous multi-year redevelopment project to preserve and renovate this housing. The transformation of the area is now well underway, and a zero-interest loan from the Jewish Council on Urban Affairs' Community Ventures Program helped to get the ball rolling.
Jewish tradition teaches, "It's a joy to live in one's own home" (Talmud Yerushalmi, Moed Katan 2:4). As Jews, we inherit a collective memory of wandering the desert in search of a home that will provide safety, stability, and community. Public and affordable housing are key components to ensuring the same for all.
Andrea Rubenstein (representing Jewish Community Action):
For roughly the past twenty-five years I have been a civil rights/employment lawyer in Minneapolis. I was raised with strong Jewish values: respect for the dignity and differences of others, justice tinged with kindness, appreciation for what we had rather than envy for what we did not have, and, most important in my early years, the importance of sharing.
These days, beyond my work with clients who have lost their jobs because of discrimination, I have been involved in foreclosure prevention and fair lending work with Jewish Community Action. In the last three years, we have built an interfaith, multiracial coalition that reached out, door to door, to residents at risk of foreclosure, and referred them to free resources to stay in their homes. Together we have advocated on behalf of individuals with the biggest banks in the country, and we have lobbied for fair lending laws and broader commitments from financial institutions. We have built bridges between the black and Jewish communities and formed lifelong ties.
My day job, plus my work with Jewish Community Action, makes it clear that however hard it is to "repair the world" – tikkun olam – we cannot do so without organizing both within the Jewish community and strengthening and renewing our relationships across boundaries of race, class and faith.
Food Justice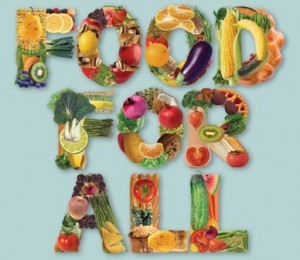 Rabbi Andy Kastner (representing the American Jewish World Service):
I am the campus rabbi at Washington University in St. Louis. On the Washington University campus, we had a profound experience of organizing to create a local food system that was more just and reflective of the community's values.
In late 2009 and then again in the spring of 2010, a student-driven initiative emerged, led by Students for Fair Trade, to boycott the presence of tomatoes on campus until a farm/distributor who offered their workers a living wage could be found. The contracted food provider on campus… was assertively supportive of the students' motion signing an agreement with the Coalition of Immokalee Workers. The tomato strike lasted most of the school year. This effort launched by a small group of students touched the entire campus….. I believe that my students are part of a broader movement… Just as we looked at our local campus food system and organized to make it reflect our values and moral conscience, so too is the Jewish community looking at our city, state, national and international food systems and organizing to make them more just. There is an unprecedented opportunity to do this in the coming year with the renewal of the U.S. Farm Bill, and we are looking forward to starting this conversation with you today.
Healthcare
Rabbi Matthew Soffer (representing JCRC Boston):
My name is Rabbi Matthew Soffer, and I'm a rabbi at Temple Israel of Boston. At Temple Israel, and with the Greater Boston Interfaith Organization, we believe with full faith that healthcare is a right and not a privilege. No one knows this better than Kim, a member of Temple Israel, a preschool teacher in Boston.
When Kim was 10 she was diagnosed with a malignant brain tumor. She had surgery, and they removed the tumor. … She went to college, then graduate school in Boston. But while in Boston, away from her home and her doctors, her health took a turn. She needed – and had – surgery again, and again. The last thing she should have had to worry about amid this extraordinary battle was her healthcare coverage. However, for 18 months, Kim's so-called "coverage" was so inadequate that she had to pick up an additional plan to maintain her ability to receive care from her lifelong medical team in New York. When her condition required her to take a break from work, Kim was denied worker's comp. Why? Because her cancer was a "pre-existing condition."
Today Kim is now secure in her job, and 2011 has been a healthy year. But her own struggle with healthcare makes her painfully aware of the crisis across our nation today, with so many lacking the coverage for which she fought and eventually won. What Kim has worked so hard for, what our community is pursuing still, is an affordable, responsible and complete healthcare for all.
Filling in the Gaps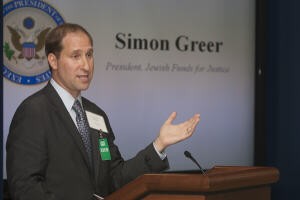 Simon Greer
Simon Greer (representing the Progressive Jewish Alliance & Jewish Funds for Justice):
Gathering 170 Jews at the White House under the umbrella of the Jewish Social Justice Roundtable wasn't just about 170 Jews feeling proud to be together at the Capitol, although we did. Through new partnerships and relationships, we can help more families live lives of dignity, stay in their homes, access healthy food, find good jobs, afford quality healthcare, educate their kids. In the months ahead, as national and state budgets are slashed, the Jewish community needs to be as effective and creative as we've ever been at finding and implementing solutions for our nation's most pressing problems.
Erica Brody is Associate Director of Communications at Jewish Funds for Justice.