May 20, 2014
This piece is cross-posted with the RAC series "Double Booked: A Conversation about Working Families in the 21st Century."
I used to work in a church basement with community activists. We wore worn T-shirts, worked until 10 pm, and wore our spunkiness with pride. No one, at that time, was a parent. Then I joined a big healthcare labor union, where many members, staff and leaders were parents. We'd often have conference calls at 9 pm or later to accommodate bedtime. At organizing meetings, kids ran around as their parents were figuring out the best strategic ways to win their union.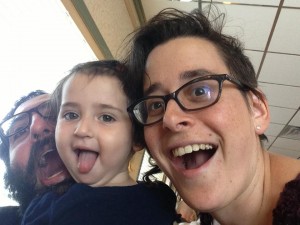 When I got pregnant, I felt like my organizing and family identities were at war. Would I be able to work as much as I wanted to? As much as I felt I had to? How would our community see us, and how would we see them? Would the people I was in the trenches with be a part of my new life? How much of our community changing around us needed to come from us? From them? Two and a half years in, I'm still figuring this out.
1) When you are a parent, time is a commodity. It's incredible how many things in my life became commodities. Time guiltily spent on myself was gone. In fact, I needed to pay other people to have some of that time back. We were domestic employers trying to make sure we were paying and communicating well enough to respect the insanely talented individuals working with our baby girl. I was working so we could pay folks to watch our daughter so I could work.

2) Time with your kid is rich and priceless and joyful. But, as mentioned above, it often lacks the agency and togetherness and power-building of organizing. It is on all of us to build the relationships and community that you need, to nurture those relationships. Parenthood cuts out so much of the energy you have to call your friends. Grabbing a beer after work is harder with a baby, harder still with a toddler. And if you want to go without them, again it's borrowed, paid-for, or bartered time.

3) I have many more resources than millions of parents. I have a partner who can be fully engaged in parenting and who can work a job that covers most of our expenses. I have housemates who love our daughter and who work to be part of her family in different ways. I have work that pays and that prioritizes love and life. I have a supportive extended family who live locally and are active in our life.

4) Childcare isn't enough. If we have childcare, even at organizing events, kids often would rather be with their parents, while sometimes the childcare worker has too many kids to handle alone. Parents aren't always explicit about our needs, and often feel guilty taking away from the primary focus of the action.

5) The depth of love that we have given our organizing work changes when we grow our families. When I try to work at the same level and capacity as before, I feel pulled in multiple directions. Are we neglecting our kids by working this hard? When we focus in on our kids, their beauty and tantrums, challenges and growth and illnesses, are we neglecting our organizing family? How do we accept the limitations on what we can give now, to our work, our kids, and even ourselves?
I have a whole list of solutions, of dreams, projects, and challenges that many of us are starting to develop: build power of and with childcare workers in our communities; create work and organizing spaces that bring adults and children together; support parents and caregivers before we are parents and caregivers ourselves; understand the struggles of working parents are the struggles of working people everywhere. Fleshing them out more is for another article and for the conversations we'll have over the years. Building these solutions with all of you is a dream. Where should we begin, together?
Hannah Sassaman is an organizer, trainer in communications and legislative planning and strategy, who now works with Media Mobilizing Project in Philadelphia as the Policy Director. As the longtime Campaign Director at the Prometheus Radio Project, Hannah helped lead and design the grassroots organizing and legislative strategy that resulted in the passage of the Local Community Radio Act – a bill that will open up the FM dial to thousands more community radio stations nationwide. Hannah is a member of the Board of Directors of Allied Media Projects, an adjunct fellow at the Open Technology Institute at the New America Foundation, the mom of incredible baby Sara Bela Sassaman Marcus, and the partner of brilliant community programmer Josh Marcus.
This article is part of the Religious Action Center of Reform Judaism's series "Double Booked: A Conversation about Working Families in the 21st Century," dealing with the many issues that affect working families, and featuring everything from personal stories to policy analysis.