May 9, 2013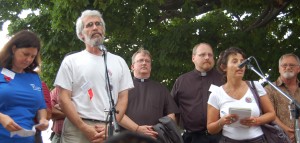 On Friday, Jewish leaders from the Midwest will stand up for comprehensive immigration reform in Postville to commemorate the five-year anniversary of the raids that tore hundreds of families apart. Pictured here, interfaith leaders – including from JCA and JCUA – in the aftermath of the raids. Vic Rosenthal is in white.
Five years ago one of the worst workplace raids in American history took place in Postville, Iowa — with 389 individuals detained, many deported and a town devastated. If ever there was an event that proved why comprehensive immigration reform and worker protections are needed, it was this raid.
However, for the two of us, the story in Postville started almost two years earlier, when we met with the owners of Agriprocessors, workers from the plant, and community and religious leaders. We went to Postville because of troubling news reports of widespread worker abuse at Agriprocessors — the largest kosher meatpacking plant in the country at the time. Workers were reporting serious breakdowns of health and safety, long hours with no overtime and conditions that led to serious injuries and illnesses. We were trying to understand what could be done to help solve such problems.
We were part of a five-person investigative team sent by the United Synagogues of Conservative Judaism and the Rabbinic Assembly to better understand what was happening in Postville and to try to be helpful in finding solutions to concerns surrounding the plant's labor, environmental, health and safety, animal treatment, and kosher practices. Unfortunately, after multiple visits to the plant and meetings with management, we were unable to help the plant take the actions necessary to bring the plant into compliance with ethical standards and good working conditions. Management rejected our recommendations, for example, to develop a worker grievance process or undergo a state audit for areas to improve.
This experience coupled with the raid made it extremely clear what role the Jewish community could play working as allies with the workers and the faith community in Postville. For Jewish Community Action and members of the Twin Cities' Jewish community, our resolve to support the community of Postville was stronger than ever while our determination to work for immigration reform has never wavered since 2008. For the Conservative movement of the Jewish community, a new initiative was developed to bring together the ritual requirements of kosher food with the ethical requirements of kosher food, and Magen Tzedek was launched.

JCA
And so it is powerful to participate in the fifth anniversary of the horrific raid of the Agriprocessors plant and to affirm that through remembrance, reform and reconciliation we can move forward with a vision of ensuring that nothing like this occurs again and that those who suffered will not have done so in vain. We will stand together to call for reform — for fair, humane, comprehensive immigration reform and for workers' rights. We will stand for human dignity. And we will stand in Postville this Friday, proud to join our allies and friends for a walk for justice and interfaith prayer service community to demonstrate our support for immigrant communities..
Without comprehensive immigration reform, we put our nation at risk for more Postvilles, additional moments when families are separated, workers are deported, communities destroyed, and too many live in fear. This comprehensive reform must not be punitive; it must ensure that the businesses and farmers that depend on these workers assume a real responsibility for their security, safety and well being.
Real reform means that the industries employing these workers, which has at times partnered with those who trafficked in human beings, should help advocate for a pathway to citizenship and restoration of human dignity. Real reform means that until ethical concerns are partnered with ritual concerns in the production of kosher food, we Jews remain in part complicit for the failures of this system. Real reform means that children who were born here should never fear they are less than American citizens, and children who were brought here and who grew up here are able to pursue the same opportunities of any child who sat next to them in school, for these children dreamt the same dreams that any American child dreams growing up in this country of blessing and opportunity.
For us as Jews, we are exhorted some 36 times to never forget the heart of the stranger, for we were once strangers in a strange land. Instead of becoming victims, we became a catalyst for seeking to mend a broken world and to repair that which inevitably breaks as a result of human failings, but not divine plans. We must embrace reconciliation. The meaning of our story of the Jewish people is that unless we are willing to affirm the past but not be defined by it, we would have never succeeded enough to survive. We must engage with those who continue to harbor suspicions of immigrants, hear them and help them to understand a different story. We must help them come to appreciate that rather than being "illegal," these are people who have provided this country with work that would otherwise not have been done. We must seek reconciliation with those who fail to understand that the greatness of America — and of humanity — is our diversity and our own uniqueness.
We honor this anniversary filled with awe in the simple courage of the workers themselves who in their own ways have reminded us all that human dignity must be the core value of humanity. As we remember events five years ago, we demand reform and look forward to reconciliation. We are committed to the passage this year of comprehensive immigration reform, providing a path to legalization, unification of families and protection of workers.
---
Rabbi Morris Allen has served since 1986 as the first spiritual leader of the Beth Jacob Congregation, now a vibrant intergenerational congregation in the Twin Cities recognized for innovative programming. He leads the Conservative movement's work on producing a "Magen Tzedek" ethical certification for kosher food and has been involved with Jewish Community Action's work on behalf of undocumented workers. He has been named as one of the Forward newspaper's "50 most significant Jewish leaders."
Vic Rosenthal has been executive director of Jewish Community Action for more than 12 years and a community organizer for more than 30. Based in St. Paul, MN, Jewish Community Action brings together Jews in alliance with diverse communities to understand and take action on social, racial and economic justice.
Read more about Jewish support for comprehensive immigration reform – aka #Jews4CIR– in Zeek.