April 23, 2014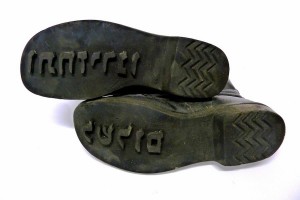 Ken Goldman, Return in Peace (Off Label, JCC in Manhattan)
Artist Q, Artist A is Zeek's new series of artist-artist conversations.
American-born Ken Goldman is an award-winning, cutting-edge artist living in Kibbutz Shluchot in northern Israel. His probing, sometimes seemingly irreverent art is a catalyst for provoking people into re-evaluating their preconceptions. By pushing boundaries, he searches for new opportunities to make Judaism more relevant to today's life.
His current show, "Off Label: Ceremonial Objects Imagined—The Work of Dov Abramson and Ken Goldman," is now on view at the Laurie Tisch Gallery: JCC in Manhattan, curated by Tobi Kahn. His artwork is held in the collections of the Ein Harod Museum, and the Wolfson Museum in Jerusalem and has been exhibited at the first Biennial of Jewish Art in Jerusalem and the Museum of Imajewnation, among others. Visit his website for free, Jewish art downloads.
"Off Label: Ceremonial Objects Imagined—The Work of Dov Abramson and Ken Goldman" is now on view at the Laurie Tisch Gallery: JCC in Manhattan, curated by Tobi Kahn. The opening reception is May 1st.
Five Questions for Ken Goldman
Yona Verwer: Much of your work seems based on Jewish subject matter. Do you feel that you are creating work for an exclusively Jewish audience?
Ken Goldman: I have thought about this a lot. While it is true that much of my subject matter is related directly to Jewish sources and experiences, I hope that is only one way of viewing the works. Under the surface, or perhaps on a deeper level, the works deal with many of the universal issues that modern artists tackle. Issues such as gender, race, and identity are examples of just some of the themes that run through the works. I always hope that the pieces are aesthetically attractive or challenging enough to invite the viewer to invest time and energy into exploring the meanings behind the works.
Yona Verwer: Can you give us an example?
Ken Goldman: "Return in peace" — for this piece I carved in relief the Hebrew words "return in peace" taken from the Jewish traveler's prayer into the soles of my son's army boots. The idea was to create a type of talisman — or charm — to express my prayer for my son's safe return home. Every step my son takes leaves the prayer embossed in the earth. Despite a Jewish prayer and Hebrew script, I think the piece carries the wishes of all parents the world over.
Yona Verwer: You use a wide variety of materials and techniques in your work — everything from performance art, wood and stone carving, photography, video art mixed media, printmaking and more. How do you choose the media and techniques for your work, and is there a favorite?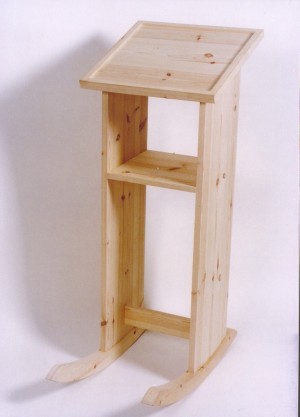 Ken Goldman: Choosing materials and techniques seems to be something that happens pretty naturally together with the idea. I don't start out a project by saying, "Well, it's time to do some carving" or "It's time to do print in 3D." First I start researching an idea — thinking about the subject, its implications and what I want to say. And then, if I am in luck, the techniques and material choices seem to follow through. What really has helped over the years is the true love of materials and technique I acquired while studying first at Brooklyn College and then at Pratt, where I did my master's in industrial design. Of course living on a kibbutz for so many years off the beaten art path and in a real DIY environment has pushed me to be very self-sufficient and to constantly explore new techniques and materials.
Yona Verwer: In your last answer you mentioned kibbutz – I was wondering what is it like for you being an artist living on a kibbutz?
Ken Goldman: Despite being a kibbutz member for 30 years, I am not a good example of what has been historically labeled a "kibbutz artist." When you hear someone referred to as a "kibbutz artist," it usually refers to a special status that the kibbutz granted to an individual. Together with that title, artists were often given days to work in their art, studio space, funding, etc. That has not been the case for me on my kibbutz. The art that I create is done after I fulfill my obligations to the community working in a variety of jobs over the years.
Being an artist on a kibbutz is a real challenge — the idea of doing something that is so different, or doing something that may draw attention to the individual is in many ways antithetical to the kibbutz ideals. I can't say that this is an ideal environ to nurture a creative spirit, but it does have many other good things about it. Together with my wife and family, I have a few really supportive friends. On the kibbutz I am constantly looking for the qualities and experiences unique to my community, and these observations often inspire new projects.
Yona Verwer: I see you use a lot humor in your projects – Jewish subject matter in the arts mixed with humor might to be a risky combination. Have you had to deal with this causing people's feathers to ruffle or worse?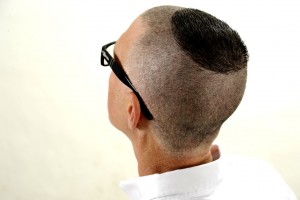 Ken Goldman: It's funny, I always have equated humor with being part and parcel of the Jewish experience. I thought it was our way of dealing with difficult situations, uncomfortable/challenging subject matter, and at times a survival mechanism.
For some of the works, I do definitely use humor - but usually the humor is a vehicle to draw the viewer in, to break the ice, but there is always something else involved as well, something more serious. It's not your typical art one-liner that we often encounter. I often find myself in that shaky gray area where something may be seen as flippant or mocking, but that seems to be the place I am most comfortable.
To answer your question more directly for those people who may initially be a bit put off or challenged by the works: After spending a few moments or asking a few questions, they seem to accept and enjoy the works.
Yona Verwer: What are you working on right now in your studio?
Ken Goldman: These last few weeks I have been working on some very large-scale pen-and-ink drawings as preparation for a new performance piece. I have also just finished a new "eternal light, ner tamid piece, which I am very excited about for an upcoming competition. Finally I've been working on a laser-embossed matzo piece that deals with a modern take on the historical blood libel issue!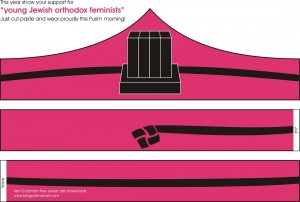 Ken Goldman, Young Jewish Orthodox Feminists
"Off Label: Ceremonial Objects Imagined—The Work of Dov Abramson and Ken Goldman" is now on view at the Laurie Tisch Gallery: JCC in Manhattan, curated by Tobi Kahn. The opening reception is May 1st.
Dutch-born Yona Verwer is an artist in New York. Featured in the New Yorker, the NY Times, and others, she creates works that explore identity, terrorism, tikkun olam, and kabbala. She has shown and curated in galleries and museums including Yeshiva University Museum, Andy Warhol Factory, Bronx Museum, Philadelphia Museum of Jewish Art, Center for Jewish History, Reginald Lewis Museum of African-American Art, and the Holocaust Memorial Center. Verwer holds an MFA from the Royal Academy of Art in The Hague, and has completed residencies at PS 122 Studio, the Makor Center and the Skirball Center. She is the president & co-founder of the Jewish Art Salon in NYC and serves on the advisory boards of Art Kibbutz, Zeek, Jewish Art Now, and the Jewish Design Collective.