May 31, 2014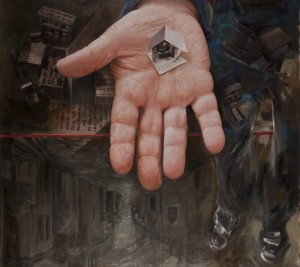 Mirta Kupferminc, Detail, "Hand Writing, Amos Oz," mixed media
Artist Q, Artist A is Zeek's new series of artist-artist conversations.
Argentina-born Mirta Kupferminc is an award-winning artist living in Buenos Aires. A daughter of Auschwitz survivors, she focuses her art on memory, identity, migrations, and human rights. Her art, she says, allows people to approach difficult themes. A teacher and lecturer in the US, Taiwan, Scotland, and Tel Aviv, her art can be found in museum collections around the world, including in the United States, Argentina, Taiwan, Uruguay, Budapest, and Cuba. She is a member of the Jewish Art Salon, and the first ever international fellow at LABA's House of Study in New York City.
She'll be giving a talk about "Divine Desire" as part of Into the Night: 14 Street Y's Tikkun Leil Shavuot , where she's also exhibiting an artist book from "Mothers in the Bible Talk to Wichi Mothers," a Schusterman Make It Happen project, created as part of a cultural exchange arranged for this project between Jewish ORT students and a mother from an Argentine Wichi tribe, an indigenous matriarchal people.
Five Questions for Mirta Kupferminc
Yona Verwer: What is the Jewish art scene in Argentina?
Mirta Kupferminc: Although Jewish community in Argentina is huge, Jewish culture is not incorporated into everyone's daily life in the same way as it is in New York. Jewish food, and Jewish words and expressions remain part of a more "ethnic culture."
Many good artists who are Jewish do not want to incorporate their cultural identity into their work. I take exception to that, since it gives me a strong identity in Argentina. Besides the content of art, quality is important to me.
When transmitting a strong identity communicated in a universal way, it is possible to find a place in the Argentinean art scene while being clearly identified as a Jewish artist.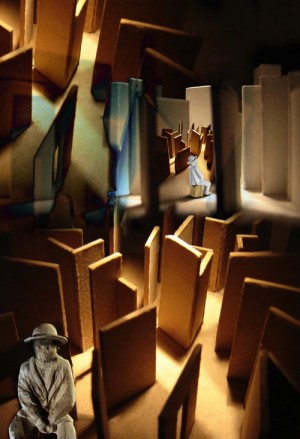 Mirta Kupferminc, El Poeta Aguarda
Yona Verwer: Tell us about your Jewish-themed works.
Mirta Kupferminc: Everything I make has a Jewish theme, just because I am Jewish.
I am not interested in producing beautiful works, but meaningful ones that will represent me and also my tribe. I am very interested in Jewish philosophy and knowledge, and I work a lot on the relationship between the Argentine writer Jorge Luis Borges and kabbalah. By merging my two identities as a Jewish and an Argentine artist, I try to bring these two issues to a universal scope.
Memory is also a strong theme in my work. Both my parents are Auschwitz survivors and their history shaped my life and my work.
Yona Verwer: You're currently a fellow at LABA: House of Study at the 14th Street Y. What is that like?
Mirta Kupferminc: I used to say that with my work I stand inside the ghetto but am aiming to destroy its walls. LABA permits deep study of our classic texts, in the company of a wide variety of teachers, curators and artists. It offers knowledge and allows free interpretation according to each way of expression. I am sure that the "Mother" series I produced for LABA will in the future be shown in many different venues, some not Jewish at all.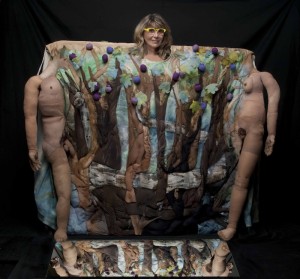 Mirta Kupferminc, "S-Naked," 2014, mixed media
I never make works for a Jewish audience different that any other of my regular works. My experience with LABA was and is great, and we are planning to create an international network for Jewish studies and art creation. I have already begun shaping this in Buenos Aires, and we will work all the time internationally, sharing our classes and exhibits with the help of technology. We live in different places, but work together to maintain our knowledge and culture, through art. We artists are communicators.
Yona Verwer: How do you choose the media and techniques for your work, and is there a favorite?
Mirta Kupferminc: I've always worked with a wide variety of medias. In Buenos Aires, many years ago, dogmatic art critics would ask me, "But are you a painter, a sculpture, a printmaker or what?"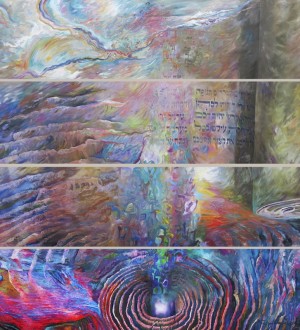 Mirta Kupferminc, "La Fuerza de la Vida"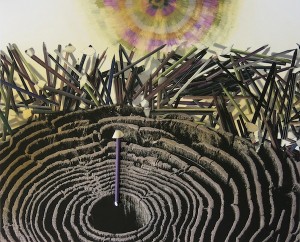 Mirta Kupferminc,"Bria Yetsira" 2013, mixed media
My concerns are related to quality and the message of my artwork. I choose the medium according to what I'm trying to achieve. For example, at LABA this year the theme was MOTHER. I applied for the fellowship with 2 "soft habitable sculptures," because that is what we mothers are, and from a practical standpoint, because it was easier for me to travel by plane with suitcases full of soft materials instead of metal heavy sculptures.
I also do a lot of printmaking and have plenty of exhibitions of metal etching. This medium serves me on several levels: my last name kupferminc, means copper coin or stamp, suggesting that some ancestor of mine worked with copper; I work on zinc or copper plates.
Secondly we are the People of the Book, and I make elaborate handmade books for bibliophiles.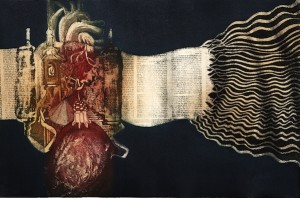 Mirta Kupferminc, "Thirty-Two Are the Paths," 2006
Yona Verwer: What are you working on right now?
Mirta Kupferminc: I live through my works, and I rarely finish a project. I learn and think while I am working. One project I am developing is about Jewish writers' palms of hands, crossed by their own texts. I already worked with Amos Oz and Meir Shalev's hands, and it was a pleasure to work with them. I continue working with LABA.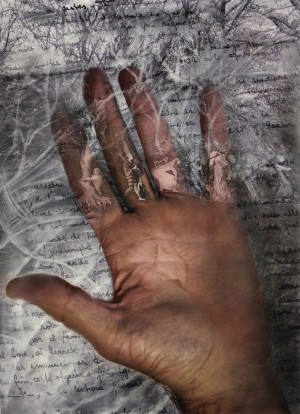 Mirta Kupferminc, Palma Saul Sosnowski
Another project, "NOWHERE NOW-HERE," has to do with migration. If you cut the word "Nowhere" into two, it means completely the opposite.
See For Yourself
Don't miss Mirta Kupferminc speak about "Divine Desire" and the chance to see "Mothers in the Bible Talk to Wichi Mothers" at the 14 Street Y on June 3, part of Into the Night: Tikkun Leil Shavuot.
Read More
Artist Q, Artist A: Yona Verwer talks to Ken Goldman About his work, life, and new exhibit, Off Label
Dutch-born Yona Verwer is an artist in New York. Featured in the New Yorker, the NY Times, and others, she creates works that explore identity, terrorism, tikkun olam, and kabbala. She has shown and curated in galleries and museums including Yeshiva University Museum, Andy Warhol Factory, Bronx Museum, Philadelphia Museum of Jewish Art, Center for Jewish History, Reginald Lewis Museum of African-American Art, and the Holocaust Memorial Center. Verwer holds an MFA from the Royal Academy of Art in The Hague, and has completed residencies at PS 122 Studio, the Makor Center and the Skirball Center. She is the president & co-founder of the Jewish Art Salon in NYC and serves on the advisory boards of Art Kibbutz, Zeek, Jewish Art Now, and the Jewish Design Collective.