April 10, 2014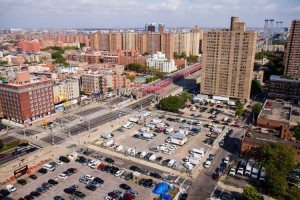 The Real Deal
Fallow for 47 Years: In 1967, about 2,000 families within a 14-block area received a notice from the city: they had 90 days to leave before their homes would be demolished.
Cities are reflections of their pasts. Walk through the streets of any New York City neighborhood and you will find echoes of earlier eras everywhere. The Lower East Side is a particularly rich terrain. From its "old law" and "new law" tenements to the modernist housing projects that rise above them, the Lower East Side wears the traces of its history markedly.
If you look south on Delancey Street around the Williamsburg Bridge approach, you will find a perplexing sight: mixed among the tall towers and the squat tenements are several blocks of vacant land, fenced off with barbed wire. Some plots operate as parking lots; others are completely unused. In a neighborhood that is bursting at the seams with both people and capital, this spot has sat fallow for 47 years.
The lots are known collectively as the Seward Park Urban Renewal Area, or SPURA. They are a frozen image of so-called urban renewal, a national program of planned demolition and reconstruction that between 1949 and 1967 tore down about 400,000 working-class families' homes, and created about 10,760 new public-housing units in their place. The program was sold to Americans as a way to destroy our cities in order to save them.
The problem with SPURA, though, is the city never rebuilt. For years, it was a third wire of local politics, sparking so much controversy that many considered it a lost cause. Much of the tension revolved around Jewish politics. Several Jewish organizations and politicians were accused of fighting low-income housing construction in the area as a way to preserve their own status and power. A recent expose in the New York Times demonstrated how New York Assembly Speaker Sheldon Silver and his ally at the Metropolitan Council on Jewish Poverty, William Rapfogel, organized behind the scenes for decades to keep the lots vacant. At the same time, William Rapfogel was allegedly stealing millions from the Met Council, and funneling much of it to Silver.
This is all true. But it is far too easy to write off the story as one of Jews versus everyone else, and miss the nuance that makes this story historically valuable.
There are many stories that get told about Jews and urban renewal in New York City. In his manifesto on modernism, All That Is Solid Melds Into Air, Marshall Berman wrote of the callous way Robert Moses — whom he compared to Moloch — displaced an entire Jewish community to make way for the Cross Bronx Expressway. In The New York Approach: Robert Moses, Urban Liberals and Redevelopment of the Inner City, Joel Schwartz showed that several Jewish organizations actively supported Moses' "slum clearance" plans in order to become sponsors of the new development projects. Robert Fitch, in his masterful book The Assassination of New York, claimed that Robert Moses was just the Jewish fall guy for a bunch of plans dreamt up by patrician bankers and businessmen. An editing war on Jane Jacobs' Wikipedia page over whether or not she was Jewish rages on.
The truth is, Jews have been on all sides of urban renewal. We pushed for it; we fought against it; we benefited from it; we were crushed by it.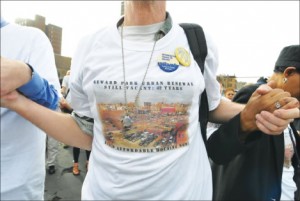 The Villager
For years, New Yorkers rallied to bring much-needed low-income housing to the SPURA site.
Jews have a tendency to collectivize our guilt, as we do in the Ashamnu prayer every Rosh Hashanah and Yom Kippur. Every Passover, we remember when we were slaves in Egypt not because we were actually there, but because we turn that historical experience into collective memory.
While this works in the spiritual realm, it might be a mistake in the political world. We can't choose to reshape history toward the story that best fits our personal politics — i.e. that the Jews prevented SPURA from being developed as low-income housing, or that the Jews stood up for what was right and fought on the side of the angels.
Jews in America are as class divided as any other demographic group, and generally we act as such: not in concert, but in conflict. The SPURA saga is worth understanding, remembering and retelling because it complicates any one particular narrative about Jews and New York City's dark history of destruction and development.
Urban Removal
It all started with Cooperative Village, a stretch of land on Grand Street and East Broadway that was cleared by the city in the 1930s, '40s and '50s. In the place of old tenements, a coalition made up of Robert Moses and his Slum Clearance Committee, Abraham Kazan and his United Housing Foundation, and the pension funds of the Amalgamated Clothing Workers of America and the International Ladies' Garment Workers' Union built 12 large buildings containing 4,500 limited-equity coop apartments.
The new residents were solidly middle class, and 97.6% of them were Jewish. The surrounding area, however, was not. By the time Cooperative Village was completed, the area was mostly Puerto Rican, African American, and Chinese.
In 1959, Kazan and Moses worked together again to get a larger area near the coops, known as the Seward Park Extension, mapped as an urban renewal zone. It took several years, but by 1964 the broader SPURA was set for demolition and reconstruction: the city would tear down nearly everything between Cooperative Village and the planned "Lower Manhattan Expressway," a highway that would have cut straight through SoHo, Chinatown and the Lower East Side. Some 2,150 apartments would be torn down; 1,400 would be rebuilt, and only 186 of them would be at low rents. According to a 1984 thesis by anthropologist Joan Turner, a definitive guide to the politics of SPURA, the project would displace 966 Puerto Rican families, 762 white families, 193 African American families, and 178 Chinese families, of which 80% were low-income. This was classic urban renewal planning.
Supporters of the plan included most of the neighborhood's settlement houses – progressive-era service agencies with a great deal of Jewish support – as well as the mainstream political establishment: the Democratic clubs, the Republican clubs, and the Liberal Party. Opposing the plan were more radical factions, also heavily Jewish, including the Metropolitan Council on Housing and the Cooper Square Committee.
In 1967, about 2,000 families within a 14-block area received a notice from the city: they had 90 days to leave before their homes would be demolished.
A Bad Start
After SPURA was cleared, the first building to rise was an apartment complex on Attorney Street sponsored by the United Jewish Council. First priority for the new housing was supposed to go to the recently displaced, who were predominantly people of color. It didn't take long, however, for neighborhood residents to realize that this was not happening. Of the 360 new apartments, the vast majority were going to Jewish households, according to Turner's study. 171 families who had not even lived in the cleared area were given initial leases; 85% were white, most were Jewish.
A lawsuit ensued, with opposing sides of the SPURA fight becoming more and more entrenched. On one side was United Jewish Council, an organization that spoke on behalf of Jewish residents of the Lower East Side, who were increasingly concentrated in Cooperative Village. As a political organization, UJC essentially existed to block low-income housing in SPURA.
On the other side was the Joint Planning Council of the Lower East Side, a coalition of neighborhood advocacy groups and social service agencies. Their coalition was larger but much more diverse, including Puerto Rican, African American, Chinese and progressive Jewish organizations. They persistently pushed for more low-income housing in SPURA.
The fight was characterized by the New York Times as an "unusual situation in which groups that defend the poor have been on opposing sides."
After a number of appeals, the courts ruled that the racial mix of the new housing should be based on the surrounding demographics. The United Jewish Council argued that that meant it should be 97.6% white/Jewish, just like neighboring Cooperative Village; the Joint Planning Council, of course, disagreed, arguing that the housing should be divvied up according to the neighborhood mix as it existed before the displacement of 1,337 black, Latino and Asian households. An external mediator finally decided that the new developments should be 60% people of color and 40% white, according to Turner's account.
The United Jewish Council baulked. They were not willing to accept any low-income housing development on SPURA land. In 1975, Sheldon Silver, then a lawyer for UJC and head of one of its housing organizations, wrote a letter to the city proposing that only middle-class housing be developed on SPURA, and the rest be turned into an indoor shopping mall. The city's new housing and planning commissioner, Roger Starr, was intrigued. As Deborah and Rodrick Wallace describe in their book A Plague On Your Houses, Starr adamantly opposed all low-income housing construction, and was generally uninterested in city investments that benefited the poor. In this context, the United Jewish Council's proposal sounded just about right.
Starr instituted a new study of the area, and found that a predominantly commercial development would be the best use of the site. The city transferred development plans for 900 apartments from SPURA to other urban renewal sites around the city. This decision effectively quashed any plans for large-scale housing construction in this part of the Lower East Side.
Shortly thereafter, New York City spiraled into an epic fiscal crisis. All plans for future city developments were put on hold. SPURA was officially stalled.
The Silver Years
In the meantime, a lot changed.
First, the United Jewish Council consolidated its political power. One of its rising stars, Sheldon Silver, was elected to represent New York's 65th Assembly District, which included SPURA. His protégé, William Rapfogel — the son of UJC founder Hyman Rapfogel — also rose as a political force, at various points running Jewish newspapers, working for Ed Koch and Comptroller Jay Goldin, leading UJC's development arm, and working for the Metropolitan Council on Jewish Poverty. Judy Rapfogel, his wife and UJC board member, became Silver's chief of staff.
Second, the City's Charter was revised in 1975, shaking up big city agencies and dispersing power among numerous Community Boards. As part of the deal that restructured New York's finances, the city lost much of its ability to raise and spend money without state permission; as a sort of compensation, and in reaction to a backlash against Robert Moses-style urban renewal, the city gave more power to local groups to make decisions about major planning changes. Among other impacts, entrenched local interests like UJC gained even more influence in the development of the SPURA site.
Third, Chinatown was expanding. The 1965 Immigration and Nationality Act dramatically expanded the possibilities for Chinese immigration, and over the following decade lower Manhattan's Chinese population pushed beyond the narrow boundaries of its original ghetto. Much of the growth was eastward into formerly Jewish and Puerto Rican areas of the Lower East Side.
As the neighborhood was growing, its political life was changing. The "benevolent associations" that had exercised control over the neighborhood's political and economic life for over a century were being challenged by Chinese-American radicals who questioned their arbitrary power, and nonprofit professionals who sought to provide similar social services with government and foundation funding. One of the most ambitious new nonprofits was the Chinatown Planning Council (now known as the Chinese-American Planning Council), a member of the Lower East Side Joint Planning Council. In 1977, CPC received a $6.5 million grant from the federal government to build senior housing somewhere in Lower Manhattan. CPC's then-president told Joan Turner that after a few failed ventures, the city's Department of Housing Preservation and Development recommended that CPC build in SPURA. UJC opposed this development, as CPC's senior housing would likely not target Jews and would conflict with UJC's plans for a giant mall on the site.
Finally, the Joint Planning Council opened up a new front in its fight for housing equity: it sued the United Jewish Council for discrimination in Cooperative Village, claiming that blacks and Latinos made up 19% of applicants for coops but made up only 2.4% of residents. UJC refused to acknowledge anything was wrong. "The real issue is one of turf lines," UJC's president [told Turner]. "The whole thing down here is one of turf. There is only so far we can be pushed. We're being attacked externally from the Hispanics trying to move in on Grand Street via Seward Park Extension, and internally through the lawsuit against the co-ops. There's a point at which you have to say 'no more,' and draw the line."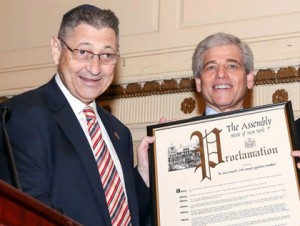 CBS
CRONYISM & CORRUPTION: NY Assembly Speaker Sheldon Silver and William Rapfogel organized behind the scenes for decades to keep the lots vacant.
In light of all these developments, Silver, Rapfogel and their allies stepped up their lobbying efforts to ensure that no low-income housing would be built on SPURA. They met with city officials, pushing their mall proposal. At one point, Silver and Rapfogel even claimed that they had struck a deal with the Chinatown Planning Council to move their senior center out of SPURA, when no such pact had ever been brokered.
Eventually, the city released what it called a "compromise plan." UJC would be the sponsor of the urban renewal area; individual plots would be given to the Joint Planning Council and the Chinatown Planning Council for low-income and senior housing development; and two-thirds of the area would be rezoned for commercial — not residential — use.
By coincidence or by design, the plan pissed off just about everyone. UJC refused to sign on to any plan that included low-income housing. JPC said that it had far too much commercial development, and not nearly enough apartments. The particular lot that CPC was offered for its senior center had previously been promised to JPC, creating a rift between the two groups that was never fully repaired. Chaos ensued.
At the peak of fighting between the various neighborhood groups, the compromise plan went through the "Uniform Land Use Review Process," the city's then-new method for dealing with zoning changes. The proposal made it through nine months of contentious public hearings before it came for vote before the Board of Estimates, a precursor to the New York City Council.
It was a packed room, and tensions ran high. Rabbi Efroim Stein of the UJC testified, saying, "the ratio of Jewish people versus others, or minorities, has become a continuous struggle. The people living there now need the security of the knowledge that the economic level of the community will be maintained." In response, Jewish activist Frances Goldin of the JPC condemned "the hate, the slanders and the racisms that came out of this hearing today. Let's live together. No more ghettos."
Then the city played its trump card. Manhattan Borough President Andrew Stein rose up and amended the proposal on the table. Saying that combining the goals of economic development and low-rent housing in one project was "ludicrous," he removed all low-income housing from the proposal. The Board of Estimates took a vote, and with Comptroller Jay Goldin whipping votes, the Board voted with Borough President Stein to pass the SPURA deal without any low-rent housing.
After the vote, several members of the Koch administration told anthropologist Joan Turner that the deal was cooked from the start. Mayor Koch, Deputy Mayor Bobby Wagner and Sylvia Deutsch, a city planning commissioner and director of the Metropolitan Council of the American Jewish Committee, had orchestrated the whole thing, and encouraged Borough President Stein to spike the deal at the last minute.
After the vote, things fell apart once again. The JPC sued the city saying Stein's amendment was illegal, but they lost. Its discrimination suit against Cooperative Village resulted in a court-mandated settlement, which JPC refused to accept. CPC built its senior housing on a different nearby site, and the city simultaneously approved a new UJC-controlled senior housing project with a similar number of apartments in order to preserve the neighborhood's demographic balance. The UJC, meanwhile, never built its mall on SPURA, and most of the lots remained completely empty.
The New Plan
Over the years, several SPURA proposals arose, but none seemed to go anywhere. The LeFrak Organization was twice selected by the city to build, but both UJC and JPC opposed these plans as either not Jewish enough or too Jewish. Silver and Rapfogel quietly tried to lure a big-box store to the site, but nothing came of it. Silver's political influence continued to rise, and he eventually became the speaker of the New York State Assembly, one of the most powerful positions in the state.
Between 1996 and 2000, Cooperative Village voted to go private, scrapping its commitment to middle-class housing and selling the properties on the open market. A two-bedroom apartment in these union-sponsored developments now goes for about a million dollars.
In 2005, Michael Rapfogel — son of William of the Metropolitan Council on Jewish Poverty and Judy, chief of staff to Speaker Silver — took a job with Forest City Ratner, one of the city's biggest developers. Shortly thereafter, Silver signaled that he was open to a new deal for SPURA.
The Bloomberg Administration agreed to support a new SPURA deal if done its way — with a certain percentage marked as "affordable" and the rest market rate, and with a significant amount of high-end retail and cultural uses. The debate then became over just how much subsidized housing there would be, and at what rate.
Several left-wing organizations, including the Chinese Staff and Workers' Association, rejected the mayor's wishes and pushed for 100% affordable housing, and even found a developer who said he was willing to build it. A set of more politically moderate organizations worked with the city, Silver and private developers to come up with a compromise. Jews for Racial and Economic Justice spent much of 2008 and 2009 organizing in Cooperative Village to build support for affordable housing construction in SPURA.
In 2011, a plan was ultimately adopted: about 1,000 apartments would be built, of which 20% would be low income, 20% would be middle income, and 10% would be senior housing.
Opinions on the deal remain split. Mary Spink of Community Board 3, which approved the deal, said at the time, "It's the best we could do with a bad situation." Joel Feingold, an organizer with the group Good Old Lower East Side, called the deal "a recipe for further displacement. It's an irrational and perverse tradeoff for land that always housed working people."
When the city put out a bid for construction, one of the first firms to apply was Forest City Ratner, employer of Michael Rapfogel. In the application, the Metropolitan Council on Jewish Poverty, William Rapfogel's organization, was named as Ratner's nonprofit sponsor. It seemed highly likely that Forest City Ratner would get the job. Days before the winning company was scheduled to be selected, however, William Rapfogel was arrested for grafting millions of dollars from his nonprofit's insurance broker, and sending much of it to Sheldon Silver, who in turn ensured continued government funding for Rapfogel's programs. The Rapfogels were not going to be awarded the SPURA development deal.
Instead, the project went to another consortium of powerful developers and nonprofits: L&M Development Partners, BFC Partners, Taconic Investment Partners and Grand Street Settlement. In addition to housing, the $180 million plan — now dubbed Essex Crossing — will include park space, a new home for the Essex Street Market, a set of restaurants, office space for tech entrepreneurs, a movie theater, and an Andy Warhol museum. The designer is SHoP Architects, the firm responsible for a number of other highly controversial public-private projects, including the Barclays Center, the Domino Sugar factory project, and the proposed professional soccer stadium inside Flushing Meadows Corona Park. Their renderings project an image of luxury – glass and steel high-rises with well-dressed young people strolling about. Construction is set to begin next year.
Opponents of the deal hoped Mayor Bill de Blasio's administration might reopen negotiations on the SPURA project and demand a better deal for tenants. Instead, however, Mayor de Blasio reappointed one of Bloomberg's point people on the development, Kyle Kimball, as president of the Economic Development Corporation. Shortly after his re-appointment, Kimball cited SPURA as the kind of project he would like to replicate across the city.
Lessons of SPURA
The story that's usually told about SPURA goes something like this: the Jews tore down the neighborhood, then refused to let anyone else build on it.
Okay. Some Jews did actually do that. The Jews, however, did not.
In fact, a lot of Jews have been on all sides of this issue, as displaced tenants, as litigants against the city, as organizers pushing for affordable housing. The difference is, those Jews didn't win this fight.
Why was the politically conservative Jewish coalition so much more effective? First, they had a deep organizing strategy. With a base membership of 4,500 coop members, they had a huge capacity for voter mobilization. The UJC activated and maintained an extensive network of political connections, and they built up the Harry S Truman Democratic Club in the Lower East Side as their political machine. They used their own leadership's ties to schools, shuls, political parties and businesses to win over influential Jewish leaders. UJC had a powerful and comprehensive community and political strategy.
Their goal, though morally repugnant to many progressive Jews, was simple, straightforward, and unchanging. UJC opposed low-income housing, plain and simple. There was no dressing up the issue in other justifications; they simply did not want working-class blacks, Latinos and Asians living near them. Their opposition was grounded in three principles:
Turf: UJC believed that Jews, under their leadership, rightfully controlled this part of the neighborhood.

Racism: they played on fears of blacks, Latinos and Asians, whose collective political power was on the rise in New York City.

Property: they aimed to protect the property values.
Politicians like Sheldon Silver had an interest in keeping the neighborhood white and Jewish in order to maintain their electoral base and fundraising network. The more the neighborhood changed, the greater the likelihood of a successful challenger. Other politicians, like Jay Goldin, traded their opposition to housing development on SPURA for UJC's loyalty in future elections. They made it a liability for ambitious politicians to support affordable housing construction.
Meanwhile, the main proponents of low-income housing — the Joint Planning Council — faced a number of challenges. They were a diverse group, and not rooted in any specific population or identity. Their members included Puerto Rican, African American and Asian community service organizations, as well as progressive Jewish allies- a heterogeneous, multilingual, and structurally disempowered group. The coalition could be played against itself by more powerful interests; in fact, that's exactly what happened when the city pitted the Chinatown Planning Council against the broader Joint Planning Council. They were reliant on government funding, which could be denied. In fact, during the 1980s, many of their members found themselves suddenly defunded. Their staff was largely driven by ideology rather than direct material interest, giving them somewhat less of a stake in the fight's outcome. They were not an authentic social movement; they were an agglomeration of nonprofits whose job it was to stand up for the poor. The JPC was in the awkward position of speaking for everyone, and therefore no one at all.
As much as SPURA was a fight between Jewish cooperative owners and displaced people of color, it was also a clash over class loyalties within Judaism. The United Housing Foundation, which built the union coops on Grand Street and East Broadway, took working-class Jews and helped them join the middle class. The United Jewish Council organized a campaign to keep them there at the expense of all others. The Jewish organizers at the Metropolitan Council on Housing, the Cooper Square Committee and the Joint Planning Council aimed to build solidarity between middle-class Jews and working-class people of color. In the end, that proved too idealistic a mission, and it faltered in the face of middle-class opposition.
Ultimately, all this fighting played toward the same forces that always seem to win in big redevelopment projects: real estate and the state. While the conflict has always been framed as Jewish coop owners versus everyone else, the truth is that very powerful elements within city government wanted the poor out of the Lower East Side for a long, long time. The 47-year battle over SPURA allowed them to obliterate an entire community and turn its back on ever rebuilding.
By taking such a strong and unyielding stance against their poorer neighbors, middle-class Jews did the city's economic elite an enormous favor. Several big developers are now in line to make a fortune off the project. Those who spent years promoting gentrification on the Lower East Side will get a revamped SPURA as their pièce de résistance. Hundreds more of wealthy households will soon call the neighborhood home.
Next year, when New Yorkers gaze upon the rising scaffolds of "Essex Crossing," they will be witnessing the physical legacy of a little class war. In the fight between Jewish unionists and displaced people of color, luxury developers took the prize.
Samuel Stein is an independent writer, researcher, and organizer. He has worked in New York's labor and tenant movements, and holds a master's degree in urban planning from Hunter College. He has written about New York City politics for such publications as Progressive Planning, Gotham Gazette, and Urban Omnibus, and is currently co-authoring a book about gentrification in Manhattan's Chinatown with Hunter College professor Peter Kwong. His last article for Zeek was "Kicking Away the Ladder: Immigrants, BIDs & an Uncertain Future for Street Peddling in NYC," published February 4, 2014.
Correction: In a sentence above, the current price of an apartment in Cooperative Village was inadvertently misrepresented. The price is for a two-bedroom apartment, not a one-bedroom. It has been corrected.