October 23, 2013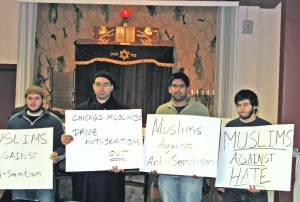 JCUA has partnered with CAIR-Chicago for years. Here, CAIR-Chicago volunteers speak out against anti-Semitism after an act of synagogue vandalism, way back in 2006.
Last week, the Philadelphia chapter of the Council on American Islamic Relations (CAIR) hired its first non-Muslim executive director. What's more, he's Jewish. So are some of the most critical reactions.
In the Forward, Nathan Gutman reports that the Jewish community "has excluded CAIR from all joint interfaith activities with the Muslim community," writing that some have gone as far as to question whether the newly hired executive director — filmmaker and interfaith activist Jacob Bender — is perhaps "anti-Jewish" or "anti-Israel," even though Bender's bio includes living in Israel and even working at Yad Vashem.
Jacob Bender is set to be the voice of Philadelphia-area Muslims, to take on discrimination they encounter in workplace and in the public sphere, and to fight expressions of hate. And his Jewish faith, Bender believes, can only help him do the job effectively.

"The Muslim community is under attack from Islamophobic forces, and it is the obligation and responsibility of people of good will to stand up and say this is a bigoted attack," Bender said. "This is fully in keeping with my life goals."
Bender is not alone. While JCPA's Ethan Felson characterizes CAIR in the article as being "far off the radar screen of the Jewish community," the Jewish community is far from monolithic. The Chicago-based Jewish Council on Urban Affairs has been partnering with CAIR-Chicago for more than seven years. As the director of JCUA's Jewish-Muslim Community Building Initiative, I want to tell you why.
First, let me say that we did not make the decision to partner with CAIR-Chicago without deliberation. Prominent rabbis and community leaders across the denominational spectrum — led by Rabbi Asher Lopatin (Orthodox) and Rabbi Andrea London (Reform) — sat down with CAIR-Chicago's board, and we asked each other all the hard questions. JCUA came out of that process with a strong sense that a partnership is not only possible, but essential.
Over the years, JCUA's relationship with CAIR-Chicago has fostered a great deal of trust between JCUA and the larger Muslim community. This environment of collaboration for the common good brought the problem of anti-Semitism to the attention of the larger Muslim community, to the extent that when the Council of Islamic Organizations of Greater Chicago convened a panel discussion on Islamophobia at a national conference in 2010, they included programming about anti-Semitism and requested that I speak. Incidentally, that conference – and the programming on anti-Semitism specifically — was co-organized by the Muslim Public Affairs Council, the same organization that the Anti-Defamation League misguidedly criticized in a recent report.
Throughout this partnership, CAIR-Chicago has been consistently and strongly outspoken against anti-Semitic outbursts and violence against Jews and Jewish institutions — as well as attacks on other faiths.
Moreover, it is not just anti-Semitism that we are able to combat together. Over the years CAIR-Chicago and JCUA have stood together, along with other partners, to confront bigotry of all kinds. From an attack against an innocent Muslim on the train here in Chicago after the Boston bombings, to speaking out against Pamela Geller's hateful bus ads, our collaborative work has echoed a strong message that we have all heard before: "An injustice anywhere is a threat to justice everywhere."
It is easy to judge people through one's own narrow lens. It is much harder, but all the more important, to pursue avenues of meaningful collaboration. It's the right thing to do, but it is also in the Jewish community's self-interest. CAIR-Chicago has received praise for its civil rights work from Mayor Rahm Emanuel and we all know he's not Muslim!), the governor of Illinois, and dozens of other community leaders and elected officials.
The question is not whether we can afford to work with CAIR, but whether we can afford not to.
Asaf Bar-Tura is the director of operations at the Chicago-based Jewish Council on Urban Affairs, and director of its Jewish-Muslim Community Building Initiative.