April 17, 2014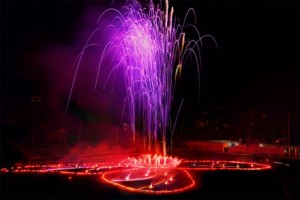 Prospect Park Alliance, A Butterfly for Brooklyn
Feminist Artist Judy Chicago celebrates her 75th birthday with "Butterfly for Brooklyn," a pyrotechnic performance in Prospect Park on April 26, 2014.
The fourth in Zeek's intergenerational series of feminist plagues – look for a new one each day of Passover.
This is the last sentence of my horoscope for the week of April 3, 2014:
"You need to be free of the past, free of fearful influences, and free of the self you're in the process of outgrowing."
I'm thinking about this sentence as many around me observe Passover, as I opt out of it for the second year in a row, doing a thing that feels razor-sharp-right for me, and also confusing and dangerous. (More than one thing can be true at a time; let's remember this always.)
For me, I consider the ever-present pressure to collaborate with systems and ideas that are anathema to my politics a kind of plague, proof that even when you're trying to distance yourself from something (in my case, observant Judaism), there are certain ideas that will never leave you.
I'm no longer sure what the "Jewish" part of my Jewish feminist identity means. Maybe I didn't ever know, and that's fine. What I am sure of? If Passover means we're doing some house cleaning of our souls, the following are things that absolutely need to go.
Capitalism: Its perversion of our morality, our empathy, our ability to imagine a world free, or at least, more free, of an patriarchal narcissistic economic structure that rewards us for amassing wealth that crushes, that confuses more with better, with correct, with deserving.
Rape Culture (and the denial of its existence): The message that all women are and should always be sexually accessible. That men are entitled to women, that they can get off the hook for rape, that all women are liars, that our bodies are a thing that to be taken, that fathers must guard, that don't belong to us, but we're to blame if we don't contain them appropriately, if we don't offer them constantly, if we want control of them, if we want to enjoy them.
Abortion Stigma: When we say, "I think abortion should be legal, but I would never have one," when we think every abortion must be a negative experience that scars us, when we say, "No one wants an abortion," when we think it doesn't happen to nice Jewish girls – when three out of ten women in America will have an abortion before she turns 45 – when the voices of internalized misogyny and shame are so loud in our heads that we can't listen, and we certainly can't hear.
What Lyn Mikel Brown and Carol Gilligan called "the tyranny of nice and kind": What we don't say or do say, what we do and don't do, because we're afraid of not being loved, when we give away our power because we're told that getting and keeping a man is the most important thing we can do, when we're afraid to call ourselves feminists because it scares people, when we hold back our gorgeous, righteous indignation because then it's "too much," when really, it's the most important thing we can be.
Chanel Dubofsky is the creator and editor of the Marriage Project. She has written for publications including Cosmopolitan, RH Reality Check, the Jewish Daily Forward, The Billfold, and Role/Reboot, and has worked for Pursue-Action for a Just World, Hillel, and the American Jewish World Service. She is currently an MFA candidate at Vermont College of Fine Arts. She lives in Brooklyn and tweets @chaneldubofsky.
Editor's Note
This project was inspired, generally, by the 39th Annual Feminist Seder held this March at the home of Barbara Kane and the conversations we had there about creating more intergenerational spaces for feminists and social justice activists, and, specifically, by Letty Cottin Pogrebin's reading there of "The Ten Plagues According to Women," which appears here. Over the past few weeks, I reached out to Jewish feminists between the ages of 17 and 70-something, asking each to use the 10 Plagues as a point of departure. To redefine them or reflect on what each sees as today's plagues, from a Jewish feminist perspective. Spread the word about this intergenerational Zeek series for Passover, featuring Letty Cottin Pogrebin, Chanel Dubofsky, Avigayil Halpern, Susan Lubeck, Jacqueline Nicholls, Sarah Seltzer, and Rabbi Elianna Yolkut.—Erica Brody