November 5, 2014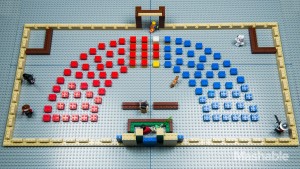 Mashable #LegoSenate
Midway through the day of the Morning After, it's sinking in that next year in the United States of America, there'll be much more red from sea to shining sea.
Instead of focusing on the divide between right and left (or right and middle, etc.), it's worth appreciating how the Other Great Divide played out in the polls: the economic divide. And, just as important, to recalibrate and re-energize.
With the gulf between rich and poor greater than it has been since 1929, the most basic of economic justice measures found its way onto ballots in the form of the minimum wage.
This didn't just happen.
Again. This didn't just happen. It was brought there by a grassroots movement that gained enough traction to help introduce minimum wage bills in 38 states during the 2014 session – and, yesterday, to get the votes needed to successfully raise the minimum wage in four states.
So we're cheering everyone who helped push this through. Progressive Jews — including ZEEK's readers and writers, and our allies in the Jewish Social Justice Roundtable — have been neck-deep in this issue as part of a broader movement, using multiple strategies and points of entry: worker's rights and labor, women's rights, interfaith initiatives, domestic workers' rights, economic justice, and through congregations, courthouses, coffee houses, community meetings, parlor meetings, media and more.
Lowest Common Denominator
It may be that raising the minimum wage is the lowest common denominator, but what we saw yesterday made it clear that the national conversation and conscience are shifting. When the swearing-in in Washington changes the seating chart in Congress, this cross-pollination will help build momentum on the ground.
Here's a roundup of some of the things that stood out:
• We desperately need voter protections.
• Minimum wage hikes in Alaska, Arkansas, Nebraska, and South Dakota, plus Illinois's non-binding measure, stating that voters favor raising the minimum wage to $10 next year.
• Washington state moves gun control forward, passing background checks for all gun sales and transfers, and rejecting a measure that would have halted background checks.
• Earned paid sick leave in Massachusetts.
• Colorado rejected an "unborn human beings" measure (for the third time) and North Dakota won't be adding this language to its state constitution: "the inalienable right to life of every human being at every stage of development must be recognized and protected" (If you really want to protect pregnant women, there's the Pregnancy Nondiscrimination Act. Ahem.)
• On birth control, Illinois voters passed a non-binding measure that says that health insurance plans that provide coverage for prescription drugs should include birth control coverage.
• California's Proposition 47 passed, reducing legal penalties – and prison terms.
• Pot politics: Oregon, Alaska and DC legalizing marijuana for recreational use.
• The Jewish Democrats in the House – including a re-elected Al Franken — have a Jewish Republican on the other side of the aisle: Senator-elect Lee Zeldin.
• Jon Stewart's tortoise impression of Mitch McConnell: "Slow and steady."
What's Next?
This afternoon, the president will address the nation. Some think he should "double down" — like Katrina vanden Heuvel at The Nation proposes:
Controversy is not the enemy here. And issue clarity— or issue polarization—can be helpful, if the administration seizes the initiative and chooses public policy issues on which to fight.
Or that he'll step lightly like Ezra Klein at Vox predicts:
On election day, White House Press Secretary Josh Earnest reiterated that President Obama would go forward with his executive action to legalize an unknown number of unauthorized immigrants. But … really? Republicans just won overwhelming victories in the House, the Senate and the states, but Obama is going to go ahead and announce a major executive action all of them disagree with? At this point, if the action happens at all, my guess is it will be a lot smaller than supporters are expecting.
No Time for the Sidelines
Whichever tack the administration takes in the months ahead, the progressive Jewish community writ large — organizations and individuals, affiliated and unaffiliated — has surely heard a call. It's as loud as the shrillest shofar. For many, it won't change the commitment to creating the world we want to see. But I'm hoping that, for others, that call will make staying on the sidelines impossible.
Readers: What will you be doing in the aftermath of Election 2014? Tell us in the comments!