Ezra Glinter
Ezra Glinter is a freelance journalist and critic and Zeek's book reviews editor. His writing has appeared in the Jerusalem Post, the Montreal Gazette and the Forward, among other places.
Arts and Culture
"Anyone who teaches about Black-Jewish relations, anyone who talks about bohemia and the Beats and life in the Village in the '50s" needs to read Seymour Krim.
Arts and Culture

Yehuda Halevi is one of the most significant figures in Jewish literary history. Frequently cited as a proto-Zionist religious thinker, Hillel Halkin's new biography of the medieval Jewish poet reminds us that this is only a part of his greater story.
Arts and Culture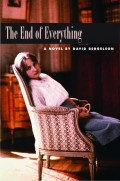 David Bergelson's The End of Everything is a classic work of Yiddish literature. A portrait of the Ukrainian Jewish community's transition to modernity, the novel also sets the stage for the author's own radicalization. Ezra Glinter reviews Joseph Sherman's new translation.
Arts and Culture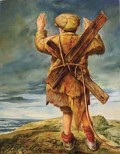 There are very few visual artists who have been able to capture the feeling of loss so powerfully. Particularly given the continuing distortions to which our memories of the Holocaust remain subject. Enter the world of a true survivor.