Jason Schneiderman
Jason Schneiderman is the author of Sublimation Point, winner of the Richard Snyder Prize from Ashland Poetry Press, and Striking Surface, a Stahlecker selection*from Four Way Books. His poetry and essays have appeared in numerous journals and anthologies, including American Poetry Review, The Best American Poetry, Poetry London, Grand Street, The Penguin Book of the Sonnet, Story Quarterly, and Tin House. Jason has received fellowships from Yaddo, The Fine Arts Work Center, and The Bread Loaf Writers' Conference. He was the recipient of the Emily Dickinson Award from the Poetry Society of America in 2004, and a finalist for the Eric Hoffer Award in 2011. He is the Poetry Editor of the Bellevue Literary Review, and an Associate Editor at Painted Bride Quarterly. Jason Schneiderman is an Assistant Professor at the Borough of Manhattan Community College, part of the City University of New York.
He will be reading for the Bloomsbury Anthology of Contemporary Jewish American Poetry on December 10th in Philadelphia, as part of "Words Off the Page: An Evening with Jewish American Poets."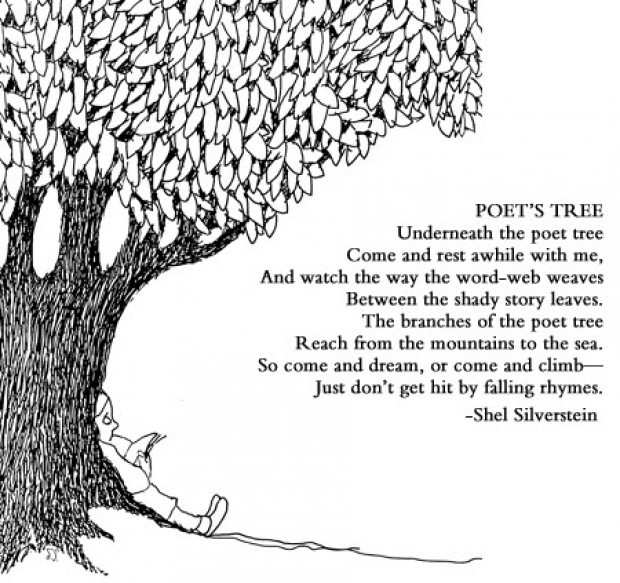 Poet's Tree, Shel Silverstein
Arts and Culture
In this installment of Rosebud Ben-Oni's original ZEEK series of poet-poet conversations, poets Erika Meitner, Eduardo Gabrieloff, Hila Ratzabi, Jason Schneiderman and Emily Jaeger talk about their relationship with Jewish humor.