Faith and Practice
February 1, 2010
Despite their new-found fondness for Israel, Evangelicals still blame Jews for their misfortunes. According to Bruce Wilson, such scapegoating is predicated on a larger framework of historical revisionism, which includes placing blame for the Shoah on "liberal/left" Jewry.
January 6, 2010
Rabbi Arthur Waskow called for the Jewish people to reshape itself into a movement for world transformation. Rabbi Rami Shapiro explains why such global renewal is no longer feasible or, possibly, desirable.
January 5, 2010
Can the Jewish people reshape itself into a movement for world transformation? Read Rabbi Arthur Waskow's vision of a renewed Judaism.
December 30, 2009
With only one day left for tax-deductible giving in 2009, it's time to look again at tzedakah. There Shall Be No Needy author Rabbi Jill Jacobs answers questions about how much money to allocate to tzedakah, and how to give it away most effectively.
December 28, 2009
On Rosh Hodesh Tevet I returned again to the Kotel, where I had worshipped with Women of the Wall for fifteen years. And again, I found myself spat on by haredi men.
December 18, 2009
New Zeek Columnist Aryeh Ben David finds God when he hits rock bottom and learns to embrace helplessness as humanity's existential state.
December 16, 2009
There's nothing simple about being a Jew, and Hannukah is a good case in point. How to spell it, with or without the "C"? And then, who can remember from year to year how you light the menorah, left to right, or right to left? Potato latkes – cakey or crispy?
December 7, 2009
Dana Evan Kaplan's Contemporary American Judaism is exhaustive in detail and broad in scope, touching on the fundamental challenges to contemporary American Judaism.
December 4, 2009
Whether they live in Israel or in the Diaspora, Jewish rightists consistently take the lead in defining the so-called enemy. But what about the enemy within?
November 17, 2009
I was tired of hearing over and over of Miriam's punishment, the tzara'at (often mistranslated as leprosy) that struck her for criticizing Moses. Then I realized that the final ritual Miriam would have gone through, after her exclusion from the camp as a metzara'at, is virtually identical to the ritual her brother and his sons went through in order to become priests. In terms of ritual, it could just as well be her ordination ceremony.
October 31, 2009

What does it mean to say God is one? In his new book, Jay Michaelson reframes oneness as nonduality, a Hegelian and Kabbalistic synthesis of ayin/absence and "in the now" presence.
October 28, 2009
Rami Shapiro: "Theology mirrors psychology. This is what we are saying when we say we are created in God's image. This is just a subtle way of saying our image of God - not necessarily God itself—is a projection of ourselves. We see God as One and Many because we see ourselves as one and many."
October 24, 2009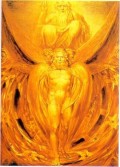 Judaism and angels? You bet. Like the boddhisattvas of Buddhism or Catholic saints, stories of human beings who became angels took shape in the minds and lives of our Jewish ancestors. In this excerpt from his newest book, Rabbi Rami Shapiro explores what the myth of Enoch's ascent can teach us about achieving a God-centered awareness.
October 17, 2009
Boaz Huss has claimed that "mysticism" is a term that is foreign to Judaism and thus should not be used to identity or describe kabbalistic literature; and that mysticism is a theological category in any case and should not be part of academic discourse more generally. I disagree.