June 16, 2010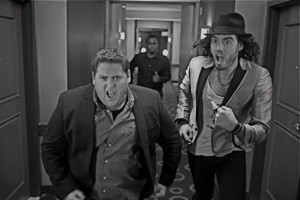 Like nearly all of the films with which the Judd Apatow machine has been associated, Get Him to the Greek features an unlikely romance in which a nebbishy protagonist somehow manages to score with someone "out of their league." But what distinguishes this strange comedy from its cinematic relatives is that the object of his fantasy is a man. Reprising his minor role from Forgetting Sarah Marshall as the outlandish British musician Aldous Snow, Russell Brand occupies the same place, structurally speaking, as the beautiful women of the film's predecessors.
A regular in Apatow productions, actor Jonah Hill finally gets the lead as music label functionary Aaron Green. A longtime fan of Snow's bombastic rock and roll, Green is assigned what initially seems like a dream job, to shepherd Snow first from London to New York, for a Today show appearance, and then on to his hometown of Los Angeles for a special concert at the city's Greek Theater. The task proves far more challenging than Green can imagine, resulting in a series of mishaps that generate the film's raunchy humor.
Some sequences are genuinely hilarious. Others fall short of the mark, settling for easy laughs when harder ones were in reach. Most of the time, it's the Odd Couple-like pairing of Green and Snow – accentuated by the stark contrast between Hill's overweight nerdiness and Brand's angular sleaze – that lays the foundation for whatever comedy results. Apatow's instinct for promoting "bro-mances," in which men bond despite the heterosexual urges that should make them rivals, is demonstrated once again. But the extreme differences between the American and his English counterpart, the fact that he is such a big fan of the rock start, gives the quest to consummate a relationship a decidedly different spin.
It should come as no surprise, given the way that the film's plot unfolds, that Green and Snow should end up in bed together. Only the Hollywood taboo on same-sex intimacy between men gives this moment of truth a touch of slapstick, making it safer for mainstream consumption. Yet because the story repeatedly veers in the direction of awkward emotional honesty – Brand's role borrows heavily from his real-life brushes with substance abuse and self-sabotage – the coupling that Green and Snow nearly make literal is difficult to laugh off.
And that's what makes Get Him to the Greek merit a different kind of scrutiny than other films from Apatow's camp. Its missteps as a comedy, the awkward silences to which they lead, impart a gravity out of step with its lineage. To be sure, moments of sincerity occur in Get Him To the Greek's "brother" films as well. But they are less frequent and more rapidly blotted out laughter.
This is not to suggest that Get Him To the Greek is devoid of humor. There are sequences, most notably a madcap Las Vegas get-together, that feel like a roller-coaster ride, so relentless in their pursuit of laughter that they will leave audience members – or at least those who are fans of the Apatow approach to comedy – out of breath. Yet the gaps between these uproarious sequences is too long.
From the standpoint of genre, the implicit contract with the audience that this sort of picture is supposed to honor, Get Him to the Greek is a failure. It's as though the comedy were bunched up in wrinkles that no one managed to iron flat. However that very quality, the film's unevenness, is what makes it easier to understand the role that humor plays in pictures stamped with the Apatow imprimatur.
Like the television show Freaks and Geeks, with which Judd Apatow first made his mark, the films he has directed and produced invariably seem to derive their energy from the prospect of improbable relationships. Male characters who seem too limited by their less-than-stellar looks or manners to win the female of their dreams somehow find themselves in situations where those dreams can come true. In short, the plots invert the fairy tale scenario in which an outwardly plain, ordinary girl ends up with her "Prince Charming."
But this gender reversal has consequences that are further complicated by the films' ethnic underpinnings. Although religion is rarely evoked, it is nonetheless clear to anyone who is educated on the subject that their male protagonists are at least culturally Jewish. Indeed, Apatow's camp has been called a "Jew Tang Clan," playing off the name of the Wu-Tang Clan, a highly productive Staten Island hip-hip collective. By itself, this emphasis on identity might not seem particularly noteworthy. It's not as if Hollywood has avoided Jewish humor in recent decades. What distinguishes the representation of Jewishness in films like Get Him to the Greek is that it exaggerates the schlub in its boyish men to the point where they veer perilously to negative stereotype.
These aren't "stealth" Jews, getting to have their ethnic heritage and transcend its historical burden. Even when their romantic exploits succeed, against daunting odds, they remain marked by their deviation from the urbane, polished and post-ethnic masculinity of conventional male leads. Apatow projects may be Cinderella stories, but the magic wand doesn't redress the superficial imbalance between their male protagonists and the love interests they improbably win over. They are both "everymen," devoid of the special traits that stardom normally demands, and decidedlyJewishmen.
Unless, that is, members of the audience fail to recognize them as ethnic at all. One of the signal developments in postwar American Jewish history is a gradual decrease in visibility. While it might seem obvious that the protagonists featured in films from the Apatow camp are Jewish, there are plenty of moviegoers in the United States who lack the knowledge and experience to reach that conclusion. Although some of these pictures' popularity may be a function of this ignorance – would Middle America respond to them as favorably if they were understood as ethnic films? – the degree of integration it indicates is still largely salutary.
Perhaps making sense of the Apatow brand requires the construction of two different arguments. For those who grasp the films' ethnic character, the unlikely romantic success of their protagonists can serve as an allegory for integration, a "marriage" plot – even if the coupling that results is only temporary – in which Jewish characters manage to hook up with post-ethnic America. Since that interpretation only works when audiences recognize those characters as Jewish, however, a different reading is necessary for those contexts in which Apatow projects succeed in spite or because of ignorance about their ethnic quality. For these latter situations, the traits identified with the schlub seem to have been so thoroughly confused with those of the generic wallflower of fairy-tale romances that it's simply taken for granted that male Cinderellas will look and act like Jewish stereotypes.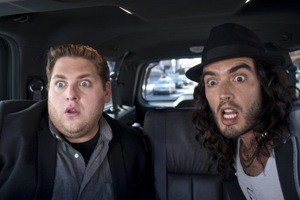 By explicitly raising the problem of audience, Get Him to the Greek urges us to consider the implications of this possibility from the other side. Aaron Green is a fan – an "everyman", in other words – of the rock star Aldous Snow. The "marriage plot," in this case, is one that must overcome the divide between fandom and stardom, between ordinary and exceptional. But it is Aaron – as well as his girlfriend, who complicates the "bro-mance" in interesting ways – who is identified with "normal" life and Aldous who exists in a world where exceptions are the rule. The couple they go on to become, however awkwardly, is a union of opposites that temporarily breaks down the barriers between their worlds.
For this reason, Get Him to the Greekcan also be regarded – indeed, the film invites audiences to regard it – as an allegory of the entertainment business at a time when the line between fan and star, amateur and professional, ordinary and exceptional is increasingly blurry. In light of the picture's ethnic dimension, though – accentuated by the presence of hip-hop impresario Sean "P. Diddy" Combs playing Aaron's boss – we can view this overt depiction of a media environment in which stars are bought down to earth as a covert commentary on that environment's significance for ethnic culture.
Maybe that's why the film is less successful than other Apatow projects at sustaining a steady flow of hilarity. In turning the mirror back on its own conditions of production, Get Him to the Greek struggles to make audiences laugh their way past the problems of awkward coupling. As big a fan of Aldous Snow's work as Aaron claims to be, he is still on the clock until the film's denouement. If he abases himself to "get the girl" – who in this case, of course, happens to be a boy – he does so with the understanding, repeatedly reinforced, that his job depends on it. It's as though Cinderella had to win Prince Charming to keep her job as a scullery maid.
What does this reality-check imply for the film's representation of Jewishness? For one thing, Get Him to the Greek goes much further in undoing its fantastic coupling than other Apatow projects. The happy ending comes, not when Aaron and Aldous consummate their relationship, but after Aaron reconciles with his girlfriend and Aldous, sober and single, gets his career back on track. In other words, the film could serve as a cautionary tale, revealing that there are limits to successful integration. At the very least, the trajectory of the plot underscores the difficulty of transcending one's identity. Even when Aaron is living out his wildest fantasies of the sex, drugs and rock and roll lifestyle, he finds its physical and psychological demands too exhausting to make it enjoyable. In short, he comes to realize that he would rather blend into the background than share the limelight. If living like a star means being singled out, he prefers the safety of the plural.
Could this message signal a change of course within the Apatow camp? It's too early to say. Perhaps the simple fact that mainstream audiences are not ready for a true Cinderella story between men is enough to explain Get Him to the Greek's more pessimistic take on the consequences of transgressive coupling. Nevertheless, the consistent emphasis on Jewishness in the films Apatow has directed and produced suggests that the subject is dear to his heart and that of his collaborators. Maybe, in the awkward places when the laughter stops, that preoccupation will lead them towards a storytelling in which the protagonist's ethnic heritage isn't an obstacle to overcome in the pursuit of passion.