January 12, 2015
She's transgender. She's Jewish. And she's a hit.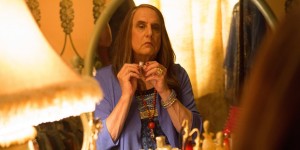 Jeffrey Tambor as Maura Pfefferman in Jill Soloway's "Transparent" (Amazon).
Her name is Maura Pfefferman, and she's humanized coming out, thanks to Jeffrey Tambor, who won a Golden Globe Award last night for best actor for his role in "Transparent," the Jill Soloway creation that earned a Golden Globe for best TV comedy. It's also won hearts and critics over in what journalist Debra Nussbaum Cohen has called "arguable the Jewiest television show ever."
Tambor took the stage to accept his Golden Globe, and proved just what a class act he is. He dedicated his performance (and his Golden Globe) to the transgender community, which he thanked for its courage, inspiration, and for patience.
Tambor's most moving thank-you to the transgender community, however, was for "letting us be a part of the change."
This is the one that resonates. How often do we see this kind of gratitude in this space – or any? It's rare to see an expression of gratefulness for being included, for having the opportunity to create change. There are so many ways to create change. This is one of them.
This is when an acceptance speech is really a speech about acceptance.
Jeffrey Tambor heads to the stage just after the 1:36 mark.