March 8, 2011
My favorite poem in Merle Feld's Finding Words is the very first one, "B'reishit," which begins, "Each year we sit expectantly, /waiting to hear how it all began."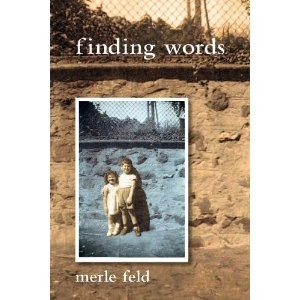 In this opening poem, Feld spins out the familiar creation narrative from the beginning of Genesis. The creation of light means "shimmering white heat of the Negev, / June sunset over the Pacific" and also "Yangtze, / Ganges, Nile, Mississippi, Danube, North Sea…" Eventually come "the mighty oak, oregano, arugula"—read aloud, Feld's ohs and ahs remind me of how our morning liturgy marvels at this very creation. Then "ladybug, lobster, falling sparrow, / heron and herring and hummingbird," a cascade of animal names rolling off the tongue. And only at the last instant before Shabbat
miraculously comes the human
who can strike the match and sanctify
all the work that God has done, eons ago,
and every moment since…
It's a stunning midrash, and a beautiful way to begin this collection of poems.
Feld is author of the poem "We all stood together," about the revelation at Sinai, which has been part of my Shavuot celebration for years. Her poems appear in her memoir A Spiritual Life and in a variety of anthologies and prayer books. This is her first full-length collection of poems.
Many of Feld's best poems take family as their subject matter. Some made me smile ruefully, like the one about a college-aged son clearing out his room. Another, titled "Burning," made me wince with recognition: "Now at 57 I could be / such a good mother," Feld writes, "absorbing the wild crazed / force field of their tantrums…" As the mother of a thirteen-month-old who's just beginning to express anger, those lines resonate for me.
"The walk" speaks to me in similar ways, chronicling a long walk taken by the narrator and an unnamed friend. The conversation between them feels like spiritual direction, the narrator pushing again and again to hear the real story of the friend's relationship with her daughter until the friend sobs "How many / times does my heart have to break?" It's like when you're in labor, the narrator muses, desperate to know how much longer the pain will go on, and you cling to whatever answer you can get.
"[F]inally, the burdern / of making their choices is not yours anymore," Feld tells her friend, "and the anguish // that you are a bad mother, the wrong mother — / it can subside, it should." I hope I have the good sense to reread this one again in 15 years.
Some of the collection's poems speak to relationships with older women who are now gone. Like "Catching up to you," which begins "Now you and I can be sisters at last[.]" Once they were "a woman with white hair, lined face, / a girl on the cusp of adolescence, teetering[,]" but now Feld plays the part she remembers Lillian having played. Or "Inside out," dedicated to Leah, "friend of another generation," whose wrinkles Feld sees now in her own skin.
Though I've quoted from the interpersonal poems, Feld's biblical and liturgical poems move me the most of everything in the collection. This may say something about their relative strength, and may also say something about the places where I am most tender. I love her "Kol Nidre," which includes the lines
Every day, I break my vows
to cherish this moment,
to be a responsible
citizen of the world…
I implore You –
Let me try again.
I also recognize myself in "Passover miracle," which shows the reader seder-goers who "find [their] spring selves again," who sit at the table "hoping in spirit to be refreshed." Each year, Feld writes, we become the four sons, "child-like / spring-like, ready each year once again / to go out from Egypt[.]"
Though the canvas of this book is mostly intimate, the geopolitical finds its way in too. In "Not yet 75, Ruth" Feld introduces us to a woman striding across a rocky field with an olive sapling balanced on her hip like a baby. Through Feld's words we see the pick rise and fall, the sapling planted at last—and then the necessary work of prayer, tears, and love without which the sapling will inevitably fail. This is a poem about nurturing the fragile sprouts of hope in an Israel which remains mired in conflict and suffering. That subtext was clear even before I made it to the footnote which described the Rabbis for Human Rights trip to Israel in which Feld took part.
These poems are also steeped in loss. In one, the narrator receives a sweater she had given to a dear friend as a gift; the friend has died, the sweater has made its way back to her, and the loss between the lines is as palpable as the sweater itself must have been. In another, the narrator runs into a widower in the grocery store check-out line and is chagrined both by how he has aged and by the reality that she hasn't been checking in on him.
There were times, reading the collection, when I had to set it down and peel an orange or watch something funny online. There is a lot of earnestness to swallow in one gulp. But if this is a book of poems best savored in bites like a box of truffles, that's not necessarily a bad thing.