Rabbi Rachel Barenblat
Rabbi Rachel Barenblat was ordained by ALEPH: the Alliance for Jewish Renewal as a rabbi in 2011 and as a mashpi'ah ruchanit (spiritual director) in 2012. She holds a BA in religion from Williams College and an MFA in Writing and Literature from the Bennington Writing Seminars. She is author of three book-length collections of poetry: 70 faces: Torah poems (Phoenicia Publishing, 2011), Waiting to Unfold (Phoenicia, 2013), and the forthcoming Open My Lips (Ben Yehuda Press, 2015), as well as several poetry chapbooks.
A 2012 Rabbis Without Borders Fellow, Rachel is an alumna facilitator for the Emerging Jewish and Muslim Religious Leaders retreat organized by RRC's Office of Multifaith Studies and Initiatives. Since 2003 she has blogged as The Velveteen Rabbi, and in 2008, TIME named her blog one of the top 25 sites on the internet. Rachel is a regular contributor to Kol ALEPH and to the Reform Judaism Blog, the blog of the URJ, and in 2015 will become a regular contributor to The Wisdom Daily, published by Clal.
Rachel has been an off-and-on contributor to Zeek magazine, "a Jewish journal of thought & culture," since 2005. Her work has also appeared in Lilith, The Texas Observer, The Jewish Daily Forward, and anthologies including The Bloomsbury Anthology of Contemporary Jewish American Poetry (Bloomsbury), The Women's Seder Sourcebook (Jewish Lights), and God? Jewish Choices for Struggling with the Ultimate (Torah Aura.) Her downloadable Velveteen Rabbi's Haggadah for Pesach has been used around the world, and in 2014 with R' Jeff Goldwasser she released a pilot edition of Days of Awe: the Velveteen Rabbi's Machzor for the Days of Awe.
Rachel currently serves on the ALEPH board of directors, the board of directors of Zeek magazine, and the advisory board at Rimon, an organization which seeks to enhance Jewish spiritual life in the Berkshires. Previous board service includes two three-year terms as the chair of the board of directors of Inkberry, a nonprofit organization with the mission of fostering the literary life in and around western Massachusetts; one three-year term as the chair of the board of directors of the Berkshire Lyric Theatre, an arts nonprofit based in Pittsfield, MA; and a three-year term on the board of directors of the Organization for Transformative Works, an international nonprofit organization which provides access to and preserves the history of fanworks and fan cultures.
Within ALEPH, Rachel is co-vice-chair of the Board of Directors, chairs the Communities Committee, and is one of the founders of the ALEPH Alumni Association. She serves as spiritual leader of Congregation Beth Israel, a small Reform-affiliated congregation in western Massachusetts, where she lives with her husband Ethan Zuckerman and their son.

Arts and Culture
This week, Graywolf Press is releasing All Who Go Do Not Return by Shulem Deen, the man once known as Hasidic Rebel who went on to become the founder/editor of the website Unpious: Voices on the Hasidic Fringe.
All Who Go Do Not Return is an extraordinary memoir. The writing is beautiful. The journey it chronicles is poignant, relatable — and also unlike anything most readers will ever have experienced. As a young man, Shulem Deen chose to join the Skverers, one of the world's most intense and insular Hasidic communities. He married, and became a father to five beloved children. And then his natural inclination to learn and to question drove a wedge between him and the Skverer world.
Life and Action

I'm deeply invested in the transformative possibilities of Jewish-Muslim engagement. But until those of us with privilege recognize the inequity and take steps to fix it, the disparity in our circumstances can get in the way of conversation.
Faith and Practice
What if God's revelation to us this year were an instruction to rise above polarization?
Everyone knows Passover. Everyone knows the High Holidays. But what's so special about Shavuot? In a word: revelation.
Life and Action

"I was horrified at what I assumed at that time was a very unusual situation. I thought it was an aberration. Only later did I realize how typical his case was. But so many aspects of what made his case problematic are emblematic of our death penalty system and our criminal justice system." –Jen Marlowe on writing "I Am Troy Davis"
Faith and Practice

What does Tu B'Shvat mean when life on our planet feels so palpably fragile, asks Rabbi Rachel Barenblat. Her answer? We who are blessed with good soil and healthy roots have an obligation to send sustenance to those on the thin, treacherous margins.
Life and Action
Two Zeek board members – one longtime, one new – talk from the heart about the Jewish tomorrow and Zeek.
By Rabbi Rachel Barenblat
I care about Zeek because Zeek is thoughtful, literate, literary. For years, Zeek has been the place to go for meaningful long-form writing which questions assumptions and pushes boundaries. Zeek does work that no one else is doing, and sheds light on conversations that no one else is having – whether that be our 2003 essay on Zionism and Colonialism, or our 2004 essay on Hasidism and homoeroticism, or our 2009 interview with Rabbi Dr. Rachel Adler.
The recent Pew study confirms that one in five Jews today says they are part of "no" religion – which makes us just like the rest of the country, where "nones" (those who check "none of the above" on survey boxes) are on the rise. My question is: how can we open up the richness of Judaism – or the many varieties of Judaism; Judaisms, plural) to those who have opted out of the communal or congregational mainstream as they've understood it?
Zeek is a place where that can happen. There's no barrier to entry here. We're interested in dialogue and discourse and in creating the Jewish tomorrow which we, ourselves, most need. Zeek is honest, authentic, questioning – qualities which I think a lot of unaffiliated Jews want and need, but may not be finding elsewhere.
By Steven M. Cohen
Small magazines that publish good thought leaders have played a vital role in shaping opinion, in sharpening the skills of the thought leaders, and in forging all sorts of innovative and oppositional movements – in American society, in Jewish life, and, of course, elsewhere.
At a time when organized Jewry has largely succumbed to the influence and interests of the most affluent (people in the financial industry, real estate moguls, and others), Zeek can play a valuable role in vitalizing and sustaining the historic Jewish voice for economic justice. It can advance the discourse by not only bringing a Jewish sensibility to bear upon these societal issues, but by bringing a sharply critical perspective to bear upon organized Jewry and its tendency to comfort the comfortable, and afflict the afflicted.
Zeek is laying the groundwork for a strong, sustainable 2014. We need your help. Please consider making a much-appreciated, tax-deductible donation to Zeek today. Support from readers, allies and partners keeps Zeek online and independent!
Readers, tell us what you think. What are your questions about the Jewish tomorrow? Why do you care about Zeek? What would you like to see in 2014? Tell us!
Life and Action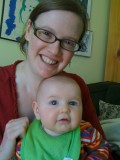 Finding words for postpartum depression, Rabbi Rachel Barenblat bravely reflects on her difficult adjustment to motherhood, sharing a deeply personal journey and the poetry that helped her navigate this new terrain, ultimately savoring both the bitter and the sweet. This Mother's Day, she tells struggling new moms: It gets better.
Faith and Practice
Can spiritual growth be found in the "tension between one's own cherished beliefs and someone else's contradictory beliefs"? Absolutely.
Faith and Practice

Rachel Barenblat speaks with Chava Weissler, writer, scholar, and folklorist, about Jewish spirituality, the blurry boundaries of a participant-observer, and the Jewish life of "non-elites."
Arts and Culture

There may not be a causal relationship between Jewishness and an avant-garde sensibility, but Jewish communities have given rise to some terrific avant-garde work. Or maybe Jews just tend to be comfortable outside the mainstream, which is often where the most interesting creative work flourishes and finds its home.