Yona Verwer
Dutch-born Yona Verwer is an artist in New York. Featured in the New Yorker, the NY Times, and others, she creates works that explore identity, terrorism, tikkun olam, and kabbala. She has shown and curated in galleries and museums including Yeshiva University Museum, Andy Warhol Factory, Philadelphia Museum of Jewish Art, Center for Jewish History, Mizel Museum, Reginald Lewis Museum of African-American Art, and the Holocaust Memorial Center. Verwer has a master's in fine art from the Royal Academy of Art in The Hague, and has completed residencies at the PS 122 Studio Program, Makor Center and Skirball Center. She is the president & co-founder of the Jewish Art Salon in NYC and serves on the advisory boards of Art Kibbutz, Zeek, Jewish Art Now, and the Jewish Design Collective.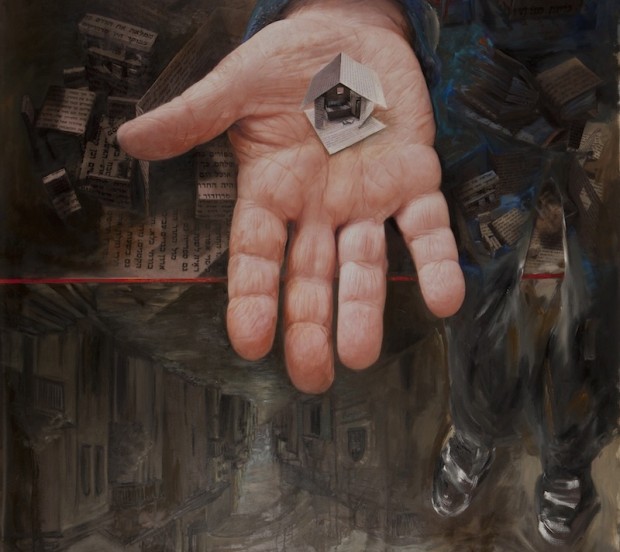 Mirta Kupferminc, Detail, "Hand Writing, Amos Oz," mixed media
Arts and Culture
"Artists Are Communicators," merging identities, the Argentine art scene, and what it's like to be an international LABA fellow based in Buenos Aires.
Arts and Culture

Artist Ken Goldman's probing, sometimes seemingly irreverent art is a catalyst for provoking people into re-evaluating their preconceptions. By pushing boundaries, writes Yona Verwer, he searches for new opportunities to make Judaism more relevant to today's life. Artist Q, Artist A is Zeek's new series of artist-artist conversations.
Arts and Culture
Amulets were traditionally made to be worn or placed in locations to promote healing, protect against evil & to bring good luck. Kabbalists made extensive use of amulets. Ancient talismanic images such as the hamsa, the fish, and the all-seeing eye inform Verwer's series Temple Talismans.