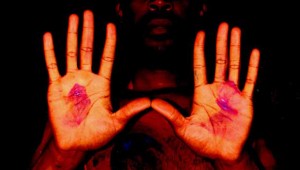 Mim Art, detail from Human Canvas
January 4, 2011
Meet Mim, an artist who uses digital technology to explore the sacred.
March 11, 2010

If I Worked for 493 Years is an ongoing digital performance art piece by Lisa Link.
October 19, 2009

Second Life is one of many virtual worlds. But it is different. Why? Because it is the home to a very active and creative Jewish community. Sounds strange? Maybe, but visit the slide show and find out for yourself what it is all about.