November 18, 2013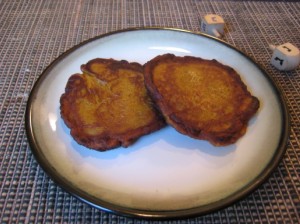 Editor's note: The Zeek archive is packed with articles that have as much relevance and urgency today as they did when they were written. This one, though, feels particularly timely and apt. It originally ran on December 1, 2010.
It is the day after Thanksgiving and I am enjoying the satiety that comes from too much food and drink.
In the miracle of miracles, I finally got a seat at the grown-ups' table. I had thought it might happen, given the guest count, but I have been having Thanksgiving with the same crowd for about 25 years and had yet to graduate, so I wasn't holding out too much hope. Well, happen it did–though I was promptly told it was a fluke occurrence and I would be headed back to the "young adult" table next year.
Today, however, I will bask in the glory of my newly recognized adulthood. Since Hanukkah is just around the corner, the frying and latke-making has already begun for the Heathens. I figured in honor of Thanksgiving I would carry on the pumpkin theme and make pumpkin latkes. Obviously these have a slightly different texture than traditional potato latkes. Mainly, they are more pancake like. They are also slightly sweet, so I would include them with my apple latkes as a great Hanukkah breakfast or dessert option.
As with many of our other pumpkin-based recipes, this recipe is Sephardic in origin and I began with home roasted and pureed pumpkin. Again feel free to use canned.
Pumpkin Latkes

adapted from Sephardic Holiday Cooking
Ingredients  


    * 1 16 oz can or 2 C pumpkin  

    * 1 C flour  

    * 1/2 C packed brown sugar  

    * 2 tsp cinnamon  

    * 1/2 tsp nutmeg  

    * 1/2 tsp cardamom  

    * dash of ginger  

    * 1/2 tsp salt  

    * 3 eggs  

    * oil for frying  


   1. Combine all ingredients and mix well to form a thick batter  

   2. Heat oil in skillet (preferably cast iron)  

   3. Drop tablespoons full of batter into oil. When bubbles begin to form in batter turn latke and cook until golden brown.  

   4. Serve hot.