April 15, 2014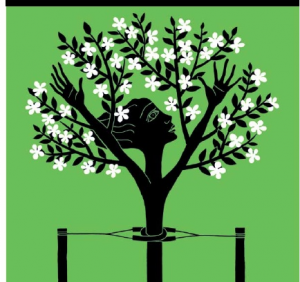 Luba Lukova, Detail, book cover for "Art and Social Justice Education: Culture as Commons" (Routledge)
This is the second in Zeek's intergenerational Passover series of feminist plagues. We're publishing a new one for each day of Passover.
Amnesia is the plague I want to call out. It is a widespread phenomenon of modern life here in the US.
To wit: I am the granddaughter of immigrant garment workers. The forgetting is such that I never even realized the significance of that reality until well into my adulthood. One take on that significance: flight from the familiar into disorientation and vulnerability. Humble origins, a tiny one-bedroom apartment for four people. Being "the stranger," the ger, the experience that the Haggadah takes pains to remind us of and to transport us to. Only two generations back — yes, grandma's tiny place I visited as a child was the apartment in Astoria where my mother and aunt grew up! — so easy to forget. In two generations from the garment factory to elite institutions of higher learning.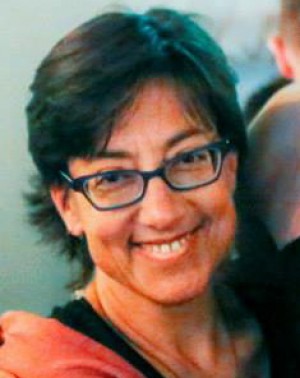 Behind that ascent: My grandparents belonged to a labor union, sent their daughters to public schools, had affordable housing, shared child care and all kinds of resources with neighbors and extended family, and were able to weather, with difficulty, the serious and eventually fatal illness of my grandfather. Grandma continued working as a sample-maker, but my mother and aunt ascended to the middle class and the assumption that their children would attend college. Though she had to fight her family for the right to do so, my mother attended free college. She went on to teach public school, belong to a labor union, and sent her children to good public schools.
The Interlocking Web
Too many of us forget that what we have is not just a reflection of our individual merit. We forget that our fears of not maintaining what we have need to be addressed in the public domain, in public life. So many of us have forgotten that we ascended on an opportunity structure –- an interlocking web of community and public resources, one that meets basic needs and rewards hard work with opportunity. That opportunity structure is under threat by today's policies and politics, and the more we vacate the public sphere, and try to purchase what the commons does not provide (safety, schools), the more we undermine our collective future.
There is too much forgetting of that deep truth, "the personal is political," and too many of us, too often have lost the art and will and skill for being part of community – that bridge between private and public.
Questioning What It Means To Be Free
At Pesach we have the opportunity, and obligation, to remember, and also to ask questions — one of the defining features of what it means to be free.
How can we stimulate each other to surface our histories, and not succumb to amnesia? How can we collectively connect to our tradition as the source of wisdom and inspiration it can be? How can we more broadly experience that being grounded in the particulars of our culture and tradition can unleash us to be more powerful partners in championing the universal? Can we remember and experience how powerful we can be when we commit communally to being engaged in public and political life?
Staying Awake & Inspired
What woke me up initially and dramatically was feminism. What moved me to effective action was learning how to take action in and with community.
What keeps me awake and inspired today are the volunteer leaders I work with: young adults leading the way in an intergenerational community, who make justice work a committed part of their lives – a particular shout-out to Ariel Luckey, whose performance piece "Amnesia" informs my thinking here..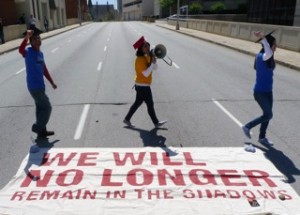 Somos Georgia / We Are Georgia
These are "Dreamers" who chant "undocumented and unafraid" at rallies demanding a path to citizenship. Domestic workers forging a movement that protects their own rights within a context of interdependence. In the Jewish community, young adults with their untenable burdens of student debt, and their sense of being confounded about how to ever own a home in the Bay Area are the "canaries in the coalmine" helping to wake up their parents' and grandparents' generations.
Waking up to our history(ies) may raise uncomfortable feelings, such as anger or helplessness, and questions about our obligations. It may also be inspiring, illuminating, and life-giving — just what we need in this season of liberation.
Susan Lubeck agrees with Adrienne Rich: "There's something more than the food and the humor" –though the food and the humor are not to be underestimated. She is the Regional Director of Bend the Arc Bay Area.
Editor's Note
This project was inspired, generally, by the 39th Annual Feminist Seder held this March at the home of Barbara Kane and the conversations we had there about creating more intergenerational spaces for feminists and social justice activists, and, specifically, by Letty Cottin Pogrebin's reading there of "The Ten Plagues According to Women," which appears here. Over the past few weeks, I reached out to Jewish feminists between the ages of 17 and 70-something, asking each to use the 10 Plagues as a point of departure. To redefine them or reflect on what each sees as today's plagues, from a Jewish feminist perspective. Spread the word about this intergenerational Zeek series for Passover, featuring Letty Cottin Pogrebin, Chanel Dubofsky, Avigayil Halpern, Susan Lubeck, Jacqueline Nicholls, Sarah Seltzer, and Rabbi Elianna Yolkut.–Erica Brody
Hey, Zeek Readers! Be active participants in this conversation. Share your own list of modern-day plagues! Think about the themes that underlie or distinguish these plagues and respond in the comments! Share!