June 3, 2014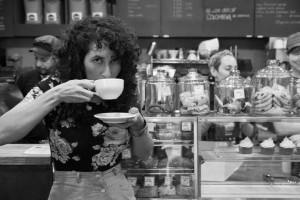 Erin Patinkin at Ovenly. Photo: Winona Barton-Ballentine
We didn't celebrate Shavuot in my family, but we did celebrate eating. So when the 14th St Y asked me participate in "Into the Night," my mind went immediately to food – to seasonal fruits and, of course, cheesy desserts. After doing a little research on the holiday I came upon this quote accredited to King Solomon: "Like honey and milk, it lies under your tongue." This farmers-cheese cake is a little nod to that line. The rhubarb and rose, however, is a nod to the flavors of late spring.
Fresh Farmers Cheese Pie with Rhubarb-Rose Compote
For the Crust
4 tablespoons (2 ounces) butter
About 10 gingersnaps
5-6 graham crackers
2 tablespoons + 1 teaspoon granulated sugar
pinch of salt
pinch of freshly ground black pepper
1 egg white
Make the Crust
Preheat oven to 350 degrees Fahrenheit
Melt and cool the butter over low heat.
Grind the gingersnaps and graham crackers in a food processor until they form fine crumbs. Measure out one cup of the cookie-cracker mixture into a small bowl. Add sugar, salt and pepper, and whisk until blended. Add in the melted and cooled butter, and mix thoroughly with a wooden spoon or spatula.
Press crumbs firmly into a 9-inch pie pan, using your fingers to press the crust up the sides of the pan, and ensuring there are no gaps or holes.
Freeze for 10 minutes until crust is firm. Remove from freezer, and bake in preheated oven for 10 minutes.
Remove from oven, and, using a pastry brush, immediately brush the crust all over with the egg white. Leave oven on, and set aside crusts as you prepare the filling.
For the Filling
2 cups (18 ounces) fresh farmers cheese (farmers cheese is widely available)
4 large eggs, at room temperature
1 large egg yolk
1/2 cup whole milk
1/4 cup honey
1/4 cup brown sugar
1/4 teaspoon salt
Zest of one lemon
Juice of 1/2 lemon
Make the Filling
While crust is baking, mix together all the ingredients in a large bowl until thoroughly blended and smooth (note, you can also mix this with a hand- or stand-mixer).
Add filling into par-baked graham-cookie crust.
Bake in preheated, 350-degree Fahrenheit oven for 35-50 minutes, or until center is fully set. Do not over bake.
Let cool completely, then refrigerate for at least 2 hours before serving.
For the Compote
1 lb rhubarb stalks
1 1/2 teaspoons (1/2 tablespoon, 1/4 ounce) butter
1/2 cup granulated sugar
1 teaspoon rose water
zest of 1/2 lemon
Make the Compote
Chop rhubarb into 1/4 inch slices.
Melt butter over low heat in a heavy-bottomed skillet. Add rhubarb, sugar, and rose water and sautee on medium-low heat, stirring constantly, until sugar is dissolved. Return heat to low and sautee until the rhubarb is tender and almost falling apart, about 5-7 minutes. Stir frequently so that the rhubarb does not burn. If the mixture gets too dry before the rhubarb is tender, add in a teaspoon of water at a time.
Remove from heat and mix in lemon zest.
Serve
Let cool completely and serve with slices of farmers cheese cake.
**Erin presents "Dairy Dreams" at 8:30 pm at Into the Night: Tikkun Leil Shavuot at the 14th Street Y, where Zeek will be leading an interactive dialogue on "Shavuot & Social Change" at 10:30 pm. You can check out the full program here.
Erin Patinkin grew up in Chicago where she developed an obsession for Vienna beef hot dogs, Big League Chew, and Yan Can Cook television episodes. After graduating from the University of Wisconsin-Madison, and Columbia College Chicago, she spent her twenties working as an artist, actor, educator, and nonprofit executive, though every single free hour was spent thinking about and making food. Through a series of fateful events, Erin met her business partner, Agatha Kulaga, and the two decided to eschew their professional careers to start Ovenly, a creative kitchen specializing in baked goods and bar snacks located in Greenpoint, Brooklyn. Ovenly has been named to multiple best of lists (Eater, TimeOut, Village Voice). Erin is dedicated to creativity, corporate responsibility, and sustainable business and is a past LABA: House of Study fellow.