Avram Finkelstein
Avram Finkelstein is an artist and writer living in Brooklyn.
His work is in the permanent collections of MoMA, The Whitney, The Metropolitan Museum, The New Museum, The Smithsonian, The Brooklyn Museum, The Victoria and Albert Museum and The New York Public Library. Finkelstein is a founding member of the collective responsible for Silence=Death and AIDSGATE, which was recently included in Regarding Warhol: Sixty Artists, Fifty Years at The Metropolitan Museum in New York. He is also a founding member of the art collective, Gran Fury, with whom he collaborated on public art projects for international institutions including The Whitney Museum of American Art, The Venice Biennale, ArtForum, MOCA LA, The New Museum of Contemporary Art, Creative Time, and The Public Art Fund.
He has created public awareness campaigns for AmFAR, The AIDS Policy Project, The Campaign To End AIDS, ACT UP, POZ, United Against AIDS, and ACRIA. He has conducted Flash Collectives at the HIV Is Not A Crime Conference, Concordia University, The New York Public Library, The Helix Queer Performance Network, and the Hemispheric Institute of Performance and Politics at NYU.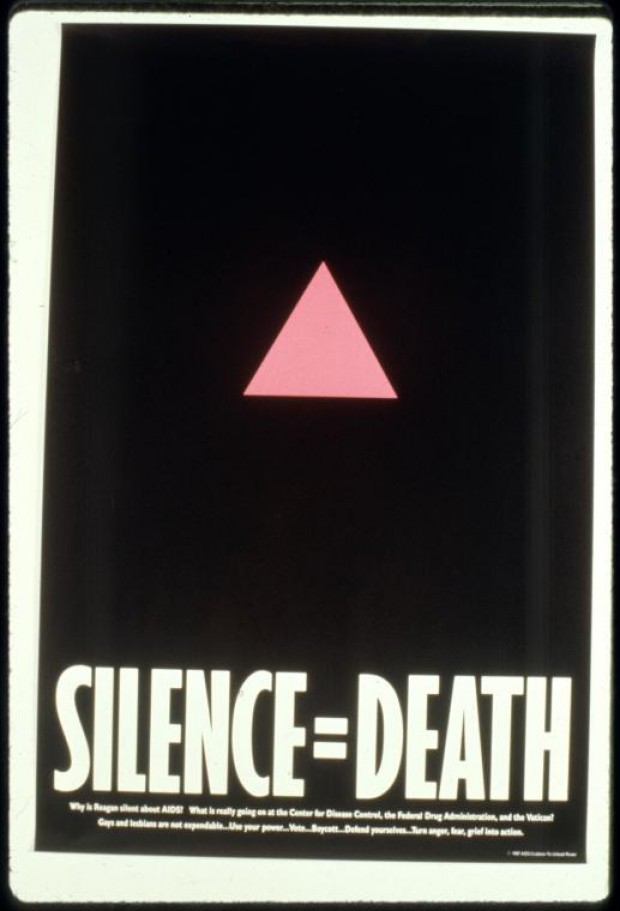 Silence=Death Project, Silence=Death (Poster). Image courtesy of the NYPL, Stephen A. Schwarzman Building /Manuscripts and Archives Division
Arts and Culture
As a founding member of the political collective that produced the image most closely associated with AIDS activism, Silence=Death, I'm frequently asked to speak about this poster. Over the decades people have thanked me for it, telling me the poster was the rallying cry that drew them to political activism.
I have a slightly different take on that. In essence and intention, the political poster is a public thing. It comes to life in the public sphere, and is academic outside of it. Individuals design it, or agencies or governments, but it belongs to those who respond to its call.