Erica Brody
Erica Brody is an editor, writer and strategist committed to progressive causes. She believes that a diverse, inclusive Jewish community is good for everyone, and strongest when it is reflective, supportive, and innovative. She also believes that social change is social. And that it can be fun. She is Zeek's editor in chief and executive director (part time).
For a decade and a half, she's worked at the intersection of Judaism, justice and journalism, including at Bend the Arc/Jewish Funds for Justice, the National Council of Jewish Women, and the Forward. She's written about policy, arts and culture, women's rights, activism, economic justice, religion, and anti-poverty strategies. As an editor, she's helped hundreds of emerging and established Jewish writers of all stripes develop their voices and writing.
Erica is a proud native New Yorker, news and culture glutton, mamale, feminist wife, street art lover, writing coach and communications consultant. She lives in Brooklyn with her husband, daughter, and two plump cats.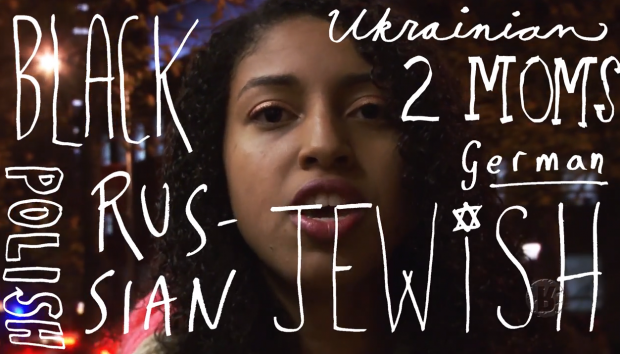 Amani Hayes-Messinger in a still from her Moral Courage video, "How do you ask someone about their race?"
News and Politics
Thanks to Amani Hayes-Messinger, a thoughtful dialogue is taking root around how people approach conversations about race and identity. In her new video,"How do you ask someone about their race?" she says that race itself isn't taboo, but that far too many people reinforce stereotypes when they ask about identity/identities, instead of opening up a meaningful conversation. She's young, straightforward, and is absolutely worth watching. She talks here with ZEEK's editor about creating an inclusive, diverse Jewish community, her family's activist legacy, and what it means to have moral courage.
Arts and Culture

At the Golden Globes, Jeffrey Tambor thanks the transgender community for "letting us be a part of the change."
Life and Action

At ZEEK Magazine, we work each week to develop and lift up emerging and established Jewish voices on social change, spirituality, arts and culture. We delight in the intersections and new ideas that make this landscape feel vibrant and make cultural shifts and social change possible.
We're a small magazine, but we think what we do is important. We hope that you do, too.
Life and Action

Feel like you're doing it wrong? Or maybe you're just ready to make this Hanukkah even better? Let us help. Check out ZEEK's guide to Hanukkah. We've got ideas to light up the next eight nights — whatever kind of Jew-ish you are, from A(ctions) to Z(EEK).
News and Politics

It's hard not to agree with Jon Stewart's now-viral, four-letter-word reaction to a Staten Island grand jury's decision not to indict the white police officer who killed Eric Garner, an unarmed black man. In fact, anything less than outrage feels unacceptable.
Here is one of the four official "values" of the New York Police Department:
Value human life, respect the dignity of each individual and render our services with courtesy and civility.
Here is the official mission of the New York Police Department.
The MISSION of the New York City Police Department is to enhance the quality of life in our City by working in partnership with the community and in accordance with constitutional rights to enforce the laws, preserve the peace, reduce fear, and provide for a safe environment.
Right now, the NYPD is failing its mission. READ MORE
Life and Action
This Chanukah, ZEEK will run an intergenerational series celebrating resistance and the future of the Jewish left in the United States.
Send original pitches, personal essays, reported articles, chatty opinion pieces, feature stories, and creative nonfiction to zeek@zeek.net, with "RESISTANCE" in the subject line. Deadline for pitches is November 26.
News and Politics

Midway through the day of the Morning After, it's sinking in that next year in the United States of America, there will much more red from sea to shining sea.
Instead of focusing on how the current divide between right and left (or right and middle, etc.), it's worth appreciating how the Other Great Divide played out in the polls: the economic divide. And, just as important, to recalibrate and re-energize. With the gulf between rich and poor greater than it has been since 1929, the most basic of economic justice measures found its way onto ballots in the form of the minimum wage.
News and Politics

Earlier this week, the Slingshot Fund released its annual Slingshot Guide, a "resource for Jewish innovation." We reached out to Will Schneider, executive director of Slingshot, to talk about how the Jewish innovation arena has evolved in the 10 years since Slingshot began creating its guides — and where we still need to see change, especially when it comes to philanthropy and engaging Jews in social justice.
Faith and Practice

The JOFEE Dialogues with Nigel Savage, Jon Marker, Nili Simhai, Seth Cohen, Lisa Farber Miller & Jakir Manela
One night this week — before spring arrived! — a statistic kept popping up in my Twitter feed: "Americans spend 90% of their time indoors." Disturbing, right? As it turns out, the architect Marc Kushner had mentioned this disturbing fact during his TED2014 talk about how design and space impact our culture, communities and lives, deeply. Although he was talking about architecture, I was struck by the amount of time Americans spend outdoors — or don't. Could it really be so little? The EPA thinks so. READ MORE
News and Politics

This year's State of the Union wasn't a game-changer, with mainly expected positions on a checklist of issues, punctuated by a few standout, super-tweetable lines: "Give America a raise" and "Time to do away with workplace policies that belong in a 'Mad Men' episode." On the other hand, I couldn't help but be pleased by a few flourishes, like hearing the shutdown condemned in the first two minutes, and a clear dig in the president's call for Washington to "focus on creating jobs, not crises." I reached out to Abby Levine of the Jewish Social Justice Roundtable for her take, as someone who works everyday with American Jews to leverage their social justice efforts.