Katie Halper
Katie Halper is a comic, writer, blogger, satirist and filmmaker based in New York. Her documentary "Commie Camp" won a special jury prize at the Independent Vision Awards. A director of Living Liberally and co-founder/performer in Laughing Liberally, Katie has performed at Town Hall, Netroots Nation, and The Nation Magazine Cruise (where she made Howard Dean laugh!), and has appeared with Lizz Winstead, Markos Moulitsas, The Yes Men, Cynthia Nixon and Jim Hightower.
Her writing and videos have appeared in/on the New York Times, Comedy Central, The Nation, Gawker, Nerve, Jezebel, the Huffington Post, Alternet, NY Magazine, LA Times, and the National Review, which called Katie "cute and somewhat brainy." Katie co-produced Tim Robbins's "Embedded"; Estela Bravo's "Free to Fly"; was outreach director for Naomi Klein/Avi Lewis documentary "The Take," and has written/directed viral satiric videos including "Jews/Women/Gays for McCain."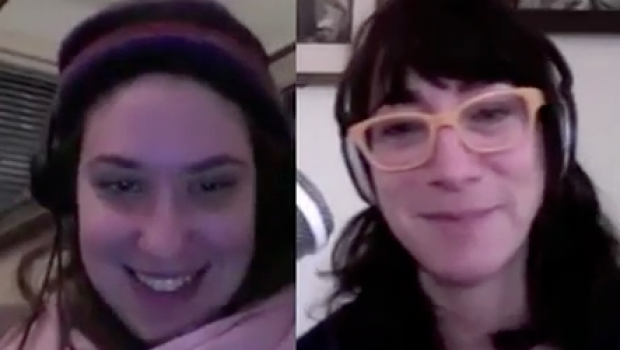 Media and Tech
In this week's new Morning Jew, comics Katie Halper and Heather Gold plumb the Vortex, slain Hasidic landlord Menachem Stark, and other news stories, asking, "Is the news good for the Jews?" Watch the funny ladies turn the ups and downs of the headlines upside-down in search of the "Shonda of the Week."
Media and Tech
Zeek is pleased to kick off the new year with a partnership with [Morning Jew], comics Katie Halper and Heather Gold's tongue-in-cheek takedown of morning news shows, talking heads, and the news itself. Is it good for the Jews?
In this webisode, comics Katie Halper and Heather Gold take an absurd look at 2013: Sheryl Sandberg, Orthodox rabbis, marriage equality, Woody Allen, the Pope: what was good for Jews? Who made the kvell and shonda of the year? What could be the best thing for Jews in 2014?
Life and Action
Brainwashing vs.Teaching Values? Katie Halper — comic, writer, blogger, unabashed liberal, and more — sets satire aside to share insights gleaned from making "Commie Camp," her documentary and loving tribute to Camp Kinderland.