Rabbi Michael Rothbaum
Rabbi Michael Rothbaum serves as rabbi/educator at Beth Chaim Congregation in Danville, CA, and lives in Oakland with his partner, Yiddish singer Anthony Mordechai Tzvi Russell. Rabbi Mike has received accolades for his efforts in religious school, b'nai mitzvah, youth group, and camp settings. He has worked extensively with faith-based social justice organizations, including Bend the Arc, JFREJ, and AJWS. He's appeared on WAMC, CNN and WABC-TV, and one of his sermons is included in the anthology "Peace, Justice, and Jews: Reclaiming Our Tradition." He writes regularly for ZEEK.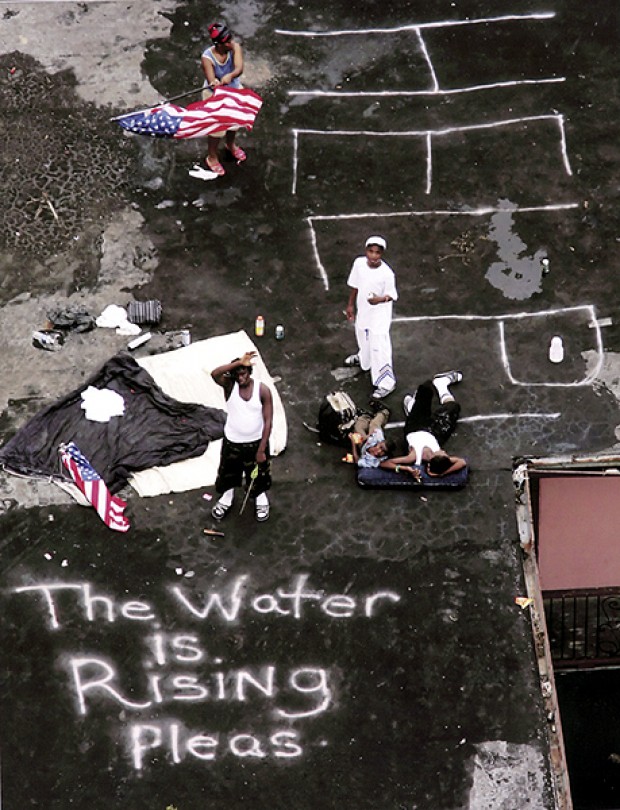 New Orleans residents sent out a desperate plea as they waited to be rescued from a rooftop. © 2005, The Dallas Morning News
News and Politics
Will you take the Jew in the Street challenge for 2015?
News and Politics

Fathers, mothers, children, raising barricades,
Workers' battalions taking to the streets.
Father left home early, to the factory gone,
Won't be coming home to us any time too soon.
The kids know well the reason why father won't return,
He's taken to the streets today and brought along his gun.
Mother too is in the street, off to sell some apples,
Leaving orphaned in the kitchen all the pots and dishes.
Don't expect to eat, says Khanele to the boys,
Because Mother has gone to help Father…
— "Barikadn," Yiddish song, written by Shmerke Kaczerginski, 1926
At this moment of national confrontation, as we prepare our Thanksgiving feasts, we ask ourselves: who do we relate to? Not whose side do we take, for there is humanity, divinity, in all people — even in the evil Laban. No, the question is a deep question of identity, of Jewish identity.