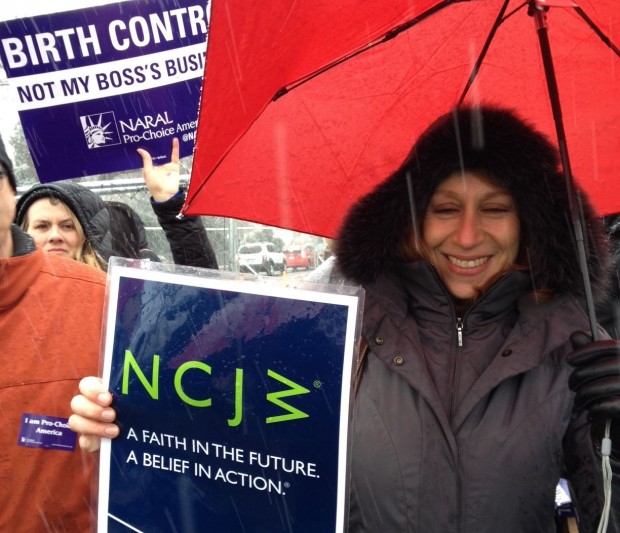 Sammie Moshenberg, NCJW
News and Politics
This morning, Rabbi Lori Koffman was one of many religious leaders speaking out in support of women's access to birth control and real religious liberty as the Supreme Court hears arguments on Sebelius v. Hobby Lobby Stores and Conestoga Wood Specialties Corp. v. Sebelius, At issue: whether a for-profit company must provide full contraception coverage for employees (thanks, Affordable Care Act)!
"We are here because this is what Judaism demands of us," she said, "to demonstrate to the Court that faith should not be used as a tool of coercion, but that it should be an instrument of freedom to guide us along our own religious and moral path, to make our own faith-informed decisions about our bodies, our families and our health."
Media and Tech
If Twitter is all about about capturing a moment in time, what happens when we look back? @EstherK reflects on the Twitter trail of Limmud NY 2013. From @ to #.
Events
What We Talk About When We Talk About Israel: A Conversation with Daniel Gordis Moderated by Bari Weiss of Tablet Magazine JFNA General Assembly 2012 Baltimore Convention Center, Baltimore, MD November 13, 2012, 9 am
Zeek is proud to cosponsor the New Israel Fund's Love, Hate and the Jewish State: A Conversation on Israel and Social Justice
May 17, 2012, 7–10 PM
Hub San Francisco in the SF Chronicle Building
Out Central, 6 pm
May 2, 2012
1709 Church Street, Nashville, TN
Boulder JCC
April 23, 2012
3800 Kalmia Avenue, Boulder, CO
Congregation Sha'ar Zahav April 20, 2012 7:00 pm 290 Dolores Street, San Francisco, CA
,
At the Q Center April 15, 2012, 7 pm
9750 Southwest Terwilliger Boulevard, Portland, OR
Harvard University Hillel
Thursday, March 29, 7 pm
52 Mount Auburn Street
Arts and Culture
Congregation Beth Elohim, 7–10 pm
274 Garfield Place, Brooklyn, NY
Join us for the fifth in a series of highly interactive, non-persuasive, non-political discussions with a diverse group of people in their 20s and 30s.