December 6, 2012
On December 3, 2012, two of the Jewish world's leading environmental organizations – Hazon, which funds sustainability projects, most famously with its Jewish environmental bikerides, and Isabella Freedman, the retreat center that is home to Adamah, Teva, and other Jewish environmental programs – announced their merger. In many ways, the merger seems a natural evolution of the two. In others, it is surprising: a relative upstart with a venerable institution, a green activist organization with a retreat center with a diverse range of program offerings. On the day the merger was announced, Zeek's founding editor, Jay Michaelson, sat down with Nigel Savage, the founder and (now outgoing) executive director of Hazon and David Weisberg, the (now former) executive director of Isabella Freedman for a wide-ranging conversation about Jewish environmentalism, Jewish organizational life, and their visions for the future.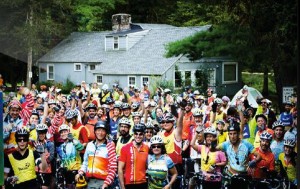 Jay Michaelson: Let's start with some of the wider picture. The three of us have been around in different sectors of the Jewish communal world for a while, and when I look at this, it feels like an interesting merger of two major organizations outside of the mainstream world. It feels to me almost like a coming of age of these types of organizations.
Nigel Savage: I think that that's right. Some of the organizations that began ten to fifteen years ago, that were quite small and quite fragile, have gradually become larger and more substantial. On our side, this represents us not only taking ourselves seriously but, in a sense, taking seriously what the American Jewish community is up to in 2013, what its needs are and how we can respond to those needs. To do that properly we need to be larger.
David Weisberg: This is not one of those mergers where a big organization is swallowing up a little one. It's also not one of those mergers where two organizations are just so redundant that they say, "Why not merge, at least we'll create some economy of scale?" It's one of those marriages of complementary partners where each organization has things which the others can really benefit from. When we looked at this organization a year or so ago, we said "We could really use a broader national audience. We could really use a change in perception from Isabella Freedman just being a place to Isabella Freedman as an organization that does things." And I think Hazon, from an opposite perspective, liked the idea of having a real physical base. There's a lot of things in this marriage that are complementary and that make sense.
JM: What's the vision here, specifically for the environmental side of things? I think we're still really struggling as religious communities in general to have a voice on the national stage. I'm curious what your visions are for the Jewish environmental movement, and how this merger relates to that.
NS: Over the last ten years, the American Jewish community in the aggregate hasn't grown: the population hasn't grown, the total money being raised hasn't grown, the number of synagogues hasn't grown. But the number of people and organizations working on different aspects of sustainability – that's grown hugely. Twelveyears ago, the number of people working full-time in trying to create a healthier and a more sustainable Jewish community, or a more sustainable world for everybody, was probably fewer than ten people. In the last ten years, Adamah has been founded and grown, Hazon has been founded and grown, Urban Adamah has been founded and grown, Wilderness Torah, Eden Village, Jewish Farm School, the whole thing. So that's the good news. The less good news is that the whole sector is still completely tiny relative to the needs on the ground across the Jewish community, and the scale of the challenge that we face. At Hazon, we're interested not just in growing our own programs, but in trying to strengthen the space, which is why we literally gave away a hundred percent of the money that we raised in our very first bike ride in 2000. The idea going forward is not just that we have brought all of the Hazon and Freedman programs together, but that we now have the chance over the next year or two to sit down, with the other Jewish Green groups, and with leaders from synagogues and day schools from the wider community, and say, "Well what does the community need in the next five to ten years, and how can we try and provide it?"
DW: The greatest changes in the world – environmental, peace etc - happens on the grassroots level. But we need organizations like ours that can catalyze and support this at the grassroots level. For example, Adamah, has, sprouted wonderful alumni, all wonderful young leaders around the country who we don't utilize to the full advantage of the Jewish environmental movement and the Jewish community. This merger gives us the opportunity to do that. What we've done is take two organizations and put them together in a way that allows us to take full advantage of what each organization was doing individually.
JM: Is the vision, specifically on the environmental side, inward-facing or outward-facing? Is this about creating more sustainable Jewish organizations in the Jewish community? Is this about political change? Where are we in ten years?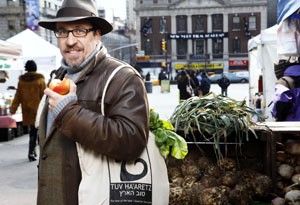 Nigel Savage eats what he preaches. (Photo: Ben Baker)
NS: The scale of the challenge prompts humility from everybody. The Jewish community is less than 2% of the population of this country, and less than 1% of the population of the world. And yet we're so used to having a very Jewish, sometimes obsessively Jewish, take on things. At our best, we are one small piece of a larger coalition of organizations working on these issues. Ten years from now, if we have started to play some role in influencing the larger conversation and the larger outcomes, I'd be really thrilled. Meanwhile, in terms of inside the community, there's a ton that we can do.
DW: The path to being successful in an outward-looking way starts with being inward looking. Right now in our dining hall we have a hundred and forty day-school kids who are here from the Teva program. By the end of the week they're different from when they arrived – more willing literally to get dirty, to go outdoors, to connect to the world in a different way. That's how change happens. Nigel started by saying just how small of a percentage we are. But even as a small percentage we care about these issues. We're motivated by them. So I think that's where it all starts.
JM: As you know, one of my favorite topics to talk about is the nexus between spirituality and social justice. It's amazing to me, having talked about it now for fifteen years, that we still hear the same unreconstructed canard that social justice and spirituality are antithetical to each other, that if we meditate too much that means we won't be protesting in our spare time. I know that both of you share my view that that is just a canard and that's not the case at all. I'm wondering if there's a specific change or program or outcome that comes from the merger, bringing all of the Elat Chayyim community and heritage together with Hazon and the existing environmental programs already at Freedman.
DW: Sure. Let me give you an example. A year ago our food services department became the "Adamah Food Service Department." What we were trying to do was to say this: we have people come to Isabella Freedman for a lot of different reasons and a lot of different programs. Adamah is this great program that teaches about values about food and values about the environment. Yet for the most part, if you came here at Isabella Freedman Program and not on the Adamah Program, the only chance that you'll get to experience that is if you decided to take on the optional farm tour on a Sunday. So I said what we should do is make sure that every meal experienced here is not only one that involves great food but one that involves education. Let's take the program and weave it through everyone's experience, whether you're here for the davening leadership training program or if you're here for Nehirim or if you're here for Grateful Dead Shabbat this past weekend. Hazon has done this kind of education about food values and about environmental values for years. They know how to do it, they know how to do it well, and we want to take those resources and integratie them with the program that we have here.
JM: Part of what I've experienced in both the Freedman and Hazon programs has been, in the programming itself, to understand that these two things just go together. And so whether it's the food or good davenning on the bike program or the food conference – the notion to me has something to do with being a complete human being. When I do my work on LGBT issues, when I go to places where there's not a very vibrant spiritual life, it's sometimes more difficult to convey the story, in my case, of why the LGBT issues are human issues. Whereas when I go to places which may or may not be LGBT-identified, but have an active spiritual life, I'm already having a different conversation. They're already on the right team.
NS: One of the ways the two organizations are similar is that we agree with you on this – in your general point and also, as it happens, specifically in relation to inclusive community. In both Hazon and Isabella Freedman we have taken for granted that although inclusion is not the primary focus of our work, it's essential to who we are and how we do what we do. So the opportunity exists to go beyond some of the narrower conversations and start to create just ways to bring people together across differences in some very profound ways.
JM: One concern I have heard from people is that now that the organization is resolutely focused on environmental and ecological issues, how do meditation retreats, or the elder programs in the summer – how do they exist as a department of Hazon?
NS: Although health and sustainability is a central focus of the two organizations, both of us have done things that are not so narrowly within that. For example, Hazon's Makom Hadash initiative is not solely for "green" organizations; it's looking at second-stage organizations and helping us to work more closely together. And it's really powerful that, as David said, people can come to Freedman for a Grateful Dead Shabbaton, and also be in a place that totally lives its values, where food is grown there and there's a working farm and Adamah is there, and Teva is there for a part of the year, and so on. Having those values and taking forward that agenda doesn't mean we won't do other things. On the contrary it means we want to increase the number of people coming through the doors of all of our programs every year and broaden the range of those programs.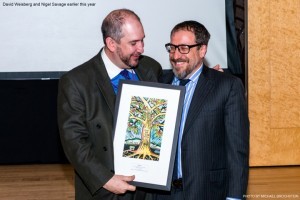 David Weisberg and Nigel Savage: It's rewarding
DW: From my perspective, if we want to increase the percentage of the community that is environmentally-conscious, we can't just do programs for people who are environmentally-conscious. If we want to increase the number of people in the Jewish community who have a deeper sense ofspirituality, then we can't simply aim for that population. What we need to do is meet people where their interests are and uses their interests as a portal or a bridge. . Doing a wide variety of things gives us a broader opportunity to advance our values than to just do things that are focused on those core values.
JM: Any last bits you'd like to leave Zeek readers with about the merger and your visions for the future?
NS: Jay, I'm interested to know what your thoughts are on the merger.
JM: Thanks! I think one question that startup and mezzanine Jewish organizations ask is what the future looks like. I think this is a really interesting model. My fondest hope is that this will be like the Ben and Jerry's and Unilever merger, where Ben and Jerry's infected virally Unilever and made it a much greener organization. I hope that this merged entity infects a wider Jewish world one piece at a time.
NS: Well thank you. But I don't think we think that – in your analogy – the wider Jewish community is exactly "Unilever." That's part of what we mean when we talk about a real sense of humility, both in the relationship to the challenges ahead and the opportunities. One of the things that we want to most fundamentally do in 2013 and beyond is to start to open up a series of conversations, because both Hazon and Freedman are, in a sense, a public trust. David and I are here to steward the work of a ton of people, starting with staff people, board members, volunteers, participants, funders over now a multi-year period of time. We want to create opportunities for people to brainstorm and flesh out their own vision. We're not coming to this with a blank slate. We've got two good organizations with a ton of great programs. But at the same time we really think that this is a moment in American Jewish life when a lot of things are up in the air, when a lot of very good questions are being asked. And I think our greatest hope is to be part of answering some of them in potentially profound and significant ways.
DW: Nigel said we go into this with a great deal of humility, and I agree that we do. But when Nigel and I sat down the first to start having these conversations and the board started to sit down on the first conversation, the biggest first threshold that we said we needed to meet was not just "does this combination of organizations serve the organizations well in some way?" If it were just about, as Nigel said one time, only having to buy one database instead of two, that's not a reason to merge organizations. Our conversations from the start have been, "Is this for the Jewish world a 1+1=3 equation?" By putting our organizations together, and our resources together, can we better serve Jewish individuals and families and communities in the Jewish world? And that's why we're doing it. I think it would be great for our organizations individually, but if we didn't think that there was a creative vision of how we should better serve the Jewish people, we wouldn't be having this celebratory conversation today. I look forward to a future of having many more celebrations from the results of actual things that we are able to do.