September 13, 2013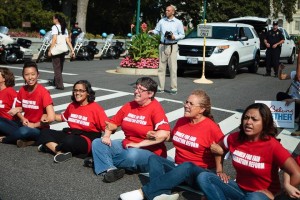 Tonight at Kol Nidre services, I will chant the prayer that absolves me from all oaths taken the previous year. The thing is — just yesterday I took an oath, alongside 119 women on a very hot day in the shadow of the US Capitol building, an oath that I (with the organization I represent, the National Council of Jewish Women) plan to keep. In part, we promised to:
create a House United for fair immigration reform, a House United through my family, my community and my place of work, a House United for justice and equality for all and especially for the women and children who make up three-quarters of all immigrants but whose needs are woefully ignored by our failed system.
And we put our bodies on the line to reinforce our commitment to this promise.
If I had any anxiety about enlisting in the civil disobedience — organized by We Belong Together — it quickly dissipated when I met the women from 20 states who would join me. Representing faith groups, organizations dedicated to women's and LGBT rights, peace issues, workers rights; the group included more than two dozen undocumented women who were risking their families and their freedom to push the House of Representatives to act immediately to adopt fair immigration reform that will ensure a path to citizenship for all 11 million aspiring Americans, a process for family reunification, and, importantly, ensure that women's unique needs are addressed.
We spent hours training, sharing our stories with our sister activists, going over details with our pro-bono legal team and even learning the best way to sit down while linking arms. On Thursday morning at 7 am, wearing our red "Women for Fair Immigration Reform" T-shirts, we gathered for last-minute sustenance — the nutritional and spiritual kind — before heading out to Capitol Hill.
Over my 30 years in Washington, I've attended countless Capitol Hill press conferences. This one was different, animated by the anticipation of 120 women ready to step out and step up. Finally, after the speakers and the House United Oath, we marched in two lines of arm and arm comrades into the street where our rally marshals stopped traffic and spread out a huge banner. And then we sat down. All the while chanting and singing, we linked arms and looked around, marveling at the huge circle of women blocking traffic on a busy Capitol Hill intersection right in the middle of a busy congressional work day! We looked powerful. We looked beautiful.
It wasn't long before, as planned, the Capitol Hill police began to lift us to our feet, cuff our wrists with zip ties, and lead us (as the crowd cheered) to waiting paddy wagons. But it took quite awhile to get all of us to a holding building where we waited hours on metal folding chairs – hot and tired – to be processed and released. Throughout, the sense of sisterhood was not diminished by the fatigue, hunger, and swollen ankles.
It was a very long day and a very gratifying and successful action. But we knew it wasn't the end. In order to win fair immigration reform, we're going to have to rally and march again and again. Pledge oaths, send emails, make calls, visit our representatives, and yes, engage in civil disobedience again. The House has yet to follow the US Senate and act on a comprehensive immigration reform bill and what's worse, some House members are pushing a very draconian and punitive bill, ironically named the SAFE Act.
On October 5, there'll be another chance to show the strength of our movement at rallies in Washington, DC, and 40 other cities.
As the new year begins and we search our souls and atone for our sins, we have a chance to recommit ourselves to an important and just cause – immigration reform for those yearning to come to America, as our families did, and for our neighbors living in the shadows and in fear without a roadmap to citizenship. Take the oath with me, NCJW, and our allies in this work at the member organizations of the Jewish Social Justice Roundtable.
Sammie Moshenberg is NCJW's director of Washington operations and coordinates all of NCJW's advocacy efforts in Washington, DC, and nationwide. She also staffs NCJW's State Public Affairs network of volunteer advocates in more than 20 states. She represents NCJW on national coalitions concerned with judicial nominations, civil rights, reproductive rights, child care, and First Amendment issues, and speaks widely on public policy and legislative issues throughout the country. A feminist activist, Sammie has been at the forefront of advocating for equality, economic and social justice for over 30 years.