September 16, 2014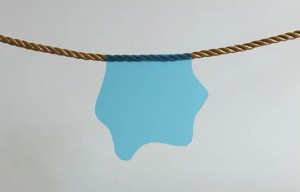 Lindsey White, "Rope Slime," 2014, C-print. Lindsey White is a participating artist in the Contemporary Jewish Museum's upcoming "In That Case: Havruta in Contemporary Art."
we turn to the deep each time
this year and still it's pretty
empty. diasporic as the fish
who delivered us, it's hard
to talk but numbers
are universal so we point
to which page in the book
and swaying become
a school again, a hologram
for a second shining
in the right light.

PLEASE RISE IF YOU ARE ABLE
if we do not recall each other
by the sun we are prone
to school by the threat,
to nation ourselves by the
tooth of night. to what
do we belong? we'll meet,
it's just a question
of how we'll show up—

PLEASE REPEAT THESE ANCIENT WORDS AFTER ME
my generation, we're very into
ritual, singing our names
which are administrative
in origin, but also dark umber
and indigo (or crimson
plus phthalo green).
we are learning to approach black,
sound it out and keep
each other a people
of a book in place
of a blood or a city.

TOGETHER LET US SAY
you are a hear this, o people,
an alphabet, hyper-color
by selection. turn by the light
that terrains the water, turn
to the same page and watch
us go from there to here, singing

Hear O Hear
Please Hear Let Us
Have The Ears
With Which to Ring Us
Deaf For You
Who Never Answer
We Hear Each Other Crying
That The Lord Is Our God
The Lord Is One
That The That Is Our That
And That That Alone
Is What Makes Us So

Alissa Romanow is a community organizer in Lynn, Massachusetts. She lived in Berlin for three years, during which time she started going to synagogue. She had no way of communicating with the tiny congregation of Russian elders except through the common language of prayer.
About the Artwork: Read more about the Contemporary Jewish Museum's upcoming collaborative art project "In That Case: Havruta in Contemporary Art."