Tamara Mann
Tamara Mann is the John Strassburger Fellow in American Studies at Columbia University. Her work centers on the ethical repercussions of how Americans have defined life, death, and care. Her writing has appeared in such publications as The Washington Post, The Huffington Post, and The Harvard Divinity Bulletin. She has a PhD in history from Columbia University and a master's from Harvard Divinity School.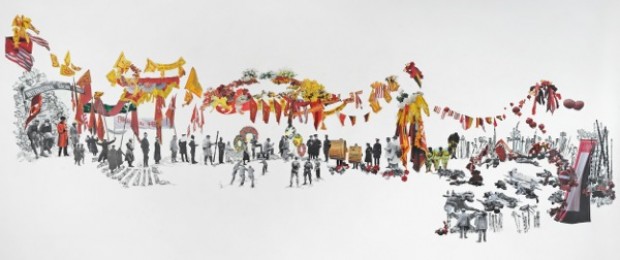 Rachel Farbiarz. Memorial Hill, collage, 2013.
Arts and Culture
Rachel Farbiarz is a public intellectual whose medium is visual art. Before devoting her career to art making, she worked as a lawyer focusing on the civil rights of prisoners, particularly those on death row. In this interview, Rachel takes ZEEK readers into the intellectual and physical space of her creative process.
Arts and Culture

In this new ZEEK series, Tamara Mann talks to working artists about how Judaism, faith, religious ideas, or even a kind of religious antagonism relates to their studio practice.