October 30, 2014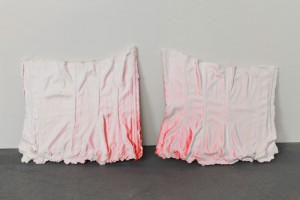 Rachel Klinghoffer, 2014. "'Cause They know Red's Satisfies," used corset, wood, hydrocal, resin, acrylic.
The creative life begins in the details. It starts with the way you wake up, go through your morning rituals, and engage with the materials in your studio. It is a daily grind; a physical comingling that ends, only partly, when the artwork is deemed complete. Religious life also takes place in the details, often dictating how we wash, eat, dress, and engage with the physical world. Centered on interviews, this new ZEEK series asks artists working today to explore how Judaism, faith, religious ideas, or even a kind of religious antagonism relates to their studio practice.
Rachel Klinghoffer's studio — in Sunset Park, Brooklyn — is organized into stations. There is the bucket station, filled with remnants of tinted hydrocal; the tool area, where screwdrivers, files, sandpaper, a hand sander, and a dremel share space. There are drawers and shelves filled with used objects, a section for collage, painting, air brushing, and finally a clean area, reserved for her dog Fergus and a laptop. Klinghoffer received her MFA in painting from the Rhode Island School of Design and her BFA from the School of the Art Institute of Chicago, and has exhibited in the US and abroad. Right now in Brooklyn, her artwork is included in "Sunset Illuminated" at the NARS Foundation and NURTUREart's benefit at the Boiler Room. Today, she takes ZEEK readers into her studio to discuss her creative and spiritual practice.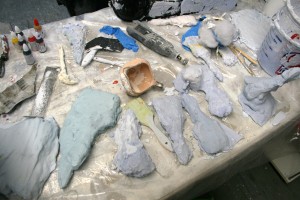 Rachel Klinghoffer, studio work table, October 2014
Tamara: When did you first realize that you wanted to be artist?
Rachel: My deliberate practice of art making began in high school, in ceramics. I was so excited about a piece that I was going to use for my portfolio to apply to art school. While I was glazing it, I lost half of the piece in the kiln. At the time, I was devastated. I ended up remaking something with it. I think that was when I learned not to take myself or my work too seriously — there has to be room to improvise.
Tamara: How did your creative process develop in art school?
Rachel: I became very regimented as a maker and a remaker, first at SAIC, and later as an artist's assistant in New York City. I had a very particular process. I made paintings of landscapes in highly saturated palates with very subtle shifts in hues, values and saturation. I would then do the same physical act. I would make the same horizontal movement. The paintings were flat, similar, and highly influenced by the Hudson River School paintings and color field paintings. My process was an amalgamation of the artists I was working for and the ones I was inspired by. It wasn't necessarily true to me. It felt like I was almost handcuffed to this way of working. I knew there was a more visceral way. I wanted more from myself and from my work.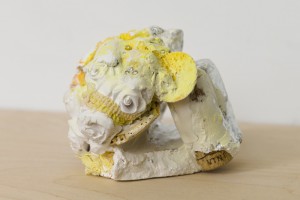 Rachel Klinghoffer, 2014, "You are my sunshine," silk flowers, beach towel, lenox keepsake box cover, wine corks, sea shells from Long Beach Island NJ, hydrocal, acrylic, imitation silver leaf, diamonds, red and yellow sapphires
Tamara: How did you move past this very particular, and perhaps suffocating, way of working?
Rachel: What happened was that I literally started cutting up my paintings during my first year of grad school. I started combining them with materials around my studio. At first no imagery was coming through. Then images started coming through them. I really just started adding everything around me into my work. I wasn't just using traditional art materials. I began to utilize anything and everything in front of me. The work started coming off the wall. They became these physical objects. The physical actions around my work changed. This was important.
My relationship to the physical world started to shift. A light switched on for me when I started to cut up those paintings. Everything started to feel new and fresh. I became more bright-eyed looking at anything that was in front of me. At first everything felt open. But without having context, just using everything and anything was not me either.
Now I make rules for the objects I use in my work. I am taking objects that are given to me or objects that I have used in any of my life practices. These objects become the containers, armature structure for the work to be on. Everything still feels open, but the work itself expands and contracts.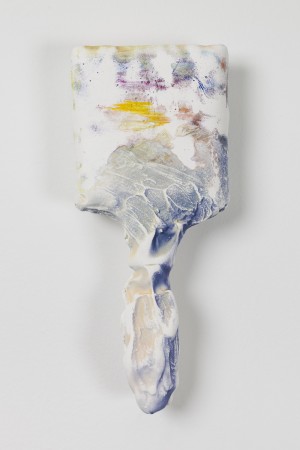 Rachel Klinghoffer, "My landscape would be empty," 2013 Used paint brush, wood, wire, epoxy, hydrocal, gouache, acrylic
Tamara: Can you describe how you make one of your works now?
Rachel: This past week, I continued making an object that I have been working on for a few years now. The summer after graduating from the Rhode Island School of Design, I spent a couple weeks with my favorite studio assistants, my twin niece and nephew in Long Beach Island, NJ, at the beach collecting seashells and such. I then used these seashells to encrust surfaces of works I'd previously started on. I also began to combine these seashells with other used objects, like shreds of a used beach towel, to begin new pieces. This one piece in particular has seen many reincarnations. It has been dipped, thrown, hammered, sanded, painted, airbrushed and then some. After two years this piece began to find its own shape. It is true to the form we started with but has come to resemble a female bust. I hope to direct the viewer to see it as a portrait and not just an abstract assemblage.
Tamara: Why is viewing it as a portrait important to you?
Rachel: Portraiture feels personal. It gives you the lens to view an individual. Some of my objects become landscapes, and others become portraits of themselves.
Tamara: How did this breakthrough in your studio practice affect your relationship with Judaism and Jewish practice?
Rachel: It changed everything. It changed my thinking process. It changed how I write.
Being open in the studio made me more open in other aspects of my life. This has flowed into my relationship with Judaism. There were things that I wasn't really interested in but now I am.
Tamara: Would you give us some examples?
Rachel: I grew up in a Conservative home. I observed the High Holidays, Passover and sometimes others holidays. Every Friday night we lit the candles and sat down as a family to Shabbat dinner. Now I too light the Shabbat candles every Friday and observe the Sabbath in my own way with family and friends. Now I feel the need to observe other holidays in different ways and actually enjoy going to daven with a minyan.
When I am praying I think about it is as acts, the act of swaying back and forth, and prayer as an active thing. I remember my father aggressively davening with tefillin.
Those things left such strong impressions with me. There is a strong sense of wanting a religious community.
Tamara: Would you say you grew to appreciate the public aspects of prayer?
Rachel: I have an inner conflict with the organized aspect of Jewish religion. I really enjoy being part of the community but at the same time don't necessarily agree with everything. And then I worry about what is or is not the right way. For me, at this point I know the right way is neither here nor there. It is more important to learn about my own Judaism.
Tamara: Has your changing relationship with Jewish prayer and practice come back into your studio practice or artworks?
Rachel: Yes. I have been thinking about prayer, the act of davening. I have been thinking about those types of repetitive motions. I am particularly interested in how men are much more aggressive when they go back and forth. Is something changing physically in those movements?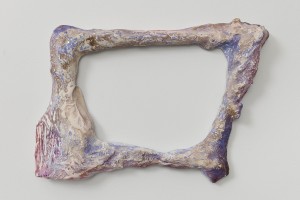 Rachel Klinghoffer, 2014, "Not a chill to the winter but a nip to the air," used paint brushes, hydrocal, acrylic, diamonds, pink, purple and orange sapphires.
Tamara: Do these motions remind you of making art?
Rachel: I light Shabbat candles every Friday night. That act when you wave your hands inward, that motion of bringing in. It is like the act is revealing the objects themselves.
Grazing the object is a way of taking in the new week. You are taking it in so that you can move on and start anew. There is something about that freshness. There is something new happening to the object. I do find something similar there. There is a similarity in the act of revisiting, of remaking, of taking what is already there and finding something completely new in it.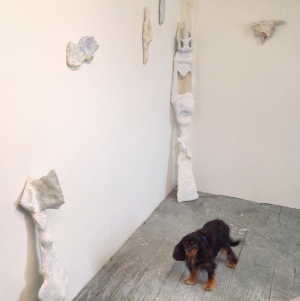 Rachel Klinghoffer, from the artist's Instagram feed, "Fergus my dog in my studio," October 2014
Visit Rachel Klinghoffer's website to learn more about the artist, her work, and her upcoming exhibitions and projects.
Tamara Mann is the John Strassburger Fellow in American Studies at Columbia University. Her work centers on the ethical repercussions of how Americans have defined life, death, and care. Her writing has appeared in such publications as The Washington Post, The Huffington Post, and The Harvard Divinity Bulletin.