March 9, 2010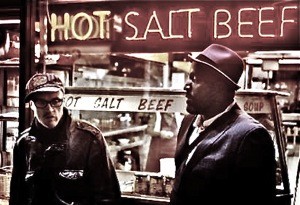 Dance music has been heading down strange paths recently. Beats once used to set people in motion have had their batteries drained until they function as sedatives. Even if artists remain committed to the principles of the discotheque, they turn club-honed reflexes into the subject of rumination. As leading critics have noted, this isn't music for the after-party so much as what comes after all the partying has stopped.
King Midas Sound, the latest project of esteemed British producer Kevin Martin), takes this trend one step further. Although still steeped in the ambience of deserted streets, their debut Waiting For You captures that heady mix of emotions when the bleached-out forms of the early morning resolve into a sharper picture. By scaling back his scuffed electronic sound and adding the services of sing-speak poet Roger Robinson, Martin has found a way to turn memories of the night into fuel for the following day.
Opening track "Earth A Kill Ya" is a perfect example. The underlying rhythm is the stutter of dubstep, reduced to a metronome-like absence of depth. Even the beats of Burial, famous for his dematerialization of the dance aesthetic, sound fleshy by comparison. But this minimalism is only part of the story. Robinson confidently intones a sort of "green" sermon that turns the song's pared-down bed into a scaffold for action. "The earth will kill you/If you try to kill it/Your body heals you/If you discipline it," he repeats without any trace of a club-induced hangover, while Kiki Hitomi complements the spare arrangement with a sinewy, high-pitched hum.
Later, Robinson speaks of his grandmother, who could dream the remedy she needed instead of relying on a doctor's care. The world may be out of balance, but hope for restoring its equilibrium lies within us. Juxtaposed with the escapism of the club scene, this is a sobering message. If the rest of Waiting For You is less preachy, it remains suffused with this feeling of a wake-up call.
Unlike most of the artists who have graced the critically lauded Hyperdub label, King Midas Sound does not dawdle in the ruins of the future. Instead, it celebrates the potential of creative destruction, clearing heads and hearts for the construction of a new reality. While this may make Waiting For You less attractive to devotees of the dark, its refusal to traffic in desolation is refreshing. Indeed, the album does a beautiful job of retroactively illuminating the pre-dawn landscape shadowed forth by its less optimistic brethren.
Even the edgiest track on the album, "Lost," a lover's plea for forgiveness, is distinguished by its propulsive non-passivity. Instead of pining over what he has lost, Robinson prepares himself to find it. This take-charge attitude is reinforced by rolling drum and bass reminiscent of a James Bond theme. Unlike Portishead, though, which also plays with cloak-and-dagger sonics, King Midas Sound gives us our Sean Connery straight, without the John Le Carré chaser.
This is not to imply that Waiting For You is all sunny skies. The submarine pings on "Sometimes," static-coated echo of "Meltdown" and industrial noises that open "One Thing" all communicate a melancholy that the daylight will not burn away. So does "Blue", one of the record's shortest and most satisfying tracks. Without the help of Robinson or Hitomi, Martin does his best Martin Hannett, wedding early 80s synths to a bass line worthy of Jah Wobble. Despite these touchstones from Thatcher's Britain, though, the mood is less nostalgic than knowing. We've been there and done that, but there's a lot more still to do.
Like a lot of contemporary artists, Kevin Martin has his hands on a number of things at once. Although he has expressed dissatisfaction with the way his main act The Bug is received, it's hard to imagine him abandoning it altogether. And he has other side projects aside from King Midas Sound. This means we should probably celebrate Waiting For You as an impressive achievement without waiting too long for a sequel. But if the steps its collaborators have taken here is any indication, it's a path worth exploring more fully.