April 7, 2014
The Leftist Ethicist is an advice column for Zeek readers who envision a more just world and act to create it. With a commitment to justice and progressive Jewish teaching (and a loving nod to the Bintel Brief), the Leftist Ethicist provides a space to raise questions, without judgment, and receive sensible solutions.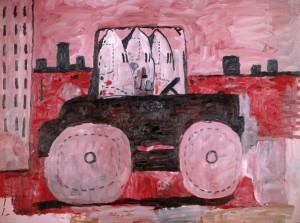 Philip Guston, City Limits, 1969, Oil on canvas ©Estate of Philip Guston, Courtesy of the Brooklyn Museum
I am an artist living in Chicago. When I go to an opening and see all white artists showing with a 99% white crowd or hear about residencies where it seems everyone accepted is white, I tune it out. As a white person, I am more myself in multi-racial settings. I'm not sure how to change this fact or even sure if I want to change it. Why force myself to connect in spaces that exclude people of color? Is my viewpoint "problematic," as an activist friend claims? –Anti-Racist & Ambivalent in Chicago
Like so many of us white people, you have a beautiful liberatory spirit, but your actions don't tell that story. You yearn for an art world that is more just and values the work and livelihoods of people of color. But latching on to a multiracial community isn't enough. When you choose to totally disengage from the white establishment you leave the full weight of racism on the shoulders of artists of color, who need access to apprenticeships, teaching gigs, gallery spaces, art dealers and residencies to be working artists. You have the privilege of moving in and out of that world. So why not build something good?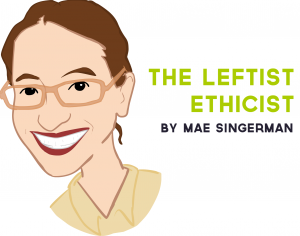 At least in the visual arts world, efforts by white people to fight racism in art have often been individual and isolated. White artists may mention an artist of color to a dealer, curator or critic to help land a first big show or sale, or play an important role as mentors. Adrian Piper, conceptual artist and the first African-American woman to receive academic tenure, was advised by Sol LeWitt. Carrie Mae Weems, renowned African American visual artist and photographer, had a teacher and advocate in artist and activist Fred Lonidier.
At the same time, influential collectors have "made" the careers of artists of color by creating artists du jour. Recently, that's what happened with Oscar Murillo. In academia, white faculty advocate for tenure track jobs for artists. And, of course, some white artists address racism in their work, as well, such as white, Jewish artist Philip Guston, whose art touched on racism, rage and Jewish identity.
Curators tend to stand out as exceptional when it comes to a lack of diversity, so much so that philanthropists are funding a diversity fellowship initiative at five major American museums – including the Art Institute of Chicago, reports Jason Foumberg in the Chicago-focused Newcity Art.
These are small actions white artists and academics take in isolation, and some can be criticized as tokenism. However, they do matter and are worthwhile starting places for conversations with other white people and interested people of color about how you can center racial justice and elevate the work of people of color in your art scene.
Engaging with white artists isn't just as a favor for people of color or nod to your multiracial community. It's good for you, too.
Pam Nath, member of Showing Up for Racial Justice, a network that organizes white people for racial justice, shared her own changing perceptions about relationships with other white people. "I don't have to reject a piece of my identity to have true community. It's important to me that I have relationships with people of color and spend time in multiracial spaces, but I think it's good that I love other white people, too. It has opened a space to love myself in a way I wasn't doing before."
Just like in an artistic process, moving even slightly out of your comfort zone can mean the beginning of something new, beautiful and complicated. Take the risk. Grab a plastic cup for cheap wine. Hit up some openings, and start to talk with your fellow artists about what matters to you.
Special thanks to the insights of Park McArthur for this piece, an artist who knows a thing or two about working to create a more just art world. "Ramps," her Essex Street exhibit, helped push forward the conversation about disabilities and art.
The Leftist Ethicist is not intended as a replacement or substitute for financial, medical, legal or other professional advice. It's just my opinion! What's yours? Talk back in the comments! Send questions about ethical dilemmas to LeftistEthicist@Zeek.net.
Editor's Note About the Artwork: Philip Guston's "City Limits," pictured above, is on view through July 6, 2014, as part of "Witness: Art and Civil Rights in the Sixties" at the Brooklyn Museum of Art. Several Jewish artists included in this exhibit took to their mediums as a way to confront racism and push forward civil rights. This must-see exhibit includes work by Richard Avedon, Jim Dine, Jack Levine, Ben Shahn, according to the curatorial team, along with Charles Alston, Merton Simpson, Norman Lewis, Romare Bearden and many others.—Erica Brody