October 19, 2014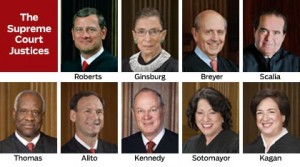 You could be forgiven if you perused the docket for the 2014-15 US Supreme Court term and yawned. To be sure, there are important cases, but the lineup so far lacks the hot-button attention-grabbers, with issues like marriage equality, abortion rights, health care, and voting rights largely absent from the list. Even so, it's worth paying attention this term. Here are some cases to keep an eye on:
•Young v. United Parcel Service, Inc.: Peggy Young, a pregnant UPS employee, requested light duty when her doctor advised her not to lift more than 20 pounds. Despite the fact that UPS routinely provided such accommodation to other employees recovering from work-related injuries, Young was not even allowed to continue to do her usual job because she was considered too much of a liability. She was forced to take unpaid leave, losing her health insurance, until the birth of her child. Upon returning to work, Young unsuccessfully sued in federal court based on the Pregnancy Discrimination Act. This case, set to be argued in early December, has ramifications for the protections provided under that important law.

•Holt v. Hobbs: Argued before the court on October 7, this case concerns the free exercise of religion. The Arkansas Department of Corrections allows prisoners to grow ¼ inch beards if they have skin conditions, but they drew the line when a Muslim prisoner Gregory Holt asked to grow a beard for religious purposes. (Holt was willing to compromise and keep his beard to ½ inch but got rebuffed by the prison.) Now the Supreme Court will decide whether the law (pushed for vigorously by many Jewish organizations) that protects prisoners' and other institutionalized persons' right to practice their religion trumps the Arkansas prison's concern that the beard might be a security threat.

•Equal Employment Opportunity Commission v. Abercrombie & Fitch: Samantha Elauf wore a headscarf to her employment interview at Abercrombie & Fitch but never directly asked her employer for a religious exemption to the store's "no cap" dress code. She was denied a job on the shop floor and sued, contending religious discrimination. The Supreme Court will decide whether an employee has to directly ask for a religious accommodation in order to have rights protected.
In addition, the Court will hear cases from Alabama and Arizona about gerrymandering From Alabama, two cases — Alabama Legislative Black Caucus v. Alabama and Alabama Democratic Conference v. Alabama — involve the charge of drawing districts based on race designed to dilute the power of African American voters. The Arizona case challenges a move to have districts drawn up by an independent commission rather than the partisan state legislature. Fair housing law, threats made via social media, and employee rights are also on this term's docket.
Actually, You Should Hold Your Breath
But the Supreme Court's dance card is not filled — there's room for them to agree to hear other cases. And among those cases are some real blockbusters that have social justice advocates, journalists, lawyers, and your average news junkies holding their collective breath.
There are lots of reasons to hold one's breath. Given the makeup of the highest court, will taking a case on abortion provide the occasion for once again rolling back women's reproductive rights? Might the court reinterpret and narrow protections afforded by landmark civil rights laws, like they did last term in the Shelby County v. Holder case which eviscerated the 1965 Voting Rights Act? It's anyone's guess (and there are folks who make a decent living out of trying to read the tea leaves).
Sometimes it's what you don't say that makes the biggest impact. That's been the case with injunctions issued by the Supreme Court on cases not currently docketed.
The Supreme Court decided, without comment, not to take any of the seven marriage equality cases pending before them. Their silence opened the chapel door for same-sex couples immediately in Utah, Oklahoma, Virginia, Wisconsin, and Indiana and set off a chain reaction that resulted in courts overturning other state bans. There was a brief hiccup as Justice Kennedy issued a stay on the Ninth Circuit's ruling overturning the ban in Idaho — and there was some confusion as to whether he was issuing it for just Idaho or Nevada, too). By the end of the same week, the stay was lifted and Idaho marriages began. As of this writing 30 states now have same-sex marriage. Much to celebrate to be sure, but the door is still open for mischief and confusion because the Supreme Court did not see fit to move ahead with a case that could provide the opportunity to enshrine marriage equality nationwide.
Reproductive rights are on a judicial rollercoaster ride, too. The Supreme Court, reversing a move they made just one year ago, delayed the implementation of a devious Texas law that would have closed 13 state abortion clinics. The law, HB 2, applies ambulatory surgery center standards to abortion clinics despite the fact that medical professionals find this unnecessary. It also requires that doctors at clinics have admitting privileges at local hospitals, another baseless rule. The Fifth Circuit Court of Appeals still must rule on the matter and, regardless of its decision, the case will likely move up to the Supreme Court.
Voting rights, too, got nods and nays from the Supreme Court. The justices allowed Ohio to curtail its early voting. North Carolina's same-day voter registration also got nixed. Yet Wisconsin's voter ID requirement won't be going into effect for the upcoming midterm elections, thanks to the US Supreme Court. The Texas voter ID law got stopped by a federal district court in South Texas and then reinstated by the Fifth Circuit Court of Appeals. At dawn on October 18, the US Supreme Court — with a scathing dissent by the three women on the court — allowed Texas to proceed with its strict Voter ID requirement.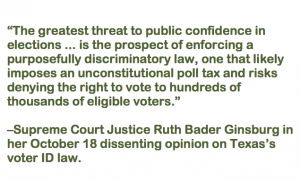 So stay tuned and watch this space. We can't be sure what the final 2014-15 Supreme Court docket will look like. But we can be sure that who sits on the high court and the rest of the federal courts makes a huge difference in our lives. As you make your choices this Election Day, remember that US senators play a significant role in determining who gets to sit in lifetime seats on the federal courts and — given the cases under consideration in these courts — that may well be one of the most lasting issues of the election season.
Editor's Note: Hey readers, these are just a few of the cases on the docket. Which ones are you watching?