April 10, 2013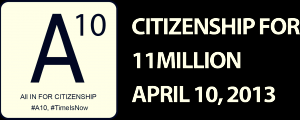 I have a small obsession with the conversation around immigration — and its rhetoric. When the rhetoric is hopeful, it resonates. When it's hateful, the attacks feel personal. (My grandparents were immigrants; my husband is an immigrant.) Today, Jewish signs and faces are among the thousands in Washington, there to take a stand on the hopeful side, in this case on the Capitol's West Lawn. These Jews for comprehensive immigration reform (#Jews4CIR) join allies from immigrants rights, labor, and other faith groups at today's "A10" rally, just as the nation readies itself for the full-on rhetoric war bound to accompany the Gang of 8's bipartisan Senate legislation.
You don't have to look high up the branches of most American Jewish family trees to find an immigrant's story, and that's one reason so many Jews are playing an active role on the issue, from today's rally in Washington — which includes an interfaith prayer introduction to the rally with Religion Action Center Rabbi David Saperstein — to "echo" events around the country, as well as longer-term and targeted campaigns around families, low-skilled and high-tech workers, refugees, women, GLBT and a slew of other issues.
Despite different priorities, Jewish groups are demonstrating broad support for President Obama's call for a pathway to citizenship, including a letter to the president and Congress signed by 100 local and national Jewish organizations and faith leaders, and drafted and circulated by HIAS.
What can we expect in the days ahead, beyond the rhetoric? Liza Lieberman, HIAS's associate director of US Policy and Advocacy, translated the timeline for those outside the beltway: the hope, she said, is that after the bipartisan bills are introduced in both chambers, the legislation will make its way through the House and Senate Judiciary committees in June. "Ideally," she said, "something will happen like a floor vote before the August recess." These next few months will be crucial, and already Jewish groups are meeting with legislators in district offices around the country. Online, individuals can add their names to the We Were Strangers, Too, petition.
Behind the scenes, the 33-year-old Abby Levine of the Jewish Social Justice Roundtable is forging new ground bringing different Jewish groups together. "I want my people to stand up for the issues I care about," she says.
Ten years ago, while Levine was on the 2003 Immigrant Workers Freedom Ride, she met Emilio, who "shared his immigration story of coming to this country in the trunk of a car to find a better life for his children," she says. "I shared with him my grandfather's story, who left Lithuania for Ellis Island for a better life for his family. It was then that I began to believe that we as a Jewish community cannot shut the door behind us for the immigrants coming to this country today." That ride marked a "push for equal rights, improved work conditions and … a path toward legal residency and citizenship."
Now, many pushes later, the American conversation around immigration has taken its rightful place center stage – even the words being used are changing. Today, Abby Levine – now 33 — is once again bringing Jews and social justice together to support immigration reform, this time at the Jewish Social Justice Roundtable.
"I try to imagine myself leaving my family and going to another place where I don't know the language," she told Zeek. "The strength and the love that it takes! For me, people just want a better life for their kids. I'm a new mom, and now I understand that better."

Bend the Arc
Six Questions for Abby Levine
Can you explain, briefly, what it is you do at the Jewish Social Justice Roundtable?
As the director of the Jewish Social Justice Roundtable, I weave the Jewish social justice network, by building capacity of Roundtable organizations, promoting strategic collaborations and building the entire field. For example, 24 Roundtable organizations are working on our 2013 Immigration and Immigrants campaign.
Why do you think the Jewish community brings to the national conversation about immigration reform?
American Jews are a community deeply connected to the immigrant story. That history guides us, and we will not shut the door on those who came after us. Providing a roadmap to citizenship fundamentally reflects our Jewish values and communal experience in America.
What does April 10th mean to you — and why is it important to have a Jewish presence?
April 10 offers an opportunity for the Jewish community to stand in solidarity with immigrant rights groups. For me, I'm excited to stand there with a sign that says, "My grandfather was an immigrant from Lithuania, and I support immigrant rights."
Beyond April 10th, Jewish organizations are tapping into the Roundtable's immigration efforts in different ways. This is about more than legislation. What's happening that we won't see in Washington?
Roundtable organizations are uniting around the current legislative effort to build organizing efforts around the country. 300 Reform rabbis have signed up to educate and organize around immigration through Rabbis Organizing Rabbis. Bend the Arc is building a citizenship campaign in Colorado. The National Council of Jewish Women is mobilizing its leaders in Florida, Ohio and across the country. JCRCs around the country will be discussing this issue with their legislators and supporters. HIAS offers a century of experience and knowledge on the issue.
What's unique this time is that not only are Jewish communities speaking up in cities like New York, with Jews for Economic and Racial Justice; Chicago, with the Jewish Council on Urban Affairs; the Twin Cities, with Jewish Community Action and Boston, with the Jewish Community Relations Council of Greater Boston and the Jewish Alliance for Law & Social Action, but we as a movement are mobilizing in new and strategic places, places like the Inland Empire of California.
How is the Roundtable trying to bring cohesion to these Jewish efforts? We're coordinating on overall strategy, messaging and communications and generally providing resources to increase the capacity of organizations working on this campaign. This level of collaboration between so many Roundtable organizations is new and very exciting.
What's been the Roundtable's biggest success so far on immigration?
We had an exciting victory in North Carolina! The Department of Transportation decided to make the driver's licenses for recipients of Deferred Action for Childhood Arrivals — the DREAM-ers — bright pink, with the words "No Lawful Status." The Roundtable brought together rabbis across North Carolina to speak out against the pink driver's licenses. Sixteen Jewish leaders based in North Carolina, and 70 other national Jewish leaders and organizations from all denominations, signed a letter to Governor Pat McCroy asking him to change the policy. A group of local rabbis delivered the letter to the governor's office and learned that the state had changed the policy! It was a partial victory — the license plates will not be pink, but they will still have the "No Lawful Status" label. The public pressure we brought to bear, and especially the leadership of the rabbis in North Carolina, had an important impact on this decision.
You've been a professional organizer for most of your adult life. What do you think people most often misunderstand about the nature of organizing? What does it mean to you?
Everyone has their own spin on what organizing is. To me, there are two touchpoints: inspiring people to take action, and following up. We all need motivation to keep working for social justice, and sometimes the best motivation is winning. That's why November's election was so exciting — we saw victories on marriage equality, the DREAM Act in Maryland, progressive taxation in California and reproductive rights in Florida. Roundtable groups worked on those campaigns and those victories were like fuel to the flames of the Jewish social justice movement.
The flip side of inspiration is follow-up. Not as exciting, but even more important. Without follow-up, all we are doing is talking. I know Jews love to talk, and when we combine it with strategic action, we can accomplish real social change.
This is the second article in Zeek's What We Talk About When We Talk About Organizing, a new Zeek series showcasing people and efforts that are helping bring Jews together as part of a growing social justice movement.