February 6, 2014

Is it even possible to be an ethical realtor in New York?
Dear Leftist Ethicist, I have a distant family member who has turned from a C-list to an A-list celebrity because of a role on a popular TV show. We hardly know each other. I am a passionate employee of a grassroots organization and would like to ask him to support us. He is apolitical as far as I know, but probably leans conservative. What is the best way to approach him without being creepy? Or is it even worth reaching out since we're pretty removed?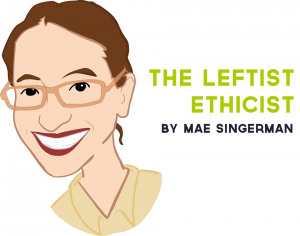 Even Leftist Ethicists can be seduced by the draw of celebrities. While I rack my brain guessing who your famous connection is, let's discuss your dilemma.
Celebrities support all kinds of causes from repping Jewish organizations to Occupy Wall Street to advocating for domestic workers rights. Your organization's mission could be a perfect match for your relative's priorities. If not, after getting to know you, maybe he'll introduce you to an even more famous celebrity friend who is a better fit.
According to Mik Moore, principal at Moore + Associates, who often links celebrities with social justice issues that they're passionate about, the best approach is to play the long game.
Take your time, Mik says, and get to know the person and their passions. "Ask to take them out for coffee," Mik says. "People who are not actors or don't work with them think actors are completely different, but they're just regular people."
Go into your coffee date with an open mind, because it might not end with any commitments, even if it goes well. View the meeting as a chance to gossip about family and share about your organization's work. In the least, you can have an interesting conversation with someone whose life is different than your own.
If your celebrity relative is interested, Mik suggests engaging them around "their talent, not just their presence." Celebrities get asked to make appearances at events all the time. They come, go, and forget about it. Try to enlist him in the early stages of a project, where he'll get to make decisions and feel really proud of the work. Who knows, he could end up name dropping your organization or cause the next time he sits down on a network talk show couch.
Dear Leftist Ethicist, I recently moved to Brooklyn from a smaller city. When I moved here, I decided to get my real estate license. I didn't realize at the time how shady real estate is in New York. Now I see so many cheats, liars and rip-offs. I think real estate here is way more cutthroat than where I'm from. Is it even possible to be an ethical realtor in New York?
If you start to type "my realtor" into the Google search bar, the suggested phrases that follow are "is an idiot," "is rude," and "lied to me." With increased competition for apartments and the decimation of affordable housing, apartment-seekers put the blame for their home-hunting woes on the primary person they engage with in their moving process — their realtor. Every renter has at least one apartment hunting horror story. Just like a newbie New Yorker's first bedbug scare, getting scammed looking for an apartment is a New York City hazing ritual.
As you are learning, renters aren't the only ones in a tough spot. I spoke to Mychal Johnson, New York City-based realtor and community activist about your plight.
"I got my license a decade ago, mostly to become a better informed buyer for me and my family as we sought to purchase a home in the Bronx," he said. "Since then, I've seen a revolving door of agents coming up and then leaving the industry because it is hard to make a living in real estate."
With a glut of realtors hustling in such an aggressive market, they often turn to pressuring people with a hard sell or use a bait-and-switch of showing pictures of one apartment then taking clients to another. A widely practiced unethical move is to take deposits or charge for background checks without ever delivering on the goods.
Finding an apartment in New York can be stressful, and people searching for an apartment are often desperate for help from someone who treats them with respect. Listen to your clients, be realistic and give them choices. The more people trust you, the more word-of-mouth business you can build, which is important in building your niche.
"Trying to sustain a life in New York City financially isn't easy," Mychal says, "but the more emphasis you keep on providing a service, on helping someone find that perfect home, that perfect community, the happier you will be, regardless of the money you are making."
You should review the 2014 Realtors Code of Ethics. Not only is it a good starting place for reflecting on your behavior, but it opens awesomely, with a line about how realtors "should recognize that the interests of the nation and its citizens require … the widest distribution of land ownership." Of course, the answer to this question says nothing about the ethics of a realtor's role in gentrification in Brooklyn, but that topic is for a different column!
The Leftist Ethicist is an advice column for Zeek readers who envision a more just world and act to create it. With a commitment to justice and progressive Jewish teaching (and a loving nod to the Bintel Brief), the Leftist Ethicist provides a space to raise questions, without judgment, and receive sensible solutions. The Leftist Ethicist is not intended as a replacement or substitute for financial, medical, legal or other professional advice. It's just my opinion! What's yours? Talk back in the comments! Send questions about ethical dilemmas to LeftistEthicist@Zeek.net.