April 3, 2014
This piece is cross-posted with the RAC series "Double Booked: A Conversation about Working Families in the 21st Century."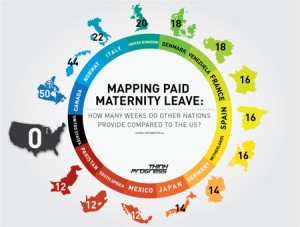 Think Progress
I remember clearly the day that my then-boyfriend now-husband and I implemented our "no conference calls on road trips" rule. We're often on the road between our home in DC and New York or to my mother-in-law's home on the Delaware coast. While this might seem like an obvious rule to some in order to maximize quality time together, our concerns were much more mundane. If we were both on the phone at the same time, we couldn't hear. And we couldn't agree on whose call was more important, so we decided no one could be on the phone. Yes, our relationship had come to closely approximate a pair of five year olds who could not share a toy.
Several years later, I think both of us would say that road trips are our favorite times together. We get to talk for hours with no interference, and that allows us to explore conversations and ideas through to their natural conclusion, a rarity in today's world where something new demands attention every fifteen minutes. Our road trips are also a constant reminder that I married this person because I really like him. He's my favorite person to spend time with, and we never run out of things to talk and laugh about.
Still, as we get through our first year of marriage** and field the inevitable questions about children, those original car rides loom large in my mind. I come from a large family, and I want children. But I am under no illusion about the radical life change and I do no relish the impending negotiations about time and work and whose meeting is more important on any given day. Even with a partner who expresses a true desire to co-parent, I know the cultural and structural default puts the onus on the mother.
One reason I am so passionate about my new job at NARAL Pro-Choice America is because I know that reproductive freedom is the heart of gender equality. I have witnessed consistently through my multi-faceted career that the decision of when and how and with whom we have children is intrinsic to our ability to achieve all other personal and professional goals. In a country with the bare minimum or support for pregnant women and mothers, an unintended pregnancy can lead to disruptions in jobs and education that affect women for a lifetime. And the recent case in the Supreme Court where Hobby Lobby was fighting covering contraception in its employees' health package shows just how far we still have to go to assure women the control over our own reproductive fates.
I often wonder as I sit at my desk when reproductive freedom will achieve its full potential in a country that lags far behind others in the Western World on so many policies that support working families. While we fight to preserve abortion access and for contraception to be treated like other medical concerns, we should also be dreaming big about what it means to inspire equity in parenting. And I want us to dream big. According to the International Labor Organization, the United States is one of only four countries to offer no paid parental leave despite the proven societal and market benefits to having such policies.
As we work to amend these regressive policies we should look to the most forward-thinking countries like Denmark. There, fathers are required to take a portion of the year of paid leave to care for new children. Fathers report satisfaction from this early bonding time with their children, and the marketplace is benefiting from a more equitable distribution of labor at home and at work. Policies like this go a long way in making "choice" more than just a catchphrase in our culture and enabling healthy families, healthy workplaces, and healthy marriages.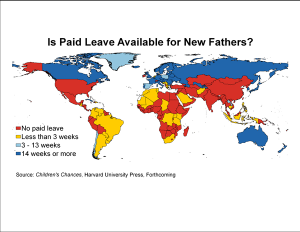 MSNBC
Ilyse Hogue, a nationally recognized social change practitioner and expert in online engagement with a passion for progressive work, is the president of NARAL Pro-Choice America. Before taking the helm at NARAL in January 2013. she served as co-director of Friends of Democracy and as senior adviser to Media Matters for America, and from 2006 to 2011, was director of political advocacy and communications for MoveOn.org.
This article is part of the Religious Action Center of Reform Judaism's series "Double Booked: A Conversation about Working Families in the 21st Century," dealing with the many issues that affect working families, and featuring everything from personal stories to policy analysis.