June 13, 2014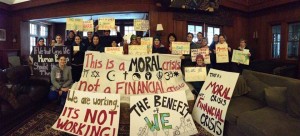 Moishe Kavod House
Over the past decade, community organizing has become a buzz phrase in American culture — embraced by the right and the left.
The Religious Right used it to elect George W. Bush in 2004, Democrats used it to get President Obama elected in 2008 and reelected in 2012, and the Tea Party used it to take back the House in 2010 and is gearing up once again for midterm elections.
In the Jewish community, synagogues and grassroots groups alike have been increasingly investing in community organizing as a strategy to make more of an impact on social justice issues. The Reform movement created Just Congregations, now a well-staffed program to train and support Reform congregations to use organizing in their social justice work, and the organizing training group JOIN for Justice, formerly JOI, has doubled in size as rabbinical schools and Jewish social justice organizations increasingly see training in grassroots organizing as essential to meeting their organizational goals. With high school programs, organizing-based leadership training at Hillel, professional training programs, and organizing workshops in almost every major rabbinical school, organizing has become a primary tactic of Jewish social engagement.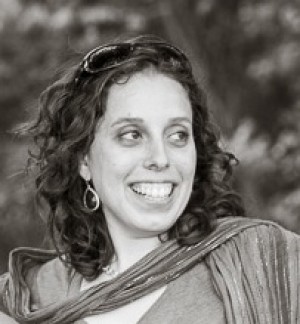 Rabbi Margie Klein Ronkin
As a grassroots organizer-turned-rabbi myself, I have dedicated much of the past eight years of my life to trying to figure out the relationship between organizing and community building, and how the two might best support each other.
So, what exactly is community organizing?
Here's a basic definition: community organizing is an approach to social change that helps groups build relationships and then work together to make a difference on issues directly affecting the group. Unlike most charity and advocacy work, in grassroots organizing the affected groups are the actors at the center of efforts for change. Instead of having adults advocate on behalf of teens who want state funding for youth jobs, for example, Boston teens are actively organizing themselves. By building relationships and sharing their stories, they are able to make an even more powerful case to legislators than adults could alone. While all grassroots organizing builds people-power to create change, community organizing centers around one or more communities that work on different issues over time, in contrast to "advocacy organizing," which focuses on a particular issue, like environmental sustainability or workers' rights.
While the goal of community organizing is to create positive social change, the goal of community building is to create an engaged and meaningful community for community members.
Community Building: A Shift Toward Relationship Building
Community, roughly defined, is a group of people who acknowledge a sense of shared identity, and often a shared purpose. In my experience, Jews value community-building not only because it is personally fulfilling, but also because it is the key strategy for Jewish continuity and the survival of Judaism into the future. As a recent study on Moishe House suggests, when Jews feel invested in Jewish community, they are more likely to practice Jewish rituals, express a strong sense of Jewish identity, and commit to raising Jewish children.
Historically, Jewish institutions focused their community-building energy on events that provide activities for Jewish community members — open houses, young adult socials, sisterhood brunches, themed services, etc. Yet, as Rabbi Ron Wolfson, director of Synagogue 3000, and others have noted, in an era where Jews are not excluded from the wider social world and may not identify as members of the organized Jewish community, the most successful Jewish efforts are those that focus on relationship-building, not events.
I learned this firsthand in my 20s, when I was turned off by Federation-led ice cream socials and bar nights, which made me feel like Jewish professionals thought that young people were only interested in partying. That wasn't true for me or my friends. Even if it were, the socials felt too much like middle-school dances planned by parents — organized by people who didn't know us or our tastes.
So, I started having people over for Shabbat dinner, and soon wound up with crowds of people showing up, eager for a welcoming space to get to know one another. From that group, the successful minyan Tikkun Leil Shabbat emerged in Spring 2005 in Washington, DC, originally under the leadership of Joelle Novey and Ethan Merlin. After experiencing people's enthusiasm around my Shabbat dinners and Tikkun Leil Shabbat, my friends Joe Gindi, Zach Teutsch, Frances Kreimer and I got the idea to raise funds to create Jewish community by focusing on relationships and visionary social justice work, which eventually turned into Moishe Kavod House in Boston. We opened as Kavod House in Fall 2005, and joined the fledgling Moishe House network in June 2006.
In Boston and around the country, Moishe Houses, Hillel's Campus Entrepreneurs Initiative and many synagogues offer a clear lesson: when staff focus on weaving relational networks and developing lay leaders, people are more likely to become and stay involved. Community organizing is particularly well suited to young adults, who often do not fit into family-centered synagogue life, are transient, and like spending time primarily with peers, but has worked in mainstream institutions as well. It should be noted that these organizations are far from the first to rely on strong relationships to bind their communities. Indeed, most shtibels (small Old World synagogues), minyans, and every storefront church I have ever attended likely know well that relationships are the bread and butter of religious life.
But, as Jewish communities have moved to the suburbs, synagogues have become bigger and more anonymous, while individuals juggle busy lives full of options their forebears couldn't have imagined. Although we've been able to join the secular social institutions that once prohibited us, we long for real, personal connection and need help finding and cultivating it.
Temple Israel: Social Justice Organizing Leads to Community Building
Over the past 20 years, synagogues have learned more about effective community building through a form of grassroots organizing called Congregation-Based Community Organizing, or CBCO. In the early 2000s, for example, Temple Israel in Boston became more active in the Greater Boston Interfaith Organization, a CBCO network. Temple Israel has a long history of social justice involvement, but under the leadership of Rabbi Jonah Pesner — now senior vice president of the Union for Reform Judaism — and the Ohel Tzedek (Tent of Justice) team, the congregation embarked on an extensive 1:1 campaign, where congregation members engaged in more than 800 personal conversations to share personal stories, build relationships, and identify deeply and broadly felt issues to work on together.
Not surprisingly, Ohel Tzedek's effort yielded new energy around social justice within the congregation. It also helped lead the Greater Boston Interfaith Organization to pass groundbreaking healthcare reform in Massachusetts in 2006, both by mobilizing dozens of congregations to collect 50,000 signatures to put healthcare reform on the ballot and by applying continual pressure on the State Legislature in solidarity with directly affected communities. Perhaps more interesting, though, is the way that the campaign transformed Temple Israel itself.
As Rabbi Pesner tells it, though Temple Israel at the time counted over 1,500 member families, many members felt like they did not really know each other. As they engaged in community organizing, they listened to each other's stories and struggles, and came to care about one another more personally and more deeply. Congregants who worked as emergency room doctors and were outraged that so many patients lacked preventative care, for example, got to know members of the congregation who struggled to afford preventative care, writes Rabbi Pesner in Righteous Indignation: A Jewish Call for Justice. By creating a strategy to bring people together for meaningful shared work, people from different corners of the congregation connected, and the huge Temple Israel started feeling even more, well, like a community.
Organizing Outside of Social Justice:Temple Emanu-El
Though congregation-based community organizing helps progressive congregations achieve both social justice and community-building goals, Jewish communities are just beginning to explore organizing methods as a means for community building without a social justice agenda.
Last year, I worked with Temple Emanu-El, a large Reform congregation on Boston's North Shore. Like so many congregations today, its membership has shrunk over the past generation, with waning participation in synagogue activities. Wanting to buck this trend, the board — after reading Sacred Strategies: Transforming Synagogues from Functionary to Visionary — hired me to help revitalize the congregation through CBCO.
Following the organizing model, I started by holding 1:1s to try to understand what was going on, meeting with more than 50 members of the community. I learned that, in many ways, this community had been a victim of its own success. As Jews in the area got richer and gained access to the wider community, members moved farther away — literally and emotionally — becoming disconnected from the temple and one another. Members of all ages reported that they were so busy that they lacked any community at all, and wished they had a way to build deeper relationships and share their lives with these new close friends. Unfortunately, they did not initially see the temple as a space to find those relationships.
We began by identifying leaders of different constituencies within the congregation — like young families, empty nesters, people over age 75 — and recruiting them for our synagogue transformation leadership team. The leadership team then identified well-networked people in the congregation, and asked them to host house meetings where members were invited to share stories and talk about what they wished they had more of in their lives. Members across all demographics admitted to feeling isolated. A young mom reported this was the first time she had ever actually had a conversation with anyone in the congregation, because she felt like everyone already knew each other. When two other women thanked her for speaking up and told her they felt the same way, all three whipped out their smartphones and made dates to get together.
The house meetings led to community "Interpretation Sessions," where hosts identified common themes. At almost all the meetings, people said they wanted more intimate gatherings where they could get to know one another. Thanks to the house meetings, people realized that what they really wanted was to spend more time in each other's homes. The question, then, became whether simple house get-togethers could "count" as a synagogue activity.
With encouragement from Rabbi David Meyer and the board, the leadership team helped organize a community-wide celebration and kickoff, and members of all backgrounds broke out into smaller groups — Temple "Neighborhoods" — to brainstorm. After years of waiting for staff to plan a program exciting enough for everyone to attend, members got energized by the possibility of creating meaningful experiences for themselves, with support and leadership development from staff. It's too soon to evaluate the long-term impacts of this initiative. Yet the effort is still going strong almost a year after the kickoff, with increased participation, broader leadership, and new energy.
Why the Organizing World Needs to Learn from Congregations
After 12 years of working in both areas, I've come to believe that the learning between congregations and community organizing groups needs to flow both ways. For the organizing world to succeed, we must realize how much we have to gain from the widom of religious community builders.
Because grassroots organizing groups usually measure success based on the achievement of concrete political goals, the kind of relationship building so vital to community success is often not prioritized and done poorly in the organizing world.
I offer three personal examples.
• When I worked on election organizing, I learned that national organizations hire field staff to create volunteer teams for a year at a time every election cycle. The field staff would then be laid off after Election Day. The relationships and networks that the field staff cultivate often fall apart after the staff leave because the national organizations don't invest in long-term lay leadership, a significant missed opportunity.

• In many campaigns, organizers are instructed to spend time only on talented leaders. This means that once an organizer determines that a given volunteer lacks clear promise to fulfill a campaign need, that volunteer is summarily dropped. The result is a fleet of ex-volunteers who feel manipulated and misused, despite their commitment.

• Third, within the world of CBCO, staff cultivate close relationships with congregational leaders and help congregations develop deeper internal relationships. Yet relationships between congregations are lacking. One can sit in a room of 1,000 people of all racial, ethnic, and class backgrounds, for example, and talk only to Jews from one's own congregation. As I see it, without building deeper relationships across the barriers that so often divide us, CBCO is just a coalition, not a beloved community. And even from a strictly political point of view — because building a powerful progressive voting bloc requires breaking down racial barriers — skipping inter-congregational relationship-building undermines exactly what we're trying to do.
Community Building Lessons for the Organizing World
The organizing world could learn from congregational community building that relationships take cultivation over time. We could learn that once we establish some sense of belonging, we actually need the ice cream socials and services and brunches that affirm that we care about each other beyond our capacity to advance campaign goals.
Further, just as relational campaigns in congregations cultivate relationships across different social circles and demographics, CBCO groups and other organizing networks need to invest more effort in building relationships across faith, race, class, as well as age and social circles. If organizing networks could think of themselves as communities and seek to strengthen themselves from that standpoint, they would not only nourish new and inspiring connections, but also create a more powerful and effective movement for justice.
My own recent experience as an organizer for the National PICO Network gives me hope that this kind of visionary, strategic, and community-oriented form of organizing is possible.
Consider our recent campaign to raise the minimum wage in Massachusetts. We were encouraged not only to collect signatures to get a referendum to raise the minimum wage on the ballot, but also to encourage relationships within and across congregational teams. At a recent community dinner for leaders across ECCO, PICO's affiliate on Boston's North Shore, I heard a working-class Irish Catholic man talking with a black Baptist woman about their favorite foods. Who knows if this conversation will lead to more work around the minimum wage. All the same, I found it encouraging that these two people had the opportunity to figure out that they had something in common. Hopefully this kind of interaction, repeated hundreds of times, will create trust between groups that are often pitted against each other, as well as a sense of connection, and that will strengthen our organizing and the broader movement for economic justice.
Final Word
In both the community organizing and community building worlds, the key is to build authentic relationships and to support other people to do the same. In Buber's language, we need to create I-Thou relationships where we connect with other people and let ourselves be moved by them.
As Buber teaches, it is through those I-Thou relationships that we find God, and where, I would argue, we find the power to transform ourselves and the world for the better.
Rabbi Margie Klein serves as the spiritual leader of Congregation Sha'arei Shalom in Ashland, MA, and works as Director of Clergy and Leadership Development for the Essex County Community organization. She is the founder of Moishe Kavod House in Boston, a community of over 600 Jews in their 20s and 30s dedicated to Tikkun Olam. A graduate of Yale and Hebrew College Rabbinical School, Rabbi Margie is co-editor of Righteous Indignation: A Jewish Call for Justice, and a member of the Synagogue 3000 Emergent Communities Leadership Network. Rabbi Margie founded and directed Project Democracy. Rabbi Margie is an ordained Kohenet/Hebrew Priestess, and an avid hip-hop dancer.