September 7, 2014
Hope on the horizon? Changing the climate around climate change.
It's an unusually cool late July night in Philadelphia. I've just returned home from a planning meeting with a group of Jews organizing to join the upcoming People's Climate March, taking place September 21 in New York City. The march is expected to be historic, and coincides with the latest UN Climate Summit. Though I'm not much of an organizer, and tend to get impatient at committee meetings, I left that meeting feeling something I haven't felt in a long time when it comes to climate change: hope.
It wasn't until Hurricane Sandy that I first became consciously worried about climate change. I was in Philly, and I remember watching the weather report for days before the hurricane hit. The forecast showed the giant storm cloud spinning in our direction; it was going to land right on top of Philadelphia. The mood at the local Super Fresh was a mixture of panic and excitement as folks grabbed cans of food and bottled water off the shelves. My husband and I even bought a weather radio. The day before the storm, the voice on the radio was deep, distant, almost robotic, reporting wind speeds using unfamiliar nautical terms. We quickly turned off the radio, too freaked out to listen any further.
After three days of staying home, waiting for that storm cloud to descend upon us, we came out unscathed. By the time the hurricane had found its way to Philadelphia, it was not as bad as we'd expected. Surprisingly, our cable TV worked the entire time, which allowed us to witness the subways flood in my hometown of New York City. We watched the nearby Jersey Shore get slammed. The damage is still not totally repaired. I came out of the experience a changed person. I was terrified and shaken to my core. Climate change wasn't some far off, future possibility: it was here and now.
I had first learned about global warming back in high school in the 1990s. I remember my science teacher's chalkboard illustration of the greenhouse effect, with squiggly lines representing the CO2 emitted from fossil fuels. I went to a Conservative Jewish day school, and my science teacher also co-taught a course called "Living on God's Earth," which combined environmental science and rabbinic teachings on our responsibility to care for the earth. I was a member of our school's Tikkun Club, which focused on environmental and social justice.
It wasn't until I saw "An Inconvenient Truth" when it came out in theaters in 2006 that I realized things were quickly getting bad. But it took that very personal experience of witnessing Hurricane Sandy for me to become fully invested in the issue. It's easy to ignore the truth until it comes knocking, or in this case howling, at your door.
New Warning Signs
The facts are impossible to ignore. Warnings by the Intergovernmental Panel on Climate Change are becoming more and more severe: the New York Times recently published excerpts from a draft report to the UN stating that continued emissions growth is leading to the risk of "severe, pervasive and irreversible impacts."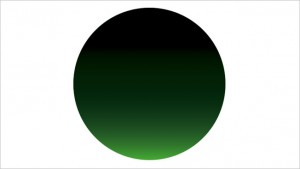 Iconic graphic designer Milton Glaser's green dot: #Itsnotwarming (it's dying)
My ability to feel hopeful in the face of this crisis often wavers. I honestly don't know if anything I do will make a difference. So much damage has already been done. What's left to fix? What's left to hope for? I'm not alone in experiencing what's now referred to as "climate anxiety." A June 2014 report by the American Psychological Association, "Beyond Storms and Droughts: The Psychological Impacts of Climate Change," confirms this phenomenon.
A friend and I recently started talking about our feelings of climate anxiety, and we decided to form a climate change book club. At our first meeting we sat around my living room and shared our fears (along with snacks); it was almost like group therapy. We discussed an empowering book called "Active Hope: How to Face the Mess We're in without Going Crazy," by Joanna Macy and Chris Johnstone. The experience was much more comforting than I had anticipated. It helped me realize that these fears were normal and becoming more common. It also felt empowering to be part of a group of people who are deeply concerned about climate change, and who want to find ways to make a difference, while creating space to share our hopes and fears.
The Work of Hope
Maintaining hope in the face of devastation requires constant work, self-care, and reaching out to others. While I often wonder if I have the psychological capacity to witness all the suffering I see on the news, I also know that this is a very privileged position to be in. From the comfort of my living room sofa, I can choose to look away. But at some point I decided that I wouldn't, and couldn't, look away from climate change. It's real, and it affects everyone.
And we're coming closer and closer to crossing the threshold where the effects of climate change are irreversible. But often we wait to start caring until it's too late, until destruction comes spilling over our own shores, as it did with Hurricane Sandy and will continue to do as more extreme weather events become more common. We can't afford not to pay attention, and we can't afford to be too late on this issue.
To Be Is To Stand For
A few months ago I heard poet Brenda Hillman give a talk at Poets House in New York. Known for her writing on environmental themes, Hillman was asked about her environmental activism. She said that she attends protests and marches not because she necessarily thinks they will make a difference, but because it's important to set an example to others, to stand up — literally — for what's right.
That struck me deeply. What if setting an example by our actions is even more significant than their tangible results? Indeed, we don't know if our actions will yield the results we want to achieve, but when others see us doing something, a ripple effect can occur. Hillman's reference to setting an example reminded me of a quote by Abraham Joshua Heschel: "To be is to stand for."
What might we accomplish if we stand for the Earth? How might we fail? Who will suffer if we do nothing? Can I take action without any guarantee of success?
As we come closer to the Jewish New Year, I will continue to ask myself these questions. I will adjust my priorities to what matters most. Amidst the fear, the anxiety, the moments of hopelessness, I choose to stand for the Earth — and its people. It's not that any other cause is more or less important, it's that this one will touch every single one of our lives directly sooner or later. It cannot be ignored. It's not happening somewhere else. It's happening here on Earth, and that's the only somewhere we get. On September 21, we're going to march, to pray with our legs. We're going to stand for hope and demand change. And if we do make a difference, it will be a big one.
Hila Ratzabi is a poet and freelance editor living in Philadelphia, where she founded the Red Sofa Salon & Poetry Workshop. She is currently working on a book of poems that addresses climate change. You can read some of her earlier poetry and writing at ZEEK here and here.
Get Involved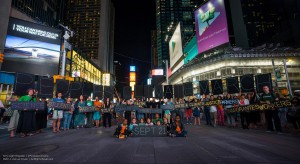 People's Climate March
Editor's Note: ZEEK Magazine is a proud partner of the People's Climate March and the Jewish Climate Change Campaign, one of 73 participating Jewish orgs. Please join us — and our friends and families — in NYC on September 21st! Why? American Jews care about climate justice. Visit our Facebook page for more information!
Essential Reading & Resources: