November 13, 2012
What We Talk About When We Talk About Israel: A Conversation with Daniel Gordis Moderated by Bari Weiss of Tablet Magazine JFNA General Assembly 2012 Baltimore Convention Center, Baltimore, MD November 13, 2012, 9 am
July 19, 2012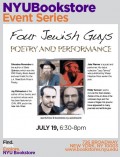 Poetry reading and performance with Philip Terman, Yehoshua November, Jay Michaelson, and Jake Marmer.
February 25, 2012
Next@19th, 9 pm
Miami, FL
Join Next@19th's CHAIku program, featuring Jay's ecstatic and energetic queer Jewish poetry (and music). Bring your own 17-syllable celebrations of queer Jewish experience to share.
Authors
February 8, 2011
Zeek presents New Jewish Writing
@Kelly Writer's House, U. Pennsylvania
Feb 24, 2010, 6:00 PM
Click the event title for bios of the fabulous writers!
Authors
September 7, 2010
Please join Zeek and the Reconstructionist Rabbinical College for a panel moderated by Rabbi Jacob Staub with Rabbi Isabel DeKoninck, Rabbi Deborah Glanzberg-Krainin, and Rabbi Dan Ehrenkrantz, President of RRC asking
"How Can a Religious Movement Succeed in a Post-Denominational World?"
Sunday, October 10, 7:00-9:30 pm
Reconstructionist Rabbinical College
1299 Church Road, corner Greenwood Avenue, Wyncote PA 19095
Authors
July 11, 2010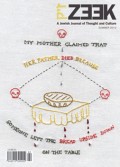 Come celebrate the launch of our summer issue at the San Francisco Jewish Film Festival!
When: July 24, 12:30pm
Where: Castro Theater
What: bagels, coffee, and spoken word by Dan Wolf plus a world permier film screening!
Tell me more! Click here
March 15, 2010
Rabbi Elliot Kukla recently broke his leg and is unable to travel. Instead of offering a workshop in person in New York, he will offer a webinar. Date/time will be announced shortly.