Jake Marmer
Jake Marmer is a poet, performer, and author of the poetry collection "Jazz Talmud" (Meadow, 2012). He frequently contributes to the Forward and Tablet, and has written recently for Moment, Jacket2, The New Vilna Review, and Sh'ma. He is the co-host of North America's first Jewish poetry retreat at KlezKanada this August 19 to August 25. A doctoral candidate at the CUNY Graduate Center, Jake is writing a dissertation on jazz-inspired strand of improvisational writing.
Arts and Culture
New poetry from poet and performer Jake Marmer.
Events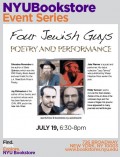 Poetry reading and performance with Philip Terman, Yehoshua November, Jay Michaelson, and Jake Marmer.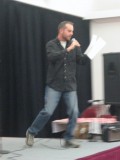 New poetry by four Jewish guys, Philip Terman, Jake Marmer, Jay Michaelson, and Yehoshua November. Each has a different take on the neurotic conundra of Judaism and masculinity.