July 2, 2012
On July 19, Zeek will be presenting an evening of poetry and performance in New York City by four self-proclaimed Jewish guys, Philip Terman, Jake Marmer, Jay Michaelson, and Yehoshua November. Between them, they've published several books (and albums) and won a bunch of awards. Perhaps more interestingly, each has a different take on the neurotic conundra of Judaism and masculinity. We're proud to present a new poem from each of them. See them perform at NYU Bookstore on July 19.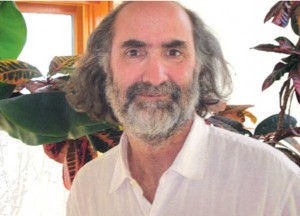 Among the Scribes
Philip Terman
"Every single fall is for the sake of some ascent," I read,
as I sit in the shadow of the shade garden and sassafras
drops of tree-rain dripping patterns on this page, hydrangeas
streaked with the pink of their next carnation, the children
picking pears, filling their baskets with silliness. History
and future have left us suspended like the hummingbird's
pause. A leaf falls. Who ordered these distractions?
The rain tells us one thing, the silence another, but that traitor,
summer, that turncoat, that shameful lover, gathers back
to itself its sweetness, its light, reclaiming its juices, so
I want to sing poems deep and beautiful as the legal rulings
chanted, in that noisy academy, by the Yemini Jews
with exact pronunciation to the text, the precise cantillations,
the pauses and stresses, or the way that swallowtail dips
and dives its yellow into the yellow of the sunflowers.
Am I adding to the law? Am I composing my holy writ?
Don't we all want to translate each moment into the eternal?
Isn't this our flowering time, aren't we robed in our royalty?
And isn't every fiery word a contribution?
And am even I, a delicatessen Jew, among the scribes?



David, which means the Beloved
Jay Michaelson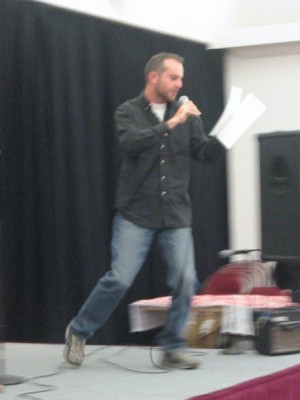 "Jonathan took off the robe he was wearing and gave it to David, along with his tunic, and even his sword, his bow and his belt."
1 Samuel 18:4
Take off my armor, boy —
beloved, David, smooth, harp-playing
Carry it like Patroclus did for Achilles, Hephaeston did for Alexander,
Handsome David, whom my father seeks to instruct in the ways of love,
learn from me instead,
tenderly,
with this kiss —
this is how
you will learn
to submit
to your master.
You who want to rule
must learn how to be ruled
For Israel you may take my place
For my sister you may be her master
for them you may be powerful ruler dominant hero lover —
but for me you will be my boy,
receiving holding beautiful delicate,
and in this way train
for when you must yield
in this way
to God.
Intermingling with me you will learn the dissolving of oppositions
the relaxing of boundaries
the embodiment the secret
To cradle you, teach you, hold you
I will be strong, then sweet
In a way that surpasses the love of women
In a way that rejects the piety of priests
In a way that nearly crushes your small bones
Until you release
Opposition
And cry.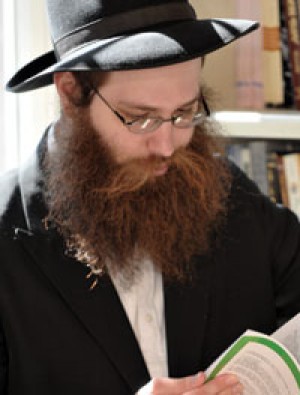 The Lower Realm
Yehoshua November

I.
In a room, a father teaches a page of Talmud to his son.
Outside, soldiers search with candles or flashlights,
or they are not looking at all.
The father hears their boots crunching the leaves, or not.
This story is not one of nostalgia, of a lost world.
It is this century. Some Jews are watching the Super Bowl.
Others sit in the Study Hall and never plan to leave.
II.
This world was created via ten Divine utterances.
There are Ten Commandments. The Ten Commandments
are to be ushered down into the world created by ten utterances,
the Hasidic Master taught.
G-d's Essence is in this world more than in the higher ones,
which are not the purpose of creation. If they were,
He could have stopped with them and not created
this lower realm.
Despite their holiness, the higher worlds are a descent
from G-d's true self. The beginning is wedged in the end,
the mystics whisper.
III.
In a room, a father teaches a page of Talmud to his son.
Outside, soldiers search with lights.
Inside the room, an unseen light from the father teaching the son Talmud.
Beyond the revealed and hidden light, G-d's unseeable Essence
is waiting in the physical world.
IV.
Sandy Koufax, a Jew from Brooklyn
who learned little Torah, will not
play baseball on Yom Kippur.
This is one of the last century's greatest
sanctifications of G-d's name. Sometimes, out of nowhere, the soul
awakens in the middle of the life in the body. Yes,
the soul comes down into the body.
The ten utterances, the Ten Commandments.
The body, the soul. The father's finger
is pointing to a line on the page of Talmud.




Facts
by Jake Marmer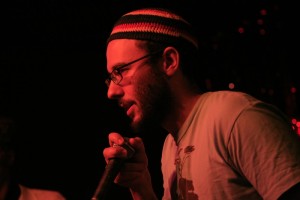 with many crumbs
and a puddle of someone
else's drink the starbucks table stared back at me
you're a hardliner man
a hardass
and know it
what mysticism?
I want to sit the angel of the squealing
saxophone
down
did you crumble these crumbs?
give it to me in plain words
no allusions to Rahsaan, no metaphor abductions
say it: we're not of this world
the game of mystery
game of going to work
getting dressed
if it doesn't exist give me the doesn't exist
I'm an underslept young dad
I must get to the point or I'll fall asleep
how you do make peace with existence
the hard facts of it?